Photoshop Shapes can be size up or down without spoiling the quality as they are vector images. Using shapes in Photoshop will save you a lot of time. And there are unique shapes in Photoshop. You can also create your custom shapes in Photoshop. 
This guide will show you the features of Photoshop shapes and how to use custom shapes in Photoshop. But let's know about the shape tools in Photoshop.
Shape Tools in Photoshop
The tools for Photoshop shapes work as the pen tool to allow you to draw vector images. You will find the tools in the toolbar for drawing different Photoshop shapes. There are five other options in this tool section for drawing shapes. You will also find a custom Shapes making option there. Let's see the tools.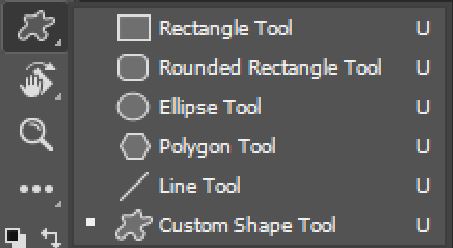 With this option, you can any rectangle shape in Photoshop. But holding Shift when dragging, you can make a uniform rectangle such as a square.
The rounded rectangle tool allows you to draw a rectangle with a rounded corner. Using this tool, you can draw unique shapes.
When you need to draw a circular or parabolic shape, this the tool that you can use. Usually, you can create a parabolic shape with it. But holding Shift will allow you to draw a uniform circle.
It will allow you to draw a perfect polygon shape in Photoshop.
With the Line tool in Photoshop, you can create any straight line in any direction.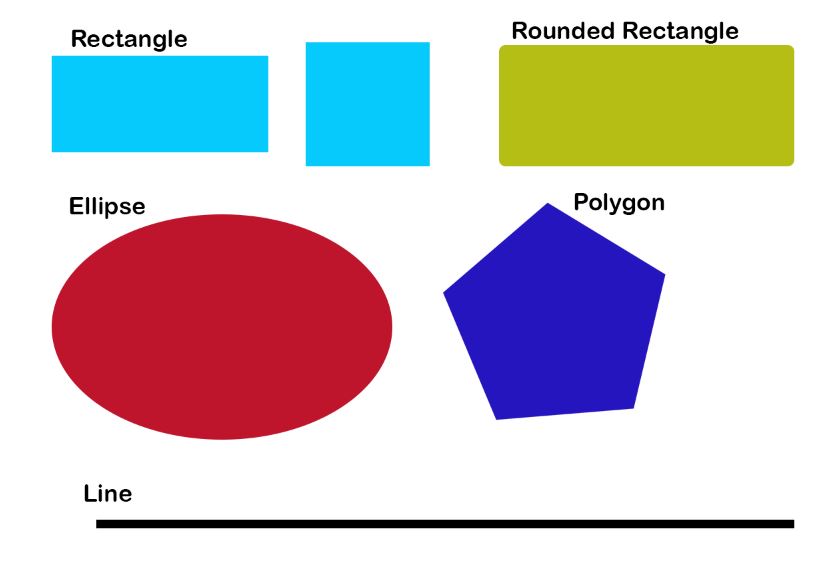 With the custom shape tool in Photoshop, you can create your own unique Photoshop shapes. Besides, Photoshop has already installed many pre-sets for custom shapes. We will show you how to create custom shapes and use them with this option.
Drawing Custom Shapes in Photoshop:
Step 1
As you can see, the custom shape tool is with the other Photoshop shape tool. So, first, select the tool from the toolbar. Before drawing, make sure the vector drawing or shape is selected from the options. You can change the drawing format pixel or path to shape from the Photoshop options panel.

Step 2
Now choose a custom shape from the list that Photoshop has already installed before. In the middle of the options bar, you will see a shape thumbnail. At first, you will find a few Photoshop shapes there. But if you select All from the settings, you will have access to all the pre-installed shapes.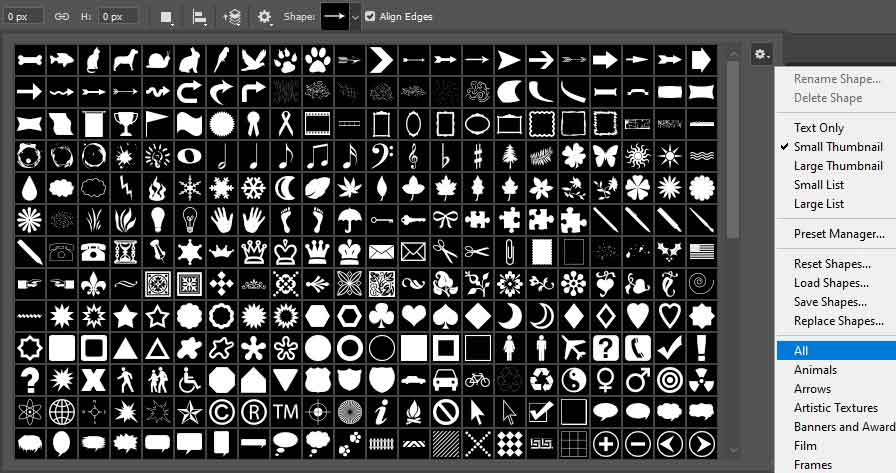 Drag from the corner of the custom shape panel to view all the shapes. Again make it smaller and choose a custom shape from the panel.
Step 3
Now choose a color for your shape from the fill option. You can choose no color, solid color, gradient, and various patterns from there. You can also pick a stroke for the shape.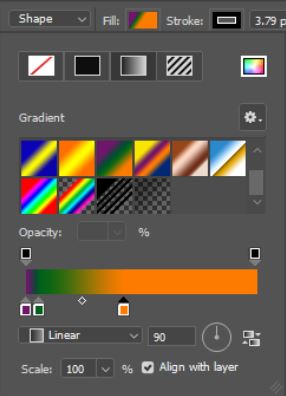 Step 4
Now draw your custom Photoshop shape. After selecting the custom shape and color, now drag with the mouse on the artboard. You can increase or decrease the size too. If you only drag the mouse, the shape wouldn't be uniform. To draw the shape with the correct properties, hold Shift, and drag the mouse. Now you will have a uniform shape.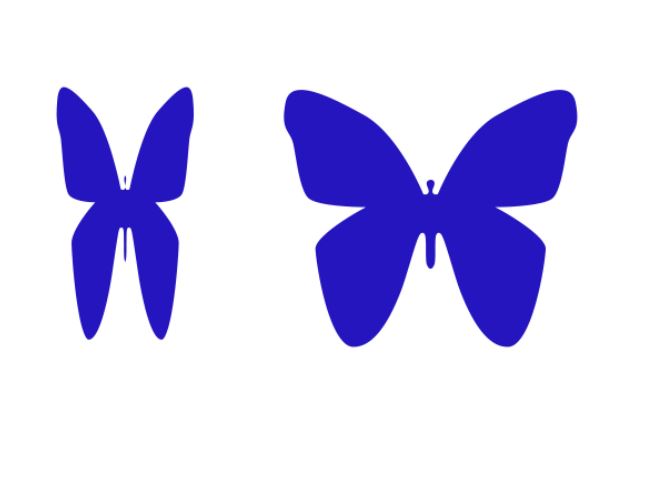 Step 5
Now add a stroke to your shape. You can add different types of stroke from the stroke options. Add a stroke color if you need it. And adjust the size of the stroke.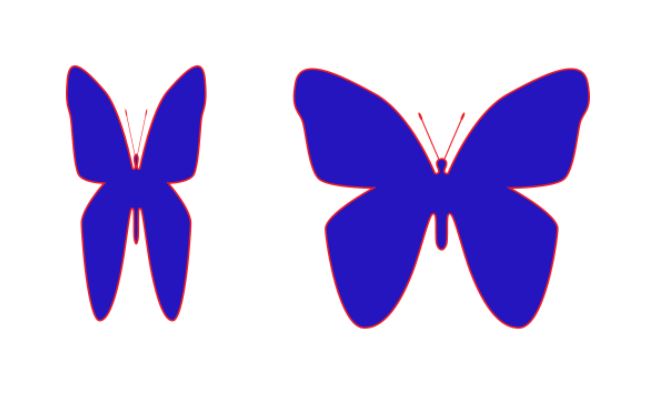 How to Install Custom Photoshop Shapes?
To install custom shapes in Photoshop, you have to download a shape-file from the internet. There are many websites where you can download more custom shapes for free. You can create your shape too. But in this guide, we will now see how to install custom shapes after downloading them. Remember, you have to download a CSH file. After downloading, you will have a zip file containing your CSH file. Extract the file.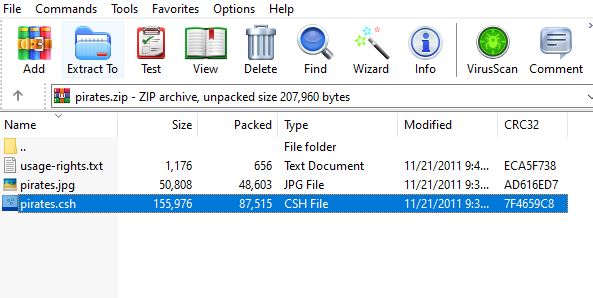 Now load the custom shape-file into Photoshop. To load the shape-file, first, go to Photoshop, then select the custom shape tool. Now click on the shape option and choose Load shapes from the settings.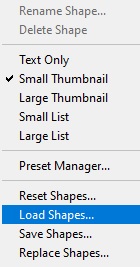 Now browse the shape-file that you extracted from the zip file. Then load shape or double click on the CSH file. You can also drag the CSH file on the custom shape option panel to load the shapes.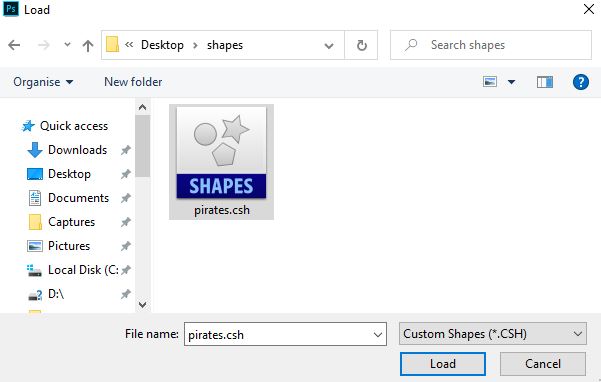 Then open Photoshop and check the custom shape panel. At the bottom of the shape panel, you will find your custom shapes.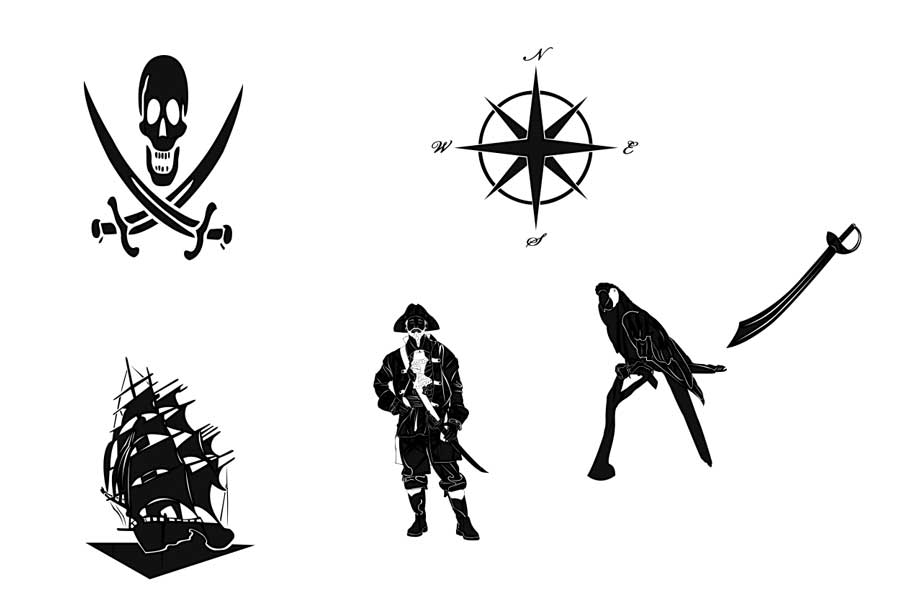 Read also how to add fonts to Photoshop from here.
Conclusion
Shapes are essential elements in Photoshop. However, you can make custom photos or download them online. Using unique custom shapes adds extra dimensions to graphic designing. But the shapes that are already in Photoshop are not less important. In Photoshop, the pre-installed shapes allow you to make amazing effects in designing. You can also create your custom shapes with the Photoshop pen tool. So, start making shapes using custom shapes. Let us know how you enjoyed our article about Photoshop Shapes.
What is a shape layer in Photoshop?
When you use a shape in Photoshop, it creates a shape layer automatically. The shape layer contains vector shapes, and you can change them.
How can I subtract a shape in Photoshop?
To subtract a shape:
Select both layers by holding the shift key.
Go to the menu, choose Layer options.
Select "Subtract Front Shape" from the "Combine Shapes option".