Adobe Photoshop is the king among all the image editing software still now. It has solidified its position for over 30 years. Because of the high cost and subscription fees, we need Photoshop alternatives.
The alternative means not just other photo editing software. They must be functional for almost every feature like Photoshop. The good news is, there are some great Photoshop alternatives, though. They are practically as powerful as Photoshop. Users find those easier to use than Photoshop. So, today the discussion will be about the great alternatives software to Photoshop.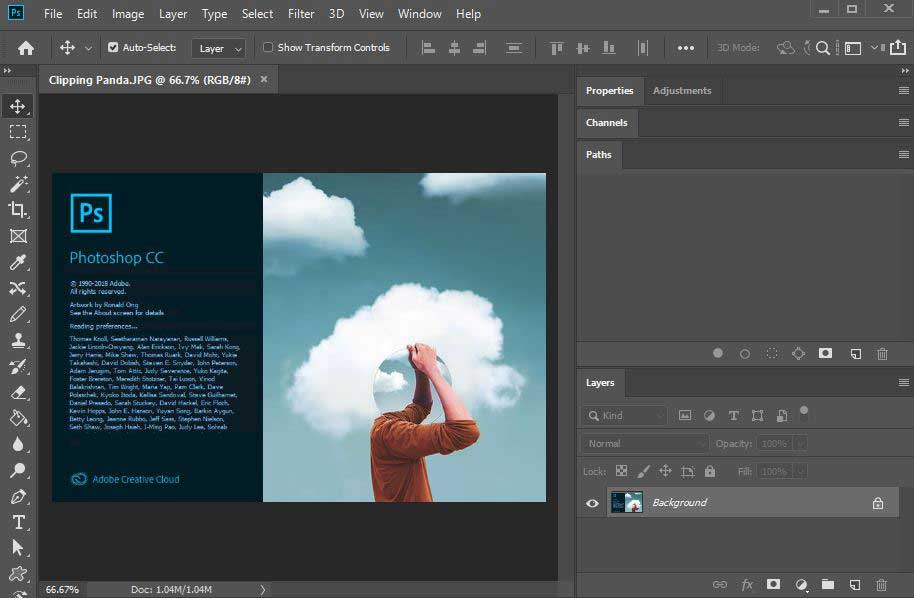 Download Adobe Photoshop CC 2023.
There are too many software and not every software is effective as people say. Choosing the best one from hundreds of software is very difficult. So, we choose the five best of the best Photoshop alternatives for you. We will introduce you to each of the software ones by one. You can read our 15 best free drawing software guide if you want more than five alternatives.
Affinity Photo
Affinity Photo has become the first choice for photography nowadays. It is one of the great Photoshop alternatives among creative professionals. Users also love its speed, power and precision. The powerful computer technology made it handy. Sometimes it becomes more popular than Photoshop. Affinity Photo offers higher speeds, fewer crashes and unlimited features. But the actual amount of performance will depend on the user's equipment.
Affinity Photo is fully-loaded photo editor integrated across macOS, Windows and iOS. There is also a separate version for iPad. So, there is no doubt that Affinity is the best software among Photoshop alternatives.
You can read the ultimate comparison Affinity Photo vs Photoshop from here.
Pros:
Low cost and no subscription
Fully compatible with Photoshop and other file formats
Best professional tool
Latest updates available
Separate iPad version is available
Cons:
No free version is available
No android version
Need advanced hardware 
Price:
Affinity photo offers only a one-time payment and requires no subscription. It will cost $49.99 for Mac and windows. And the separate version for iPad will cost $19.99.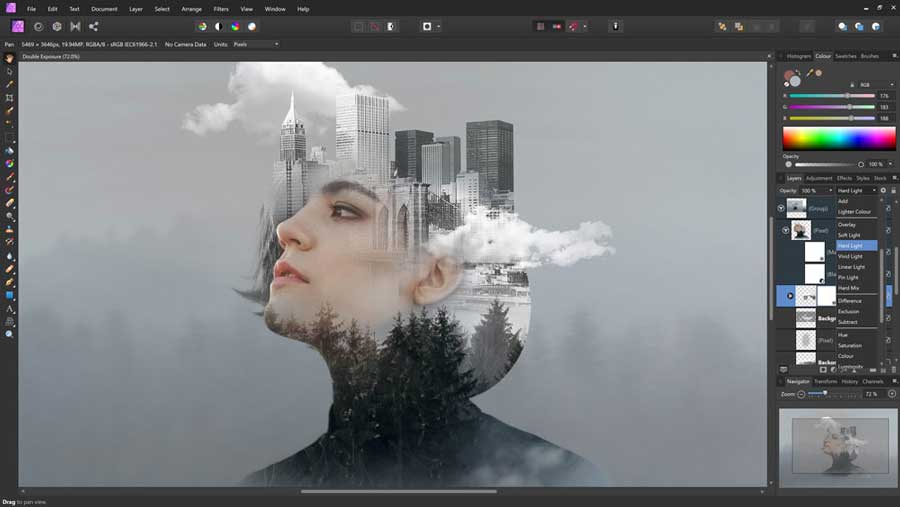 Try it from here: https://affinity.serif.com/en-us/photo/
Click Majic
Trained on millions and millions of real-world images, not artificial lab data, the Clipping Majic Auto-Clip AI background remover handles so much more than just a few cherry-picked foreground categories.
And the learning hasn't stopped. As the AI background editor is exposed to more and more photos, its ability to handle yours continues to improve.
The only background removal editor in the world that seamlessly combines fully automatic AI with smart keep, remove hair tools, and a scalpel for precision cutouts.
This gives you complete creative control. Great for touchups or if you're looking for something different. And crucially it lets you quickly succeed on 100% of images.
Pros:
Auto-Clip AI
Smart Editor
Comprehensive Color Control
Powerful Algorithm
Support Bulk Clipping
Adaptive Brush Size
Cons:
Support Upto 25 Megapixels
No Mobile Apps are Available
Price:
A monthly subscription starts from $6 and received 40 credits. 1 credit = 1 image.
We tested out a few different options and found that Clickmajic was the best choice for us when taking into account price and quality.
Visit: clickmajic.com
Rebelle
Rebelle is a paint software that allows designers to create realistic watercolor, acrylic, and more. It also has real-world color blending, wet diffusion, and drying features.
It works the latest ground-breaking digital painting technology. Rebelle was designed for traditional painters and artists who want to explore their art collection. The primary purpose was to create it as the most natural painting tools.
Rebelle has limited Brush presets included. But it has a built-in Brush creator tool which makes it more unique than other software. It is a professional painting software package and a great app among the Photoshop alternatives.
Pros:
Free demo version available
Tilt feature
Built-in Brush creator
Water color painting
Replicates traditional painting techniques
Cons:
Limited Brush presets
No mobile version is available.
No free version
Price:
The full package for Rebelle will cost $89.99. And the latest version Rebelle 3 is available, and it supports Windows 7, 8, 10, and OS X 10.11+.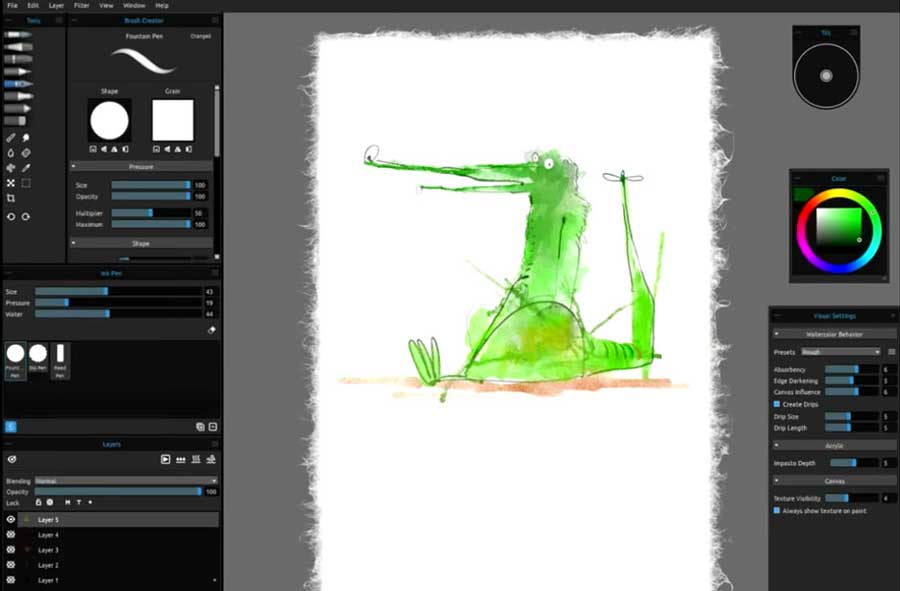 Try it from here: https://www.escapemotions.com/products/rebelle/about
Procreate
Procreate has everything to create expressive sketches, rich paintings, illustrations, and animations. It is also the best among the Photoshop alternatives. It is a complete art studio that can be taken anywhere.
With the unique features and creative tools, the Procreate allows designers to create from scratch. The rich library in Procreate consists of brushes. It contains pencils, inks, charcoals, and more. In this software, it is possible to customize each Brush from the Brush studio. Procreate also allows downloading thousands of brushes. Even it supports custom brushes.
Pros:
Apple pencil supports
Complete color control
200 handcrafted brushes
Extra special FX
Full font control
Paint with filters
QuickShape, ColorDrop, StreamLine features
Cons:
The only iOS version available
Lacks some advanced features
No free or trial version
Price:
The Procreate painting software will cost only $9.99. Users can buy it only from the App Store.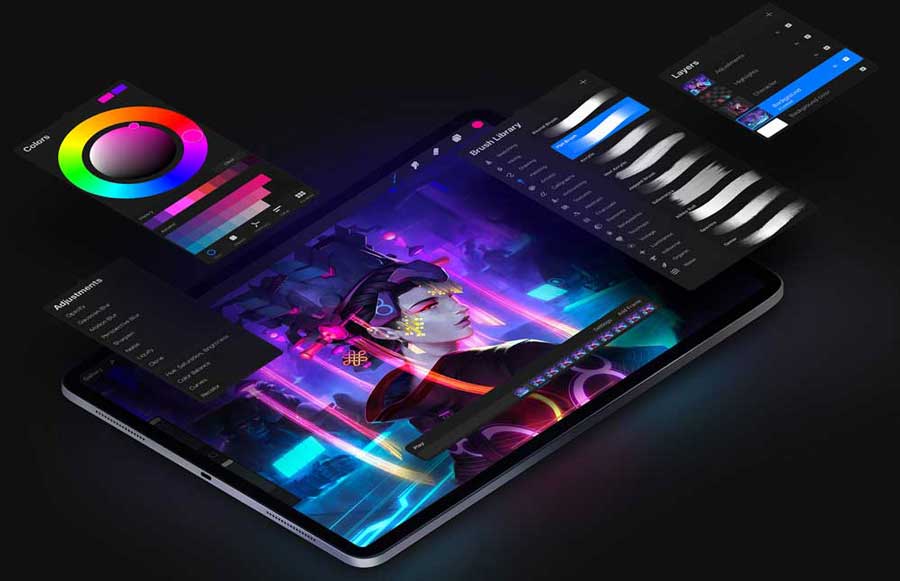 Try it from here: https://procreate.art/ipad
GIMP
The GNU Image Manipulation Program (GIMP) is the free & open-source image editor. It is completely free and one of the best among Photoshop alternatives.
As a cross-platform image editing software, it is available for GNU/Linux, OS X, Windows and other OS. Users can change the source code of the software and distribute the changes. GIMP provides various sophisticated tools for the graphic designer, photographer, illustrator, or scientist. It also supports many customization and 3rd party plugins to increase productivity.
Pros:
Complete free and open-source software
Supports every operating system
It has a wide range of toolset.
Similar to Photoshop
High-quality photo manipulation
Cons:
Lacks in some advance editing
Learning curve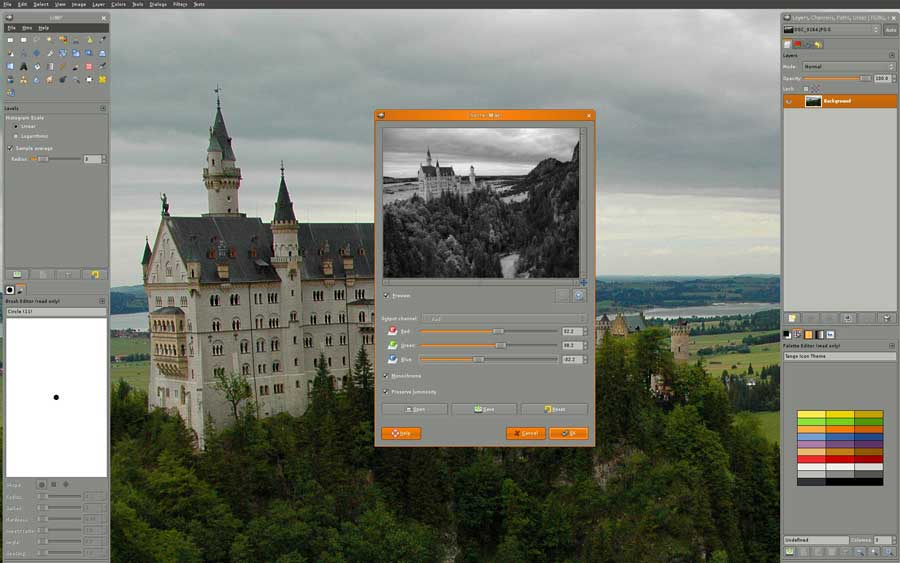 Download GIMP and get the best free Photoshop alternative from here: https://www.gimp.org/downloads/
Pixlr
Another free and open-source Photoshop alternative is Pixlr. It includes more than 600 effects, overlays and borders. All the basic editing can be possible with it. Such as cropping, re-sizing, removing red-eye, whitening teeth and more.
Users who are comfortable with Photoshop will find this software the same. But it has a lot easier UI than Photoshop. Users can use it in iOS and Android varieties. Pixlr is also an online-based app so users can edit pictures directly from the website. With the AI design tools of Pixlr, boring and repetitive editing is now long gone. With a single click, it removes backgrounds perfectly from the photos. Pixlr also a great option among the Photoshop alternatives.
Pros:
Browser-based platform
AI design tools
Supports iOS and different android versions
Completely free to use
User-friendly interface
Cons:
Limited features
Doesn't support TIFFs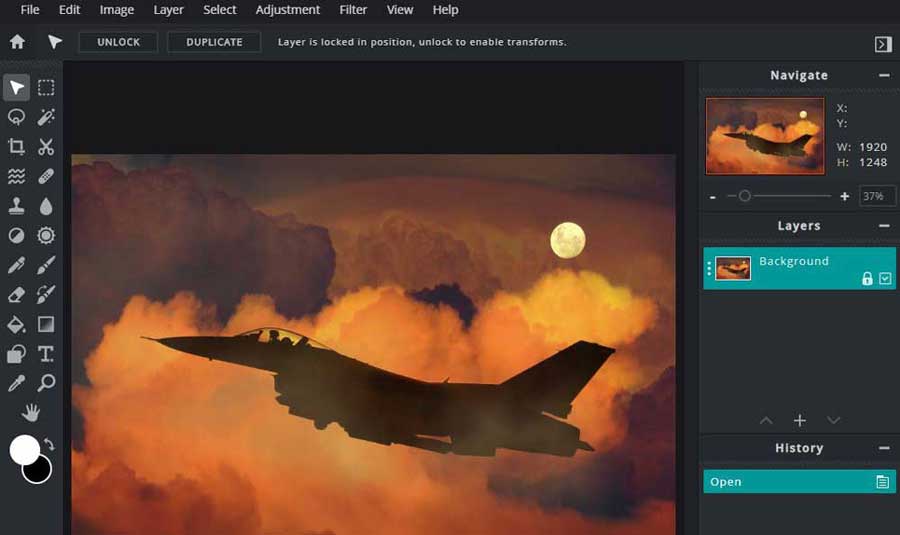 Try free Pixlr image editor from here: https://pixlr.com/e/
Conclusion
Photoshop alternatives can be different based on the uses and features of each tool. The alternatives have specific functionality for editing. There are also many free Photoshop alternatives like GIMP and Pixlr.
But as a low paid software, Affinity Photo is the best option for a professional image editor. It doesn't need subscription too. It is the best available option among the Photoshop alternatives.
Why is Photoshop so expensive?
Photoshop is the gold standard for image editing. So every professional graphic designer is willing to pay for it. But the cost of Photoshop is nothing compared to productivity.
How Can I download Photoshop for free?
You can download a trial version of Photoshop for free. But after the trial period, you won't be able to use it again. But there are other ways to download, such as crack versions. But if you use the crack versions, then you won't get the updates anymore.