As we are living in a digital world, everyone using digital devices for work. Even artists using computer screens as a canvas for drawing their masterpiece. In the old age, famous arts came from only watercolors and paper canvas. But the world has changed over time. Now we are all dependent on technology. And creative designing needs technology more than ever. Such technology for drawing is Drawing Software. These computer programs made the drawing, photo editing, graphic designing easier than ever. If we start talking, we won't be able to finish talking about the importance of Drawing Software. There is many drawing software for creating fascinating digital art.
But all the advanced drawing software is not free to use. Industry-level drawing software cost too much that we can't afford. It is a matter of hope that you will find many free drawing software on the internet. But all them are not suitable for advanced image editing. So today, Clipping Panda will help you find the best free drawing software that is easy and efficient. We will give you a basic idea about free image editing software. Our main purpose to discuss whether they are suitable for advanced drawing or not. After reading this article you will find the top 15 best free drawing software. With them you will be capable of doing advance drawing works.
We all know that Adobe Photoshop is the most effective photo editing software. As a user, you have to pay a lot of money for them in long-term usage. But there are plenty of other drawing tools as an alternative to Photoshop. They are free to use and efficient for working. You will find them as premium as Photoshop.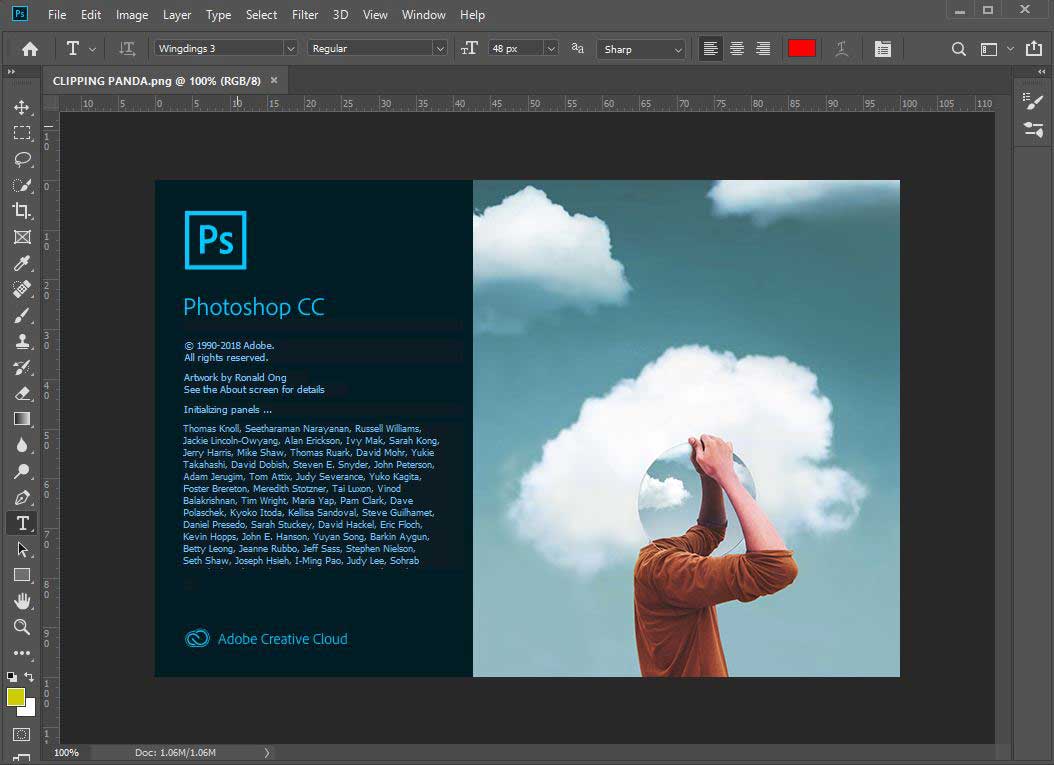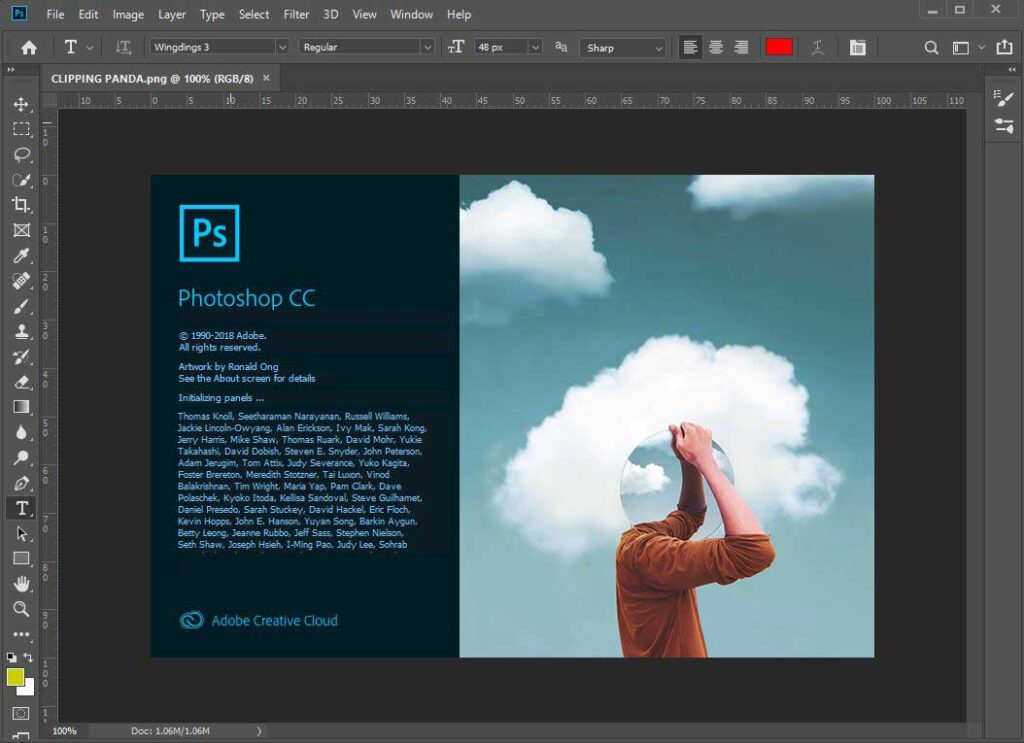 (Adobe Photoshop)
You can download all this best free drawing software from online. Some of them even offer a realistic simulation of watercolors, oils, pastels, and more. You can also make 3D projects with them. Then, you can combine them with 2D sketched elements.
The best free drawing software that you are going to learn provide amazing features. You can perform incredible task with that software. Professional photo editing also possible with this best free drawing software. Consider our review to choose the best tool which suits you the most. First, we will present you with the best free drawing software on a list then we will discuss each one of them in detail. For your better understanding, we will separate the best features of every software. We will also compare the similar software to spotlight the difference between them.
KRITA
GIMP
INKSCAPE
FireAlpaca
SKETCHBOOK
MICROSOFT PAINT 3D
MY PAINT
VECTR
PAINT.NET
MediBang Paint Pro
GRAVIT
MISCHIEF
CLIP STUDIO PAINT
PIXBUILDER STUDIO
ARTWEAVER FREE
1. Krita
Krita is an open-source and completely free digital drawing software for designers. It works within the Windows, macOS, and Linux operating systems. It offers available drawing tools for all. Those tools are for concept art, comics, cartoons, anime, or canvas art. Krita's unique brushes and tools make it very special as drawing software. Its accessible user interface also makes it easy and simpler for the beginner user.
Professional graphic designers also prefer this best free drawing software. Krita depends on your PC's performance and doesn't interfere with your virtual canvas size. So, it is very possible to create digital drawings is as realistic as possible. This best free drawing software perfect for working with them. Developers designed Krita as a drawing tool. But now users comparing it with Adobe Photoshop. For its outstanding performance users also switching Photoshop with Krita.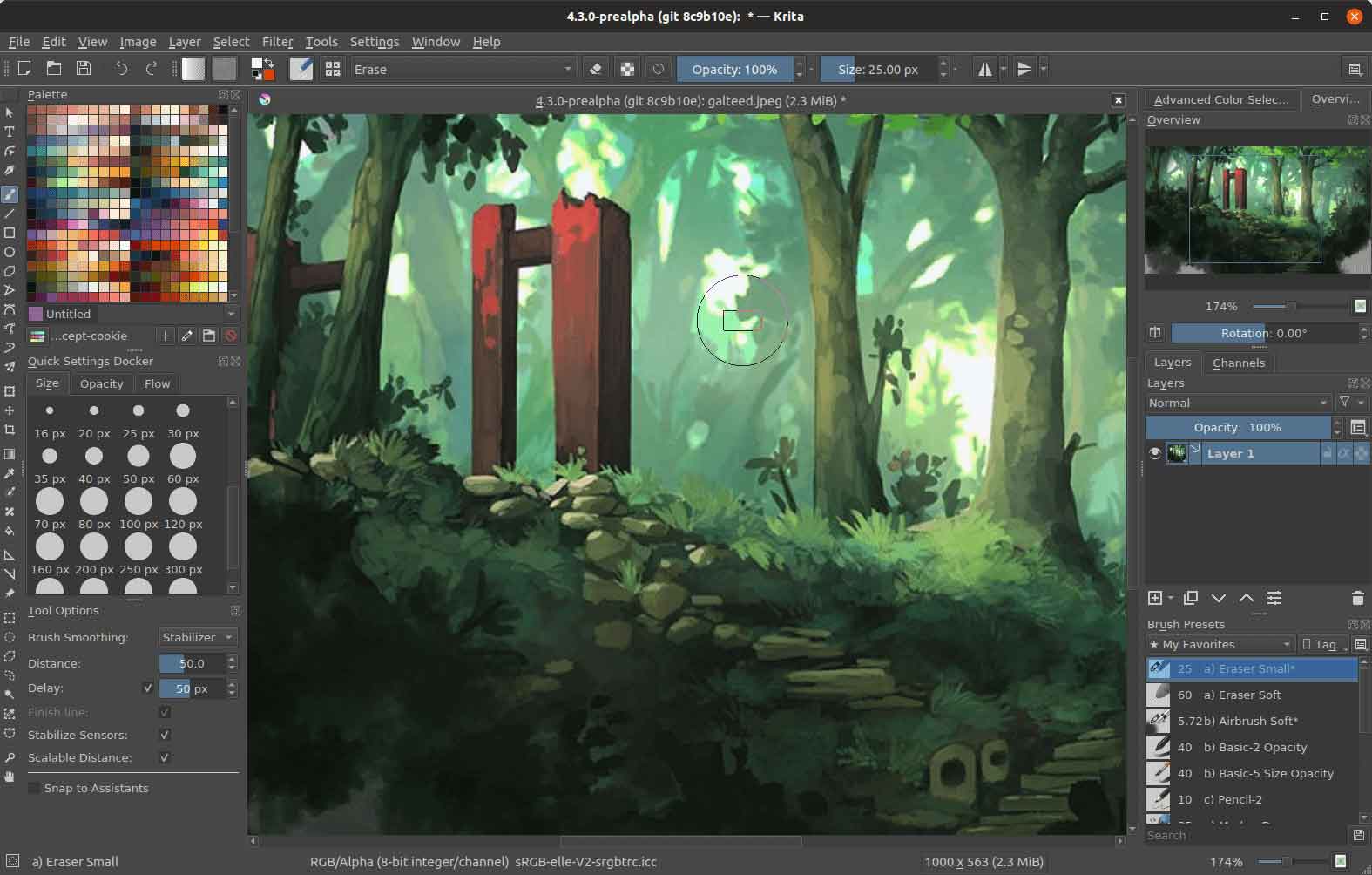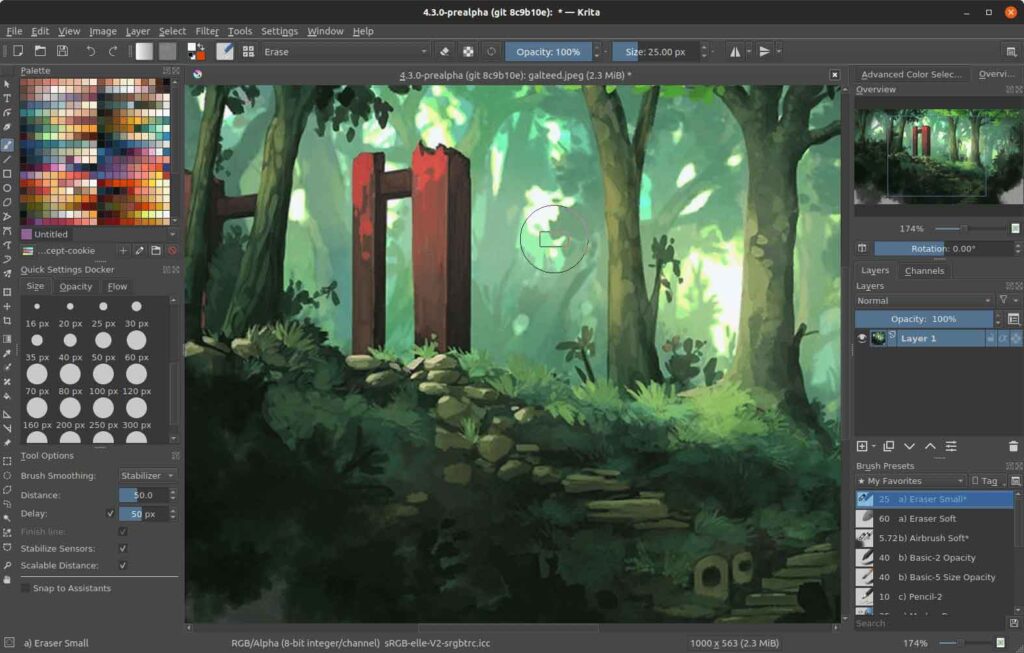 Best Features
The Brush Engine is one of the special features of Krita. This best free drawing software has more than nine brush engines. Besides, there are other best features in this software.
With a clean and simple interface, you can customize the panels as you want.
Creating comic panels is easy with the build-in vector tool in this software.
There are more than 100 brushes created by professionals.
You can import brushes and textures here from other paint tools.
You can create your own textures and patterns.
Among the all best free drawing software Krita is the best. It has some disadvantages as well as all the advantages. But they are very few.
After all, it's completely free to all with unlimited brush engines. It also has the PSD export feature.
But there are some performance issues on some platforms. If you update the software you may find some lacks in Photo retouching tools and text tools.
Even though it has issues, but compared to all it is the best free drawing software for photo editing. Download it now.
Krita vs Photoshop
Krita is a free digital drawing software. Though it is an alternative to Photoshop, it can't perform all the advanced tasks like Photoshop. But this best free drawing software has a large set of tools and functions for raster graphics. Professional artists also use this app for professional image editing. It will allow you to work on a limitless canvas. But we cannot compare the complete functionality of Krita with Photoshop.
On the other-hand Adobe Photoshop is compatible with professional editing with raster graphics. For editing or retouching photos, this software is the king among all software. When it comes to questions about free or paid then you must consider Krita. This best free drawing software offers you almost all the Photoshop features.
2. Gimp
Gimp is another best free drawing software that works on many platforms. Such as Windows, Linux, etc. GIMP stands for GNU Image Manipulation Program. It is a popular opensource drawing tool and a great alternative to Adobe Photoshop.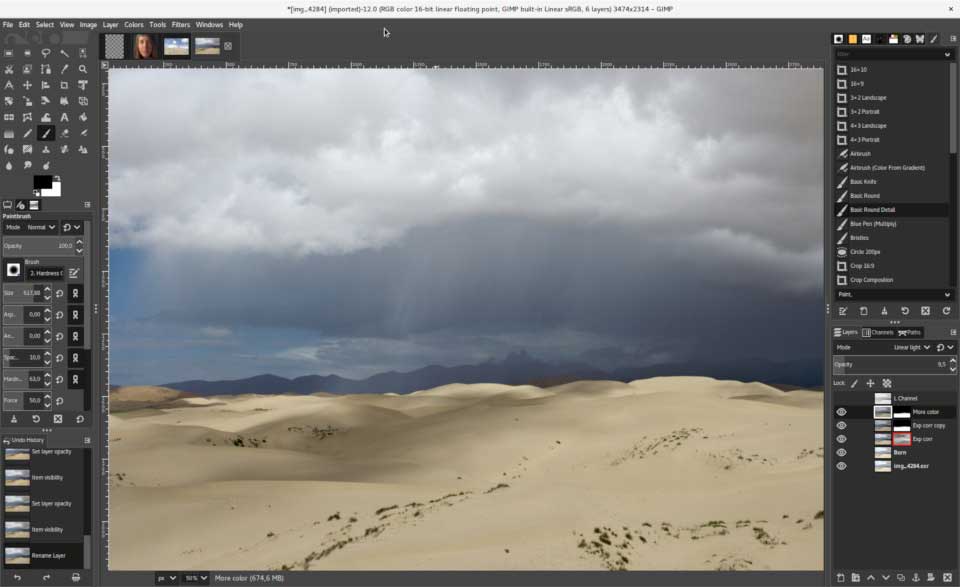 You can create layers, masks, color grading, smart selection, brushes, etc. with this. You will find almost every Photoshop features here.
You can create your artwork from sketch with its noise reduction tools, cropping, etc.
And the plenty of advanced features will allow you to create your masterpiece. Gimp supports almost all the image file formats such as PDF, JPG, GIF, PCX, MPEG, BMP, TGA, TIFF, XPM, PNG, etc.
You can also add other tools by third-party extensions. So, using all the features you can give your image a detailed touch.
There are many other exciting features in this best free drawing software. Let's check what extra best feature you will find in GIMP.
Best Features
GIMP supports individual file storage format (.xcf). With that you can save texts, textures, and layers.
The healing brush tool of this software works like magic. It works with pixels to correct the image tone and color.
The rectangular toolbox floats on the desktop, or stick with the central window. If you want you can create a different 'floater package' like that.
GIMP supports PSD files. So, you can open any Photoshop file here.
With the third-party extension or creating plug-ins, you will be able to add advanced tools as you need.
With all the best features, this best free software still has some disabilities. But it is definitely the best drawing tool. If you want to edit your photos instead of using Photoshop, you can prefer GIMP. It has advanced tools and features for smooth working.
But there are some issues with this program. If you familiar with Adobe Photoshop then you may find GIMP's tools a little bit difficult. The User Interface is not that well organized. It is less improved compared to other best free drawing software.
As a free drawing tool, GIMP is more than enough for drawing and photo editing. Other than Photoshop, it is the best free drawing software for image manipulation.
Download this best free drawing software and use it for free forever. (https://www.gimp.org/downloads/)
Gimp vs Krita
Gimp and Krita both are opensource and free drawing software. They are also capable of graphics editing. But there are some advantages and disadvantages to using Gimp and Krita.
Gimp supports all platforms such as Windows, Mac Os, Linux, etc.
But Krita only supports Windows and Linux. The big difference between Krita and Gimp is file format support. Krita has more intuitive file support. It can open PSD files. But Gimp needs to import and convert the PSD files.
In a wide range of image editing, Gimp provides a better selection of tools. But you can create advance digital arts with Krita.
3. Inkscape
Inkscape is a completely free vector drawing software. It is a great alternative to Adobe Illustrator. This best free drawing software has a large set of tools and features for drawing and editing images. There is paintbrush, pencil, eraser, and different types of geometrical shapes. So that you can use them in your artwork. This drawing tool allows you to use clipart. In your drawing you can clone anything with the amazing Clone Tool. It's a vector-based software but supports embedded bitmap images.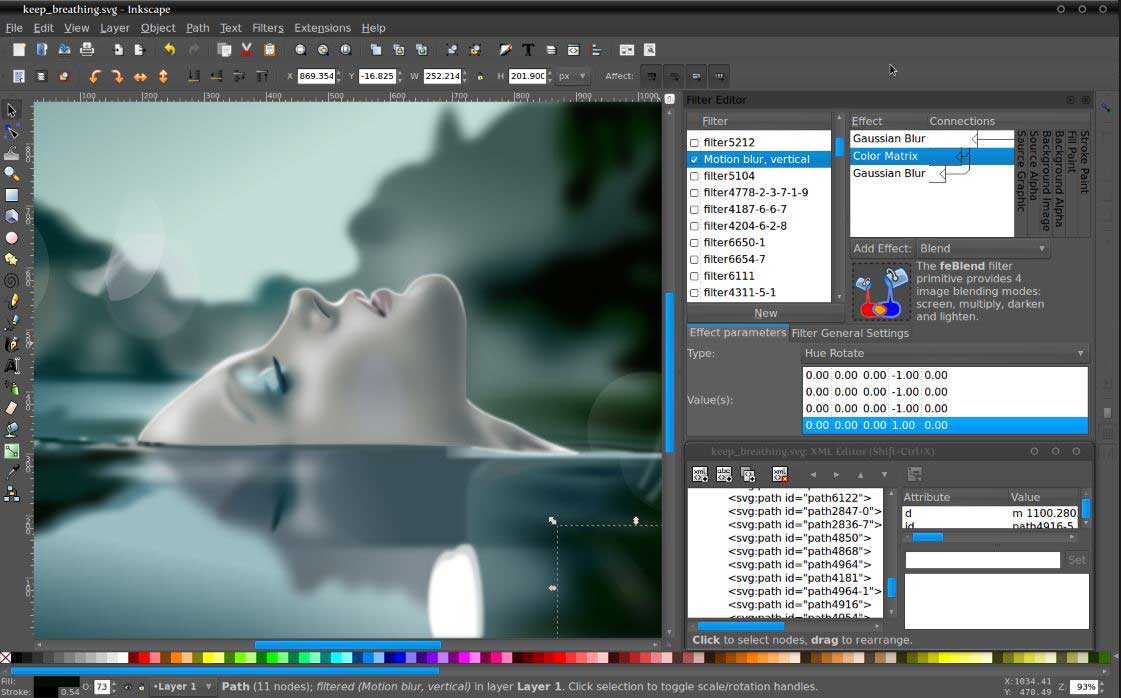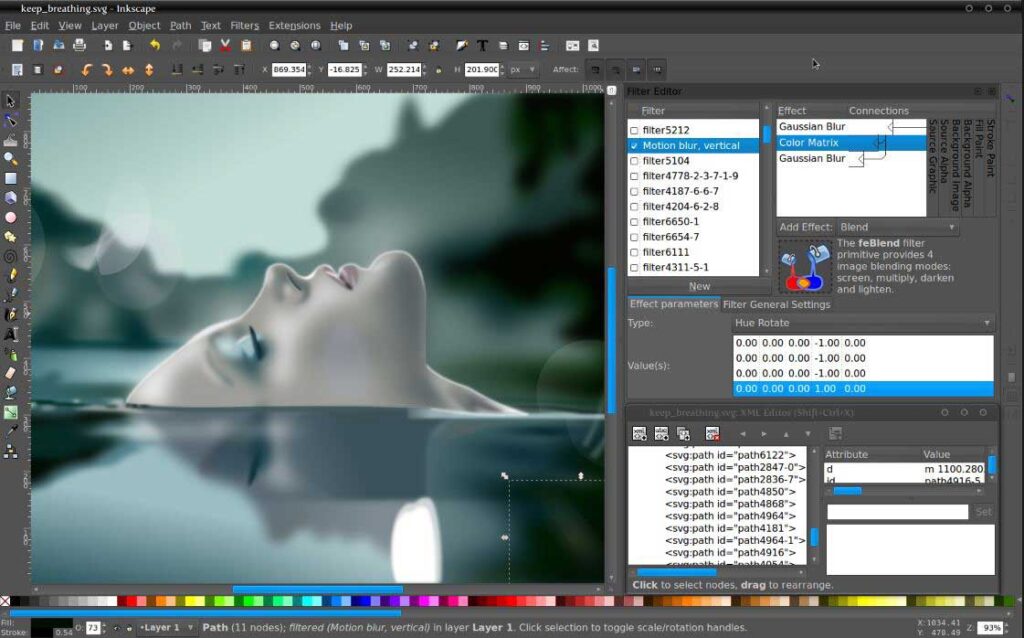 Inkscape is an opensource application that supports different platforms. Such as Windows, Mac, or Linux. The vector graphic feature of this drawing tool makes measurable graphics. So, if you resize them, they won't blur.
This best free drawing software supports SVG format. It can also import JPG, EPS, PostScript, PNG, BMP, or TIP images and export them PNG or other vector formats. This drawing tool also has many tools and different shapes, paths, text.
If GIMP is an alternative to Photoshop then Inscape is to Illustrator. Anything that you can do with Illustrator, you can do that in Inkscape too. So, isn't it amazing for a free vector drawing tool?
Best Features of Inkscape
Inkscape can do many things and there is not enough space to write everything. It is also a free opensource vector drawing tool. Its features made it powerful enough to compete with paid Adobe Illustrator. Let's find out the best features of Inkscape.
Inkscape has an easy and simple interface.
The latest update of this tool has mesh gradients support. That makes it easier to see transparencies.
The new version of this best free drawing software improved spray and measure tools.
Inkscape includes some fun effects which are the basic part of the download. There are 18 preinstalled categories under the Filters Menu. Every category has many options.
Don't forget to download and use this best drawing software for free.
(https://inkscape.org/release/inkscape-1.0/)
Inkscape Vs Adobe Illustrator
Inkscape and Illustrator both are vector-based design tool. But Inkscape is open-source free software. Illustrator is not free to use and it is industry standard when it comes to vector arts. But as a free drawing software, Inkscape is a great alternative to Illustrator.
Like any other program, Inkscape has its own way of doing things that Illustrator does. If you are a busy designer, Inkscape is for you.
But, with the Illustrator's pro features you can create logos, icons, sketches, and more. When it comes to flexibility, Inkscape is more flexible than Illustrator. They both provide a large possibility of image editing.
4. FireAlpaca
FireAlpaca is the best free drawing software designed for the Mac and Windows. The tools and User Interface is so simple in this software than other free drawing software. It includes 10 different languages. Any beginner can learn illustrations with this software in a simple way.
All the core features you need as an artist are available in this software. Such as editing tools, layers, brushes many image tabs, etc.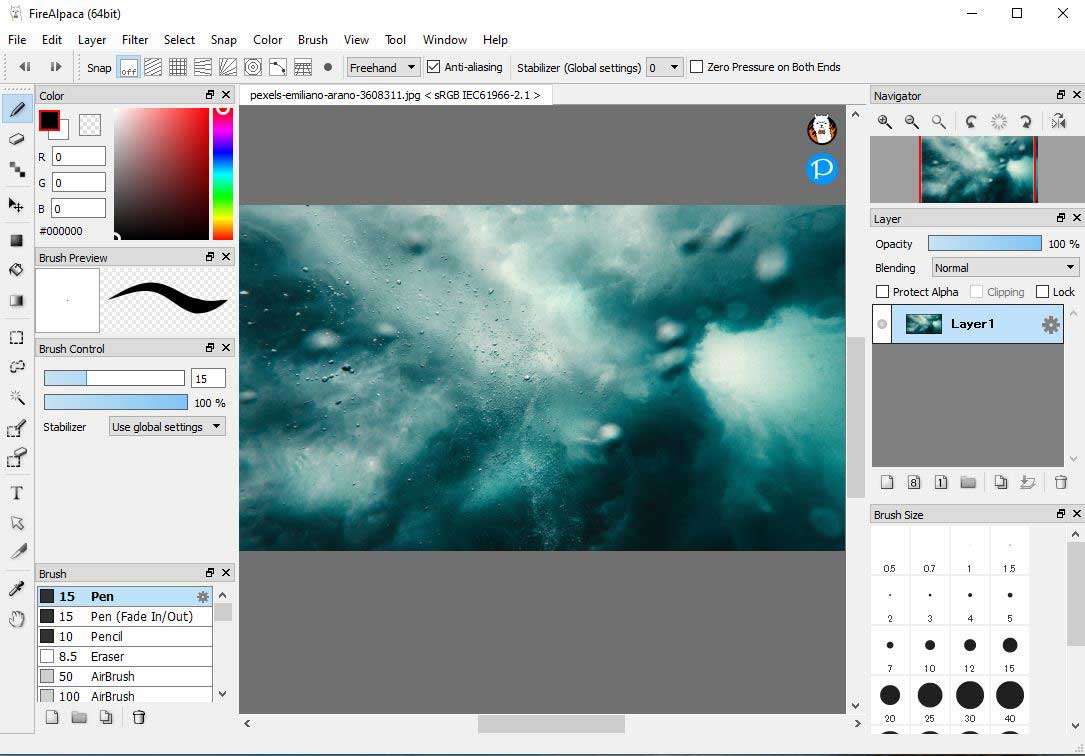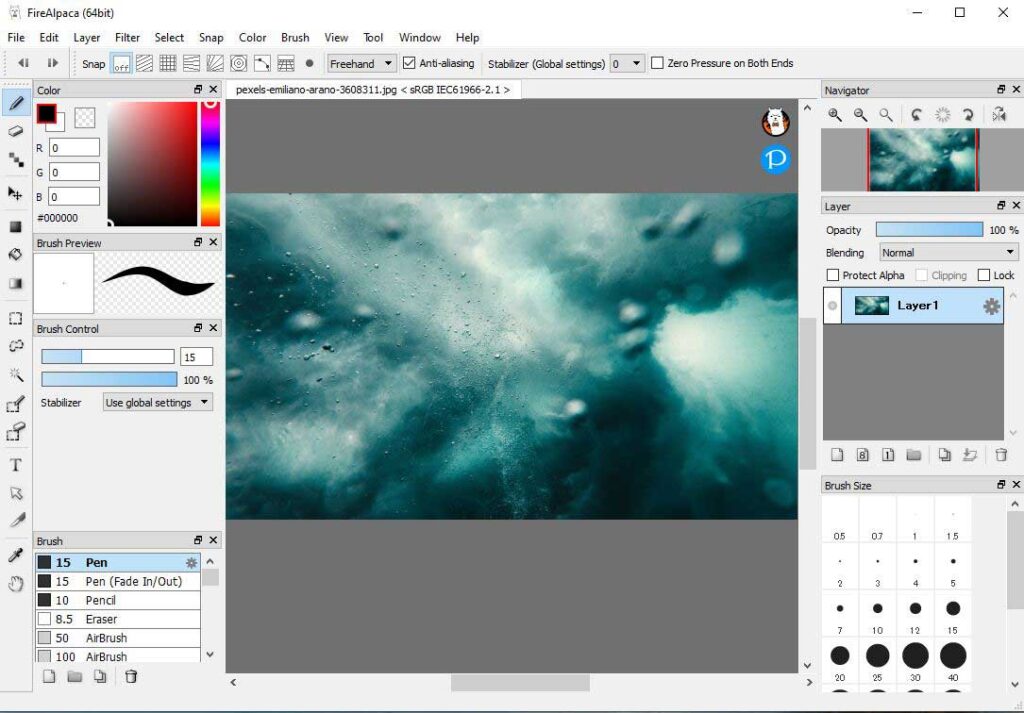 The simplest User Interface will allow you to focus on the main goal. That is drawing and this UI keeps you from the complications. One of the best features is its snap feature. It allows you to make perspective grids with many vanishing points. General purpose of using FireAlpaca to create comics and storyboards.
Best Features
FireAlpaca has a built-in Animation toolset. You can work with that by seeing easy tutorials.
It supports PSD file format like GIMP which makes it special.
You can do better painting with its smooth brushes.
The UI of FireAlpaca is too much simpler and it is not for complex editing. But you can do your simple and basic drawings with it. It is very easy as it is free for everyone.
Download it now if you want to try something new. (http://firealpaca.com/)
5. Sketchbook
Though you have to buy a sketchbook pro after 7 days trial, with the limited feature you can use sketchbook free. Autodesk designed it for all device and platform.
It is the best drawing software for portrait drawing in the digital platform. It has also built-in support for the social network. So, you can show the world your work after painting them.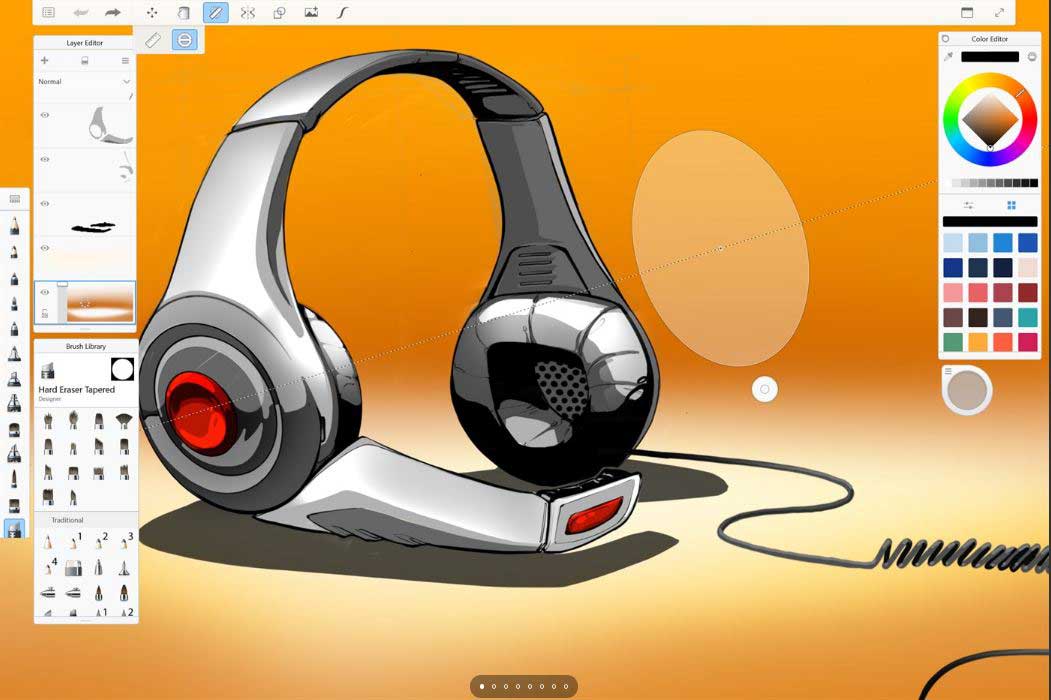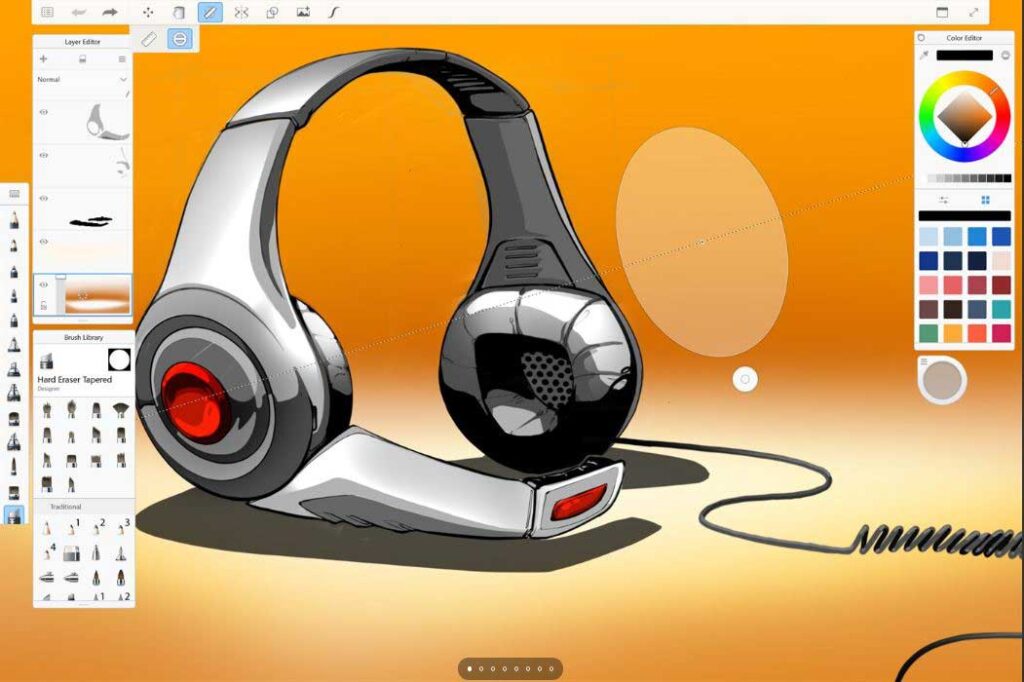 The free features of this software have changed the dynamic of the free drawing software. Designers and architectures have been using it for years. The main purpose of using it to create perfect and simple sketches.
Best Features
This best free drawing software supports some special features. Such as grids and vanishing point alignment. They allow you to build desired grids for your arts.
You may not find French curves in many painting software. But, in the sketchbook, you must find it. This feature enables you to track smooth curves.
The user interface is very simple with a well-decorated tool set. You can turn on or off tools sections so that the large amount to tools won't disturb you when you are drawing.
You can also download extra brushes from the internet. As it supports PSD files, so you don't have to worry about this file format.
Sketchbook is the best free drawing software that also works on Android and iOS. It also has advanced perspective tools with animation mode. But it will disappoint you a little bit when learn that it has no filters and advance editing options.
Still, you may want to download and give it a try. Here is the download link for you. https://sketchbook.com/
6. Microsoft Paint 3D
We all know that the previous windows operating system has a built-in paint option. But in windows 10 an advanced painter Paint 3D added along with Paint. Paint 3D is more advance in drawing anything than paint. It offers to select a part for doodling on a canvas. When you open something to edit with the paint, there you can go to Paint 3D by clicking the 3D button.
It includes matte, gloss, dull metal, and polished metal, etc.
You can paint with them and apply lighting effects. You can even bring 3D doodles into real life if you have access to a 3D printer.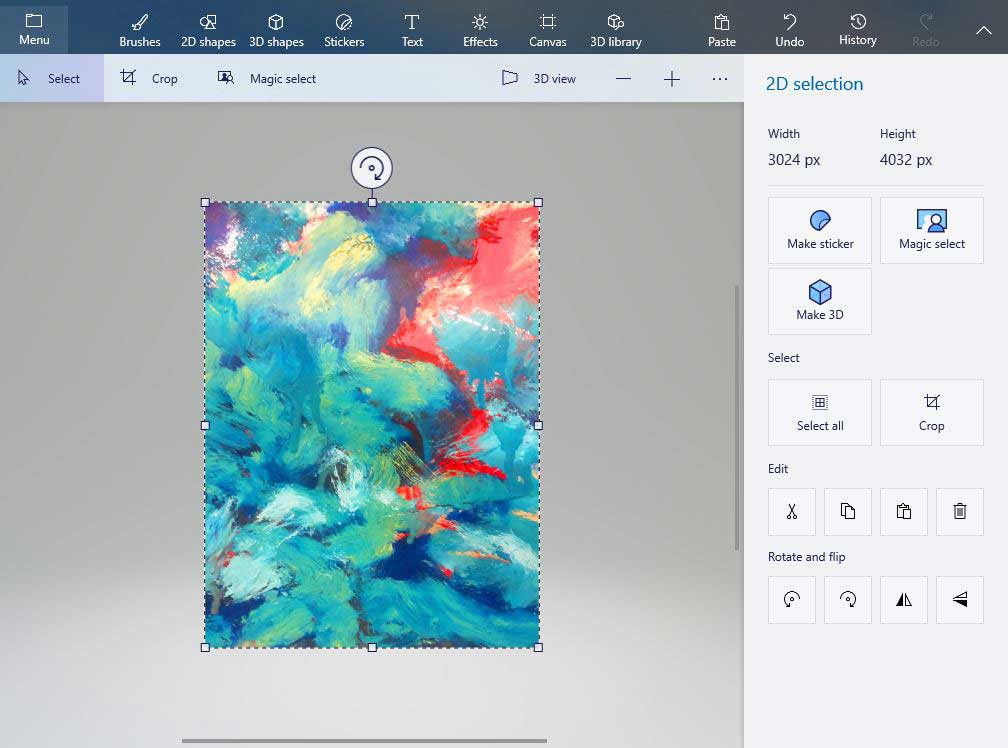 If you are using Windows 10, you will find Paint 3D in your system. But if you not, you can download this best free drawing software from the Microsoft apps store. Or you can click the link below to download it. https://www.microsoft.com/en-us/p/paint-3d/9nblggh5fv99
Best features
You can create your own 3D project with it.
There are new brushes and tools for drawing.
You can place many models at different depths and create a 3D scene.
You can also use various paint effects in it.
This best free drawing software has some amazing features. But it is only compatible with Windows operating system.
7. My Paint
My paint is another free painting software that helps quick painting. It is compatible with Windows, Mac, and Linux. Though it works in most Windows systems. But it takes no time to master its interface. If Art is your hobby then it is the best free drawing software for you.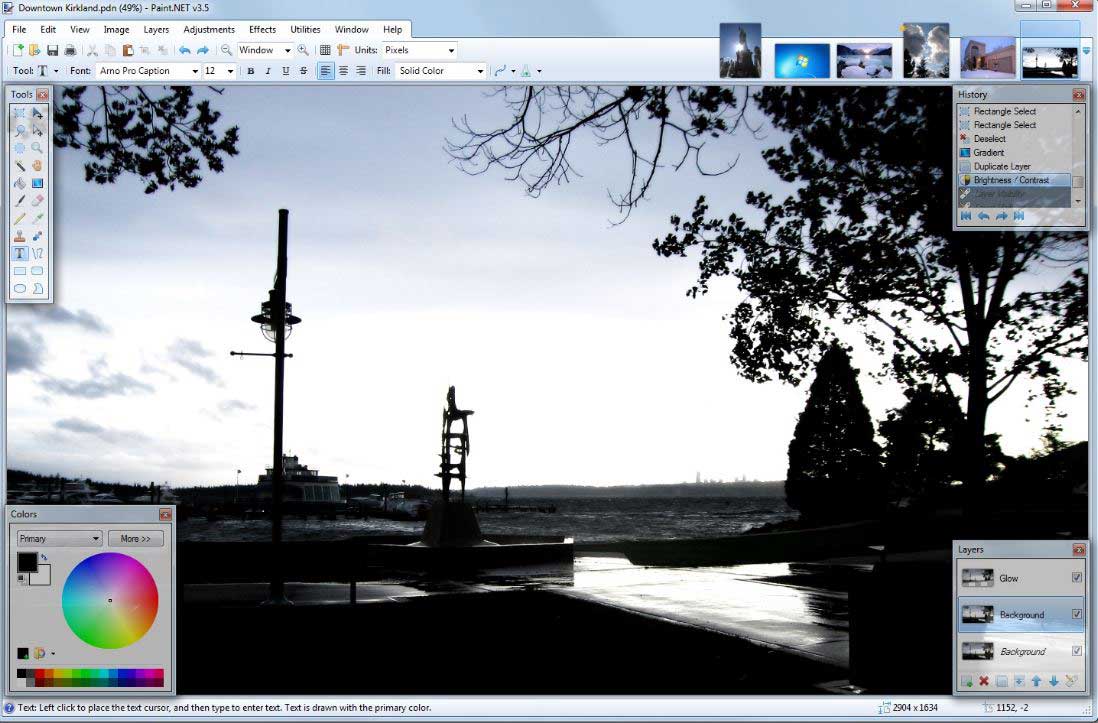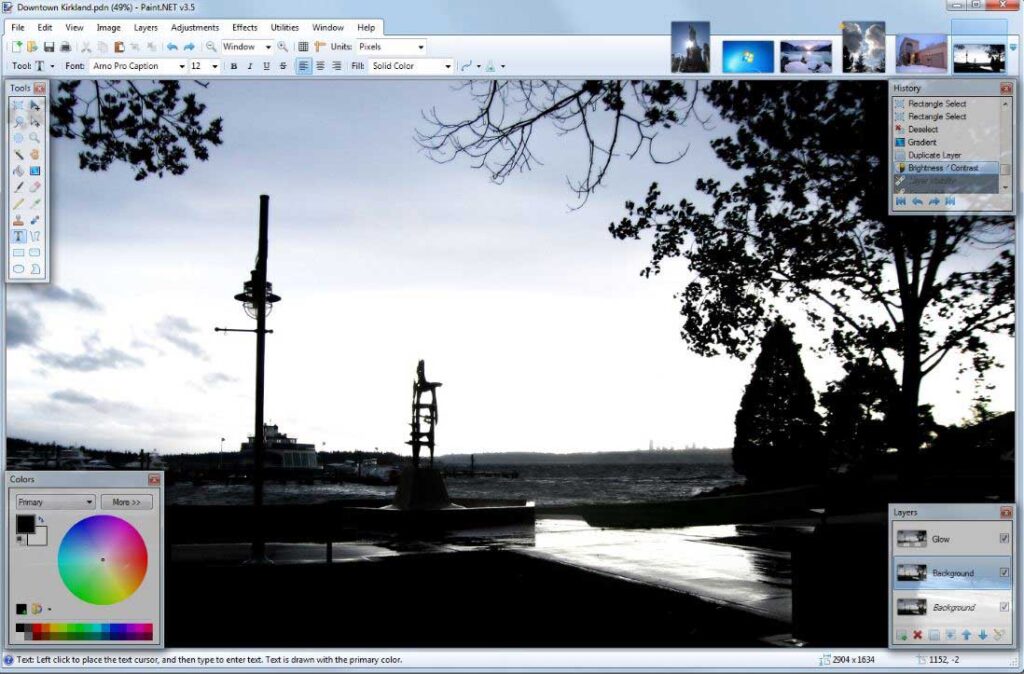 You can use lots of brushes to draw and sketch with My Paint. The effects, you will use here are like pretty much handmade paintings. You will find so many drawing tools here. Such as 2B pencil, Watercolor, 4H Pencil sketch, airbrush, etc.
There is also sponge, ball pen, blending, spray, etc. are available.
Best Features
You can select many shades of color through the color triangle.
Changing size, transparency, and hardness of brush, Undo, and Redo options are available.
You can give your drawing a professional touch with the help of layers. You can also change the layer properties.
You will be able to save your drawings as JPG, PNG, ORA, etc. file formats.
My Paint is the best drawing software to draw comics and anime arts. But there are some issues with this program. You may face some problems when choosing the brushes. And sharp lines are not smooth enough.
For sharing your creative ideas with easy drawing then it is a perfect free drawing software for you. You can download it from here. http://mypaint.org/downloads/
8. Vectr
You can use Vectr by free downloading or from online. This is also a vector-based drawing tool alternative to Adobe Illustrator. You will find a clean interface while opening this software. The layer panels are on the left and your art board will be in the center. Vectr is the best free drawing software for making business cards, typography, logos.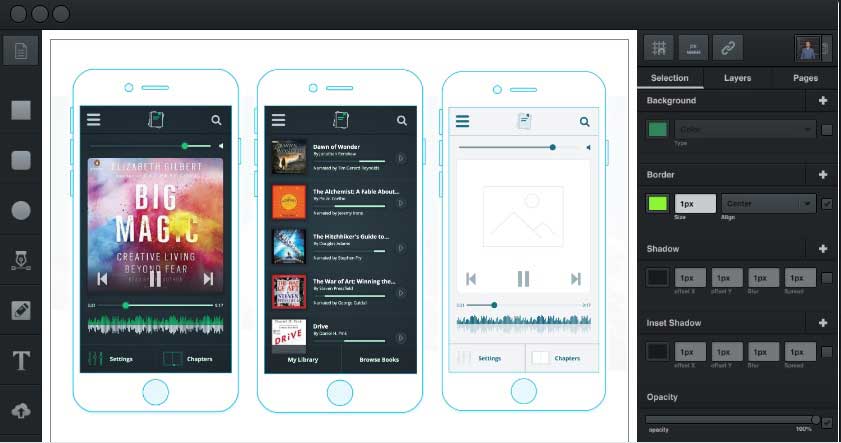 There are online tutorials for different options in this software. Such as gradients, using paths, layers, filters, and importing images. You will find 28 preinstalled designs in this best free drawing software.
Best Features:
It has a simple and clean User Interface that helps to learn in the simple way.
You will find various options to scale designs to any size logos, cards, brochures, etc.
You can download this software free on your desktop or you can use it on the website.
If you are trying to find the best free drawing software for photography, then you can use it. It will help you design anything. You can download it from here: https://vectr.com/downloads/
Vectr vs Illustrator
Adobe Illustrator is also a vector-based drawing software. And it is suitable for all kinds of design. But it's paid software. There is many amazing sets of drawing tools, brushes, color pallets, and other effects in it. You can make brand logos, business cards, flyers, brochures. Professional designers use this advance drawing software. It is a very popular design tool among designers worldwide.
But, Vectr is a free vector graphics software. You can draw all kinds of designs as illustrator does. The most important thing about Vectr is you can download this software on your desktop. Again, you can use it and edit your images from online. It is a great cross-platform tool. It is a powerful, completely free, and simple drawing tool.
So, now it became very complicated for you to decide which is best. For free advance editing Vectr is your best choice. But for professional illustration for advanced designing, you can use paid Illustrator.
9. Paint.Net
Paint.NET is a popular image editing software. It is a user-friendly drawing tool and you can do amazing works with it. The collection of paintbrushes is common to all painting software. Its easy tools and layers made it special for image editing and manipulation work.
You can use a pencil, pen, paintbrush, etc. in different sizes here. It allows you to insert various shapes like square, rectangle, circle. Available texts, stars shape, arrow, etc. will amaze you.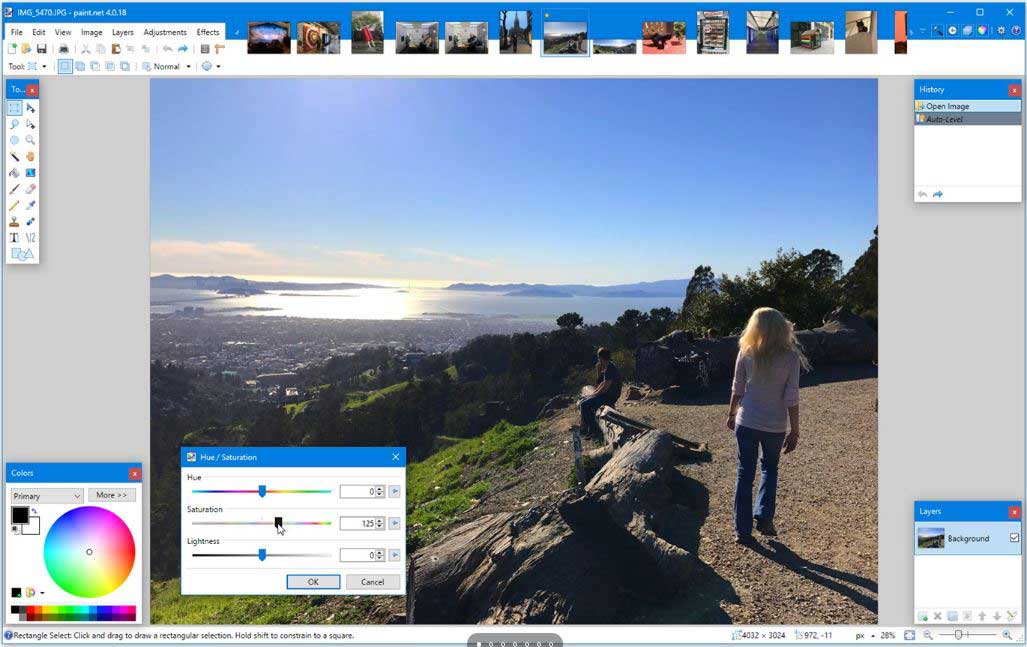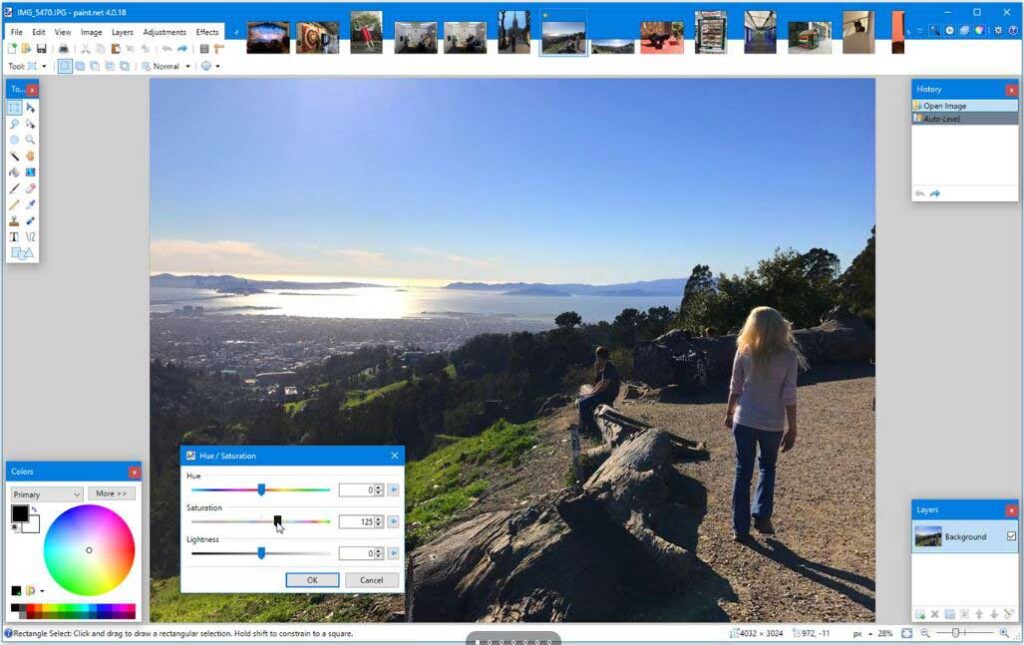 Various effects such as blur, sharpness, etc. are very attractive in this software. And there are no simple words for tools. The tools are amazing and they will give you a premium feel in your drawing.
Best Features
Unique tools make this software very special.
It supports both raster and vector image formats. Such as JPEG, PNG, TIFF, SVG, EPS, PSD, GIF, etc.
You will find online support and free tutorials.
Simple UI makes drawing easy in this software.
Some important features are missing in this apps such as Dodge and Burn tool, limited brushes. Another problem is you can't edit texts after applying effects. Though this software has some issues it has many other special offers. So, if you want, you can give it a try.
Download link: https://www.getpaint.net/download.html#download
Paint.net vs Gimp
GIMP and Paint.NET are both are very powerful for free photo editing. But there is some difference between them. So, which is better for you? It is a tough question though. you should choose this for unique tools and avoiding the problems about file formats.
If you want something simple that gets the job done, Gimp is the best option then. But GIMP and Paint.NET both save time, money, and can give you the best image editing experience.
10. MediBang Paint Pro
A special drawing tool designed for painting. It is a well-developed drawing tool for digital drawing. This drawing tool will give you a premium drawing experience. Available brushes, oil palettes, watercolor palettes, various paper textures exist in this. And it is a best tool among the best free drawing software.
MediBang Paint Pro will attract those, who love to create manga, anime, and comics. The software is easy and simple. It is also super-fast and at the same time free. There are over 800 pre-installed backgrounds and anime-themed templates. You can find them in the library of this software.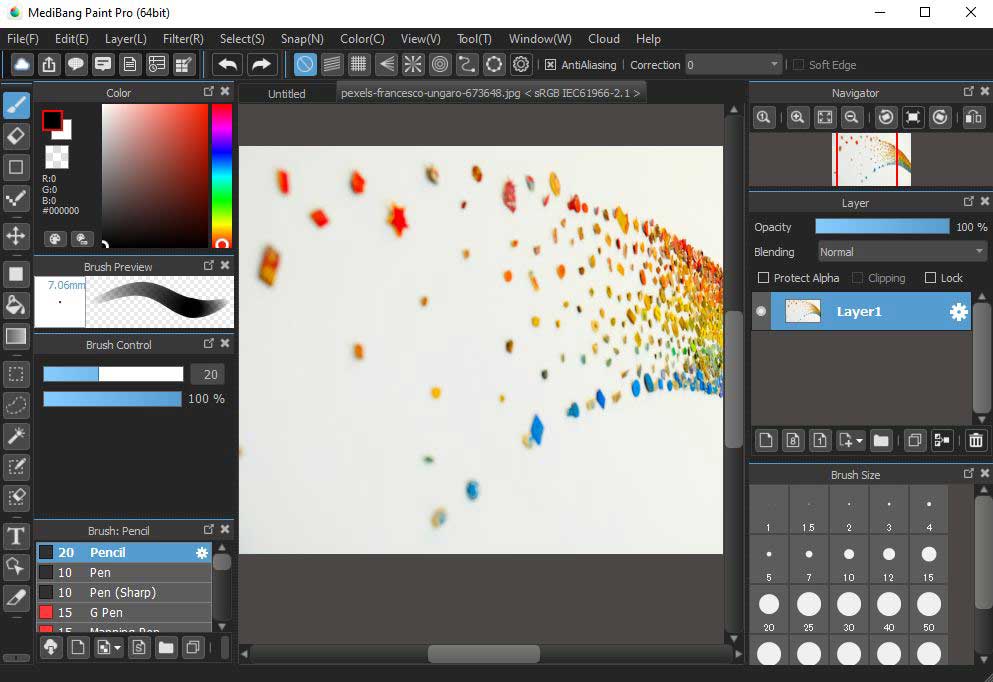 You will find about 50 brushes and a large set of free fonts there. It works with PSD files, which is very rare for free paint software. This best free drawing software imitates the result of applying a specific tool.
This paint tool is compatible with almost all devices. Such as Windows, macOS, iPad, iPhone, Android, etc.
This is the key advantage of this free paint tool. The software also includes cloud storage. So that you can upload your work without consuming your PC's space.
The features between MediBang Paint and FireAlpaca are quite the same. Because the same company made them. So, when you open MediBAng Paint pro you may often confused it with FireAlpaca. But the workflow is great in both of them.
Best Features
MediBang contains amazing brush presets.
It supports many devices.
User friendly and simple interface.
Also supports many input formats.
But it requires a MediBang account. And some features that are available on the desktop may not support on mobile versions. Afterall, MediBang Paint Pro is one of the best free drawing software that you want to download.
Download link: https://medibangpaint.com/en/
MediBang Paint Pro Vs FireAlpaca
FireAlpaca gets the new development or upgrade of new features in weeks or months. The features that might not ever be in MediBang paint pro. But they both made by the same company.
But Firealpaca's pen pressure is not that smooth. Besides, you cannot install it on phones and tablets. But you can download MediBang on any device.
11. Gravit
Gravit Designer is a vector-based drawing software. All types of designing are possible with this software. Such as icon designs, presentations, illustrations, and animations. It has a clean and user-friendly interface which contains a package of tools. for creating detailed and beautiful vector illustrations. There is a knife tool, path, many fills. Amazing blending modes also available in this drawing software.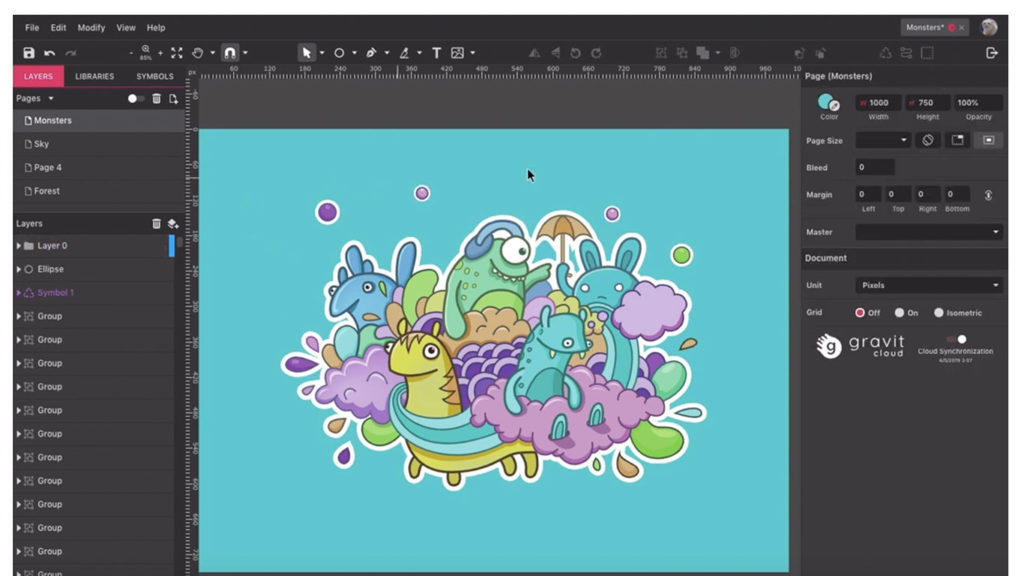 Remember Vectr we discussed before? One of the best features of Vectr is it allows direct online designing. So does Gravit. You can draw with Gravit online or download it on your computer. A little problem with this software is that you can use its pro features until the trial period is over. But don't worry, Gravit's free version is awesome too. It allows you to export PDF, SVG, or bitmap formats. Another best thing is you can access the Gravit Cloud service thus, you can work from anywhere you want.
This best free drawing software has a full set of tools for working with vector. It is suitable for layers, curves, geometric shapes, transformation tools, and various selection. But you can use it as a raster editor. The functions like cropping, masks, blending, resizing, and adding filters are very smooth. Another amazing part is you can access to a huge library. Which contains a lot of vector objects free for your work.
Best Features
The interface is easy for quick learning.
You can use the same element for many times.
As it supports sketch files so you can edit your sketches.
But there are some lags in this system and the performance is a little rough around the edges.
Download Link: https://www.designer.io/
12. Mischief
Mischief is a free drawing software to design beautiful and eye-catching art. With its digital brush tools, you will be able to create fascinating digital art. Before going to further details about Mischief, let's know its history a little.
The Creator of Mischief is Sarah Frisken. In childhood, her parents enrolled her in painting classes. When she became a teenager, she took all the art courses at high school. But it was her fate that she enrolled at university to study engineering, not Art. Frisken joined as a research scientist at Mitsubishi Electric Laboratories in 1993. There she began her work for developing Mischief.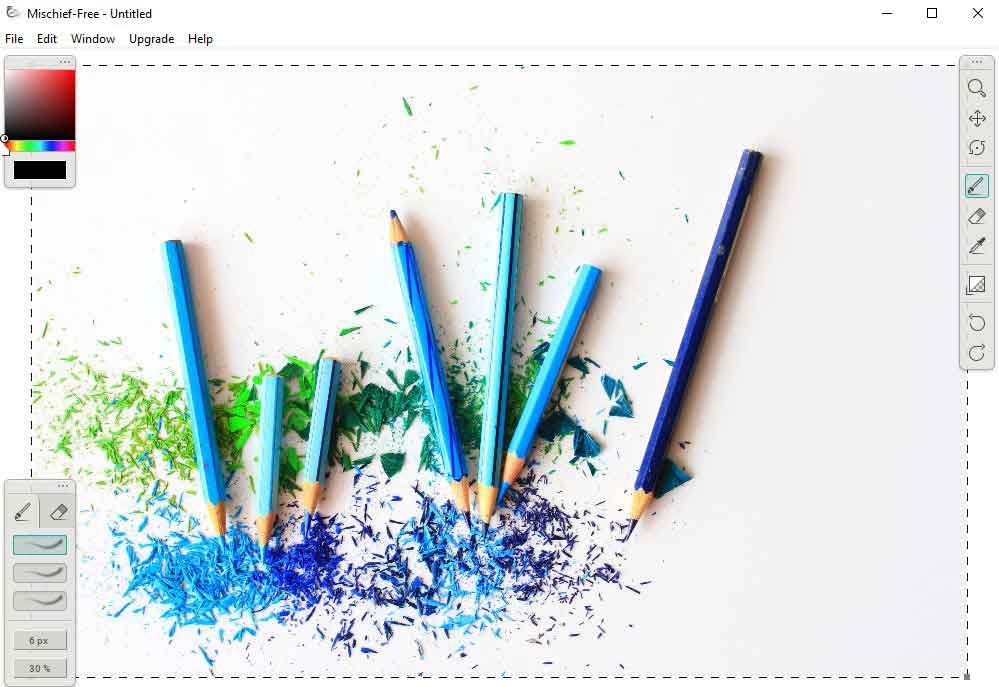 You may spend $25 for the full version of Mischief with extra presets, layers, and color palette. But you will still get plenty of features with the free version. The full version also available with a 15-day free trial. There you will find three brushes, window opacity, and the ability to import images.
The new update of this best free drawing software has an unlimited canvas and cool brushes. The key advantage of this software is that you can get an image with detailed sketched parts.
Generally, the new version of it keeps the features of the previous ones. You can stretch the canvas to any size you want. It will also allow you to zoom in. In the new version, there is multi-touch support, extra docks for brushes. There is track pad support for Macs and also two new custom color palettes.
Best Features
Updated Interface
The price is very low for the paid version
You can find unlimited paint canvas here
As many brushes as you need
Download it now from here: http://mischief.findmysoft.com/
Mischief vs Sketchbook Pro
Mischief and sketchbook both are popular for sketching and inking. Mischief is very lightweight in resources, quick in responsiveness, vector base software. It has the infinite canvas. You can sketch and don't have to worry about the canvas size. Sketchbook has almost the same features. But when it comes to which is better, people prefer Sketchbook. The ranking of Sketchbook is higher than Mischief.
13.Clip Studio Paint
Clip Studio Paint is another best free drawing software with a variety of drawing tools. You can use all the pro features of it at a 30 days trial. The features include managing multi-page files, drawing in vector format, creating animations, etc.
You can convert 3D models, and 2D image. All you need to do opening a free trial account at Clip Studio Paint.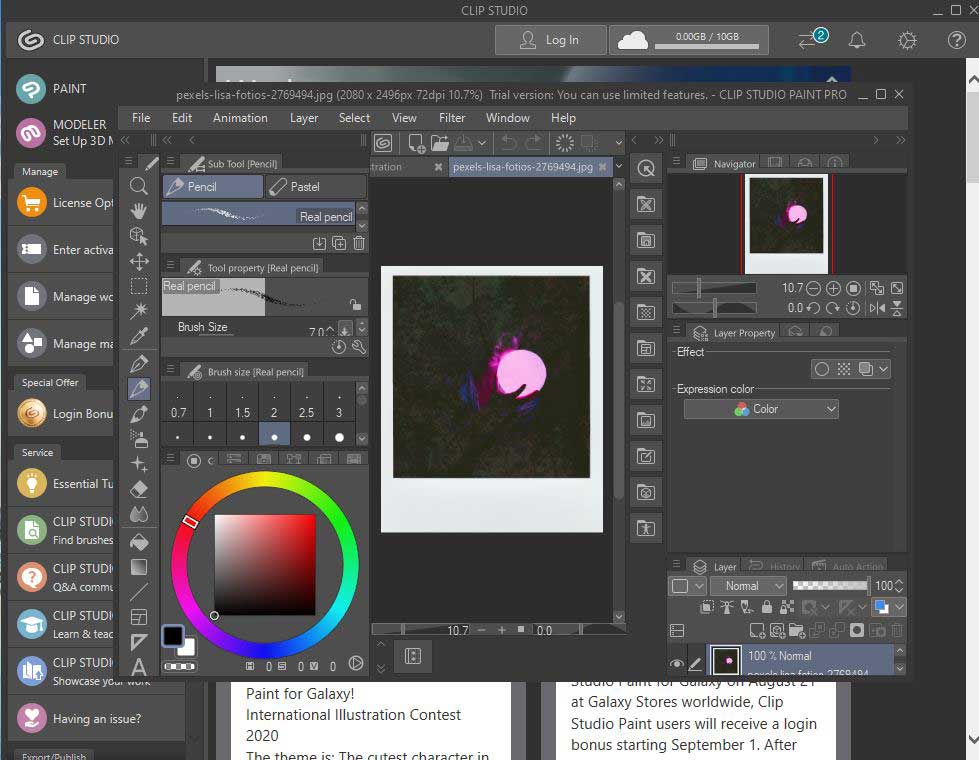 It is suitable for Windows and macOS X platform. It also available for iPad with a monthly subscription but there is no trial version for that. This is one of the most famous free drawing software for desktop. the main purpose for using this to create illustrations, animations, and comics. Over 4 million people in the world using this software.
Professional artists prefer this designing tool as it offers supreme flexibility and efficiency. A large number of drawing tools are available in the updated version. In the new version, it supports animation features. We can compare this best free drawing software as a great alternative to Photoshop.
Best Features
You can customize the Brushes as you want.
Smooth vector tools for creating vector graphics.
Its interface is not that awesome and the text tool is very ordinary. After all, it is the best free drawing software.
Download link: https://www.clipstudio.net
Clip Studio Paint Vs Photoshop
We all know Photoshop is a paid drawing software and we can do whatever we want with it. All the necessary materials, filters, and tools are available in Adobe Photoshop. But you can find all these features in Clip Studio Paint. Such as smooth blending tools, filters, and other materials for free. Some real hand brushes also available in this software. The stabilization option on brushes keeps quick lines from wiggling.
But Photoshop's brush customization is so much better. Photoshop is the first choice for professional design. There are many advanced tasks that only Photoshop can do. So, when it comes to drawing advanced art Photoshop is better than Clip Studio Paint.
14. PixBuilder Studio
PixBuilder Studio is a drawing software for Windows. It allows you to do all the basic image editing including correction, creating new images. It has a clear and convenient user interface. It has a large set of tools for work. You can edit colors, manipulate layers, and apply various effects. You will also able to use Photoshop Plug-ins in it.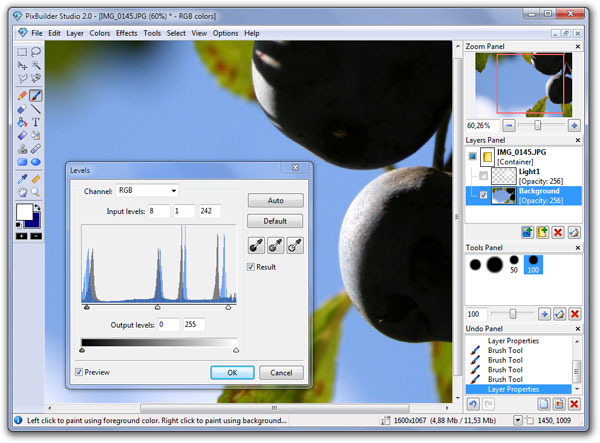 In PixBuilder Studio you can use the functions like color. brightness and contrast management. You can also balance, and manipulate them. If you want professional results use the curves function. Test Layers, undo options, gradients, etc. make this software a great drawing software.
You can make web graphics with a web-safe palette of the software. You will be able to save those in the most popular formats such as JPEG, GIF, PNG, etc.
Some other features like stamp tool, clone tool, healing brush tool are amazing.
PixBuilder Studio is a simple, fast, and effective drawing software. It supports 8BF plugins and the interface is very user friendly. Another amazing feature of this software is that it supports layers. And it has many other editing functions too. If you install PixBuilder then there is no need for installing GIMP or Paint.NET. Because if you want a simple drawing software this is the best drawing software among them.
Best Features
You will be able to correct the texts after applying the effects.
Multi-layer selection is available
You can group the layers for avoiding complications.
Download link: https://www.wnsoft.com/en/pixbuilder/
15. Artweaver Free
With Artweaver Free you can create realistic drawings. You will draw on the screen with a mouse, or, in a touchscreen PC, but you will feel like you are drawing in a real canvas. This best free drawing software is a layer-based tool for making your masterpiece. It works with the layers without harming the image.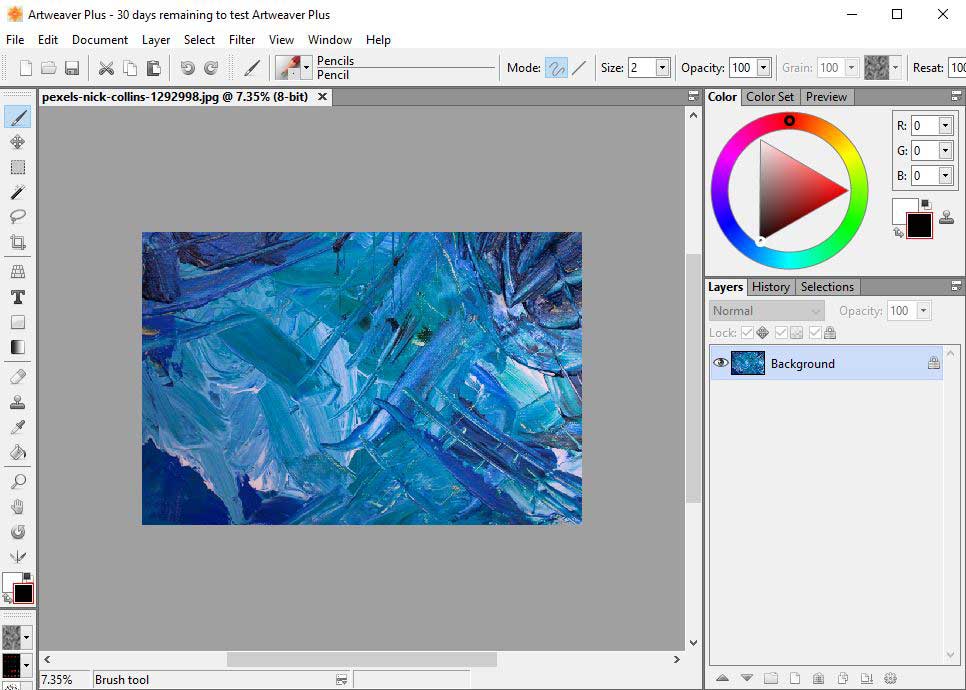 This free drawing tool offers many new brushes. It also gives you a different range of patterns and pens. With that, you can produce complex images. Artists of all ages would love this design. Especially it is very useful for children.
Some users compare it with the analog Corel Painter. But many users consider it with the fifth version of Photoshop. You can work with the layers, import, and export images in various formats. In Artweaver studio you will find all kinds of filters for your amazing drawings.
Best Features
Lots of creative painting tools
You can use scripts for automatic work.
It will make you amazed with so many brushes.
But there are some issues with the text tool. The text tool is not very efficient.
Download link: https://www.artweaver.de/en/download
Conclusion
Once we knew that Photoshop was the only image editing software. But now time has changed. There are lots of free drawing software that are a great alternative to Photoshop. Everyone uses Photoshop in the industry level. Professional Photoshop services also need adobe Photoshop most. It has been reigning in the image editing for almost two decades. The demand for adobe Photoshop is still huge in the present day. But people also moving from Photoshop to other software. Because there is available free drawing software. And they offer the same features as Photoshop. Besides, they are completely free and very easy to learn.
If you are a beginner in photo editing, you may find Photoshop very complicated first. Besides Photoshop is a very expensive image editing software. So, without commercial purposes using paid Photoshop software is not clever. For a beginner, using free drawing software is an easier solution.
Among these 15 best free drawing software Krita, FireAlpaca, MediBang is the best. For photo or image editing Gimp and Paint.Net would be the best choice. But all these free software are fascinating. You can create any fascinating art with any of this software.
But when it comes to deciding for the best free drawing software, it can be tough to make good decision. You can check every free software by downloading them and waste your time. But we gave our best effort to pick you the best free drawing software. There is many software with similar features and capabilities. So, it became hard finding out the best one. So, we show you the 15 best free drawing software. Now you can choose one of them for your journey in image editing. Thus, you can create fascinating digital art. We also used the picture of every software so that you can have a better idea about them.
The ultimate decision is yours. You can buy premium software or use one of these. But we tried to help you and we are happy to help you.
This article will help you to find perfect one from this 15 best free drawing software.
Maybe you are a too-busy person and don't have time to spend on image editing. In that case you can get help from professional Photoshop services.
What are 2D-3d objects?
Objects with the dimension of width and height are 2D or two dimensional. And 3-D means, an object has 3 dimensions such as width, height, and depth. Advanced image editing software can create a 3-D illusion from a 2-D sketch.
What are Comics?
Comics is a medium to express ideas or share stories through a series of pictures. Texts also a great element of comics.
What are the brushes?
A brush is uses for applying paint. In photoshop or drawing software there are various brushes to edit images. And you can paint something with them.
What is the user interface?
The user interface is an appearance or theme of software where we see various options. Users interact with a computer with User Interface or UI. UI gives a user an easy experience about the software with least effort.
What are vector graphics?
A vector graphic is a digital art made with points, lines, and curves. Vector graphics works through mathematical equations instead of using color pixels. If you create any digital art using vector, no matter how large or small you zoom in on the image, they remain smooth. The Adobe Illustrator is a vector-based drawing software.
What are Photoshop Plug-ins?
Photoshop plugins are add-on programs that provide extra effects in adobe Photoshop. Some work is almost impossible or very hard in Photoshop. To make the work easy and smooth we need some extra features. Plug-ins help us to do that.
What is the SVG file format?
SVG stands for Scalable Vector Graphics. It is an XML or Extensible Markup Language. It supports vector format for two-dimensional graphics and animation.
What are presets?
A preset is a pre-configured setting for applying to any number of graphics with only one click. You can use various pre-modified presets for advanced photo or video editing.