Taking photographs in the autumn is a magnificent experience. This season's air is fresh, and the trees are transforming colors, creating a warm ambiance with a diversity of yellow, amber, red, with brown colors. Fall is a terrific time to be a photographer. The models gleam in the bright golden light that bathes them. Because of the vibrant fall colors in the photographs, your backgrounds look pretty stunning.
On the whole, this season of the year is ideal for experimenting with fresh fall photography ideas. It can be beneficial to have fall photoshoot ideas if you like to have fall photography for your Instagram profile or any other social. We have collected a list of fall photography ideas to encourage you to pick up a camera and get creative. Enjoy!
Top 25 Best Fall Photoshoot Ideas
These fall photoshoot ideas will help you think of ways to make your pictures stand out and show off the autumnal vibes in the best way possible.
1. Take a seat or stand in the middle of the street for Fall Photo Inspiration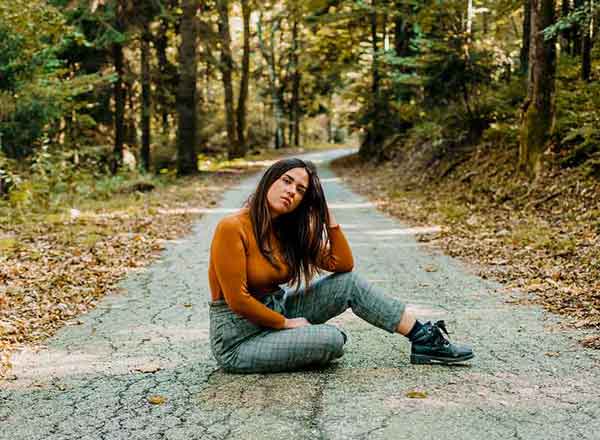 The most beautiful fall photographs are those shot in the country, in the middle of nothing. Since there are no autos on the route, park yourself on a strip of highway accompanied by hills or forests, and ask a buddy to take some shots for you.
2. There are a lot of leaves all around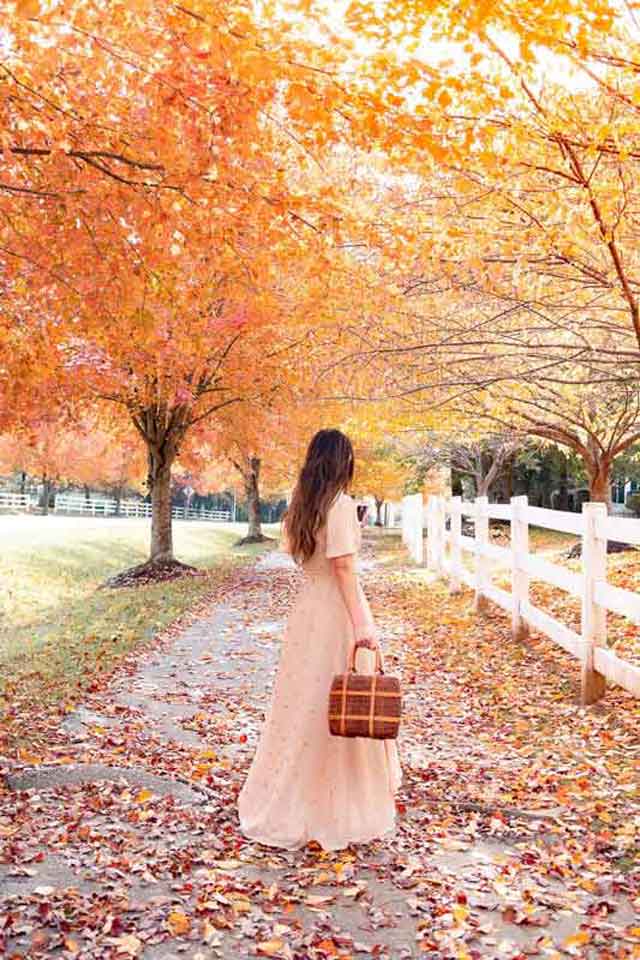 For those searching for something aesthetic and distinctive, this fall photoshoot theme is an attractive option to consider. Take a photo while sitting or reclining among a pile of fallen leaves unless they are too available in the area.
As the forest changes colors in the autumn, the images will have a beautiful autumn feel. Moreover, this view is great for the fall photo ideas to create on Instagram.
3. Into the Woods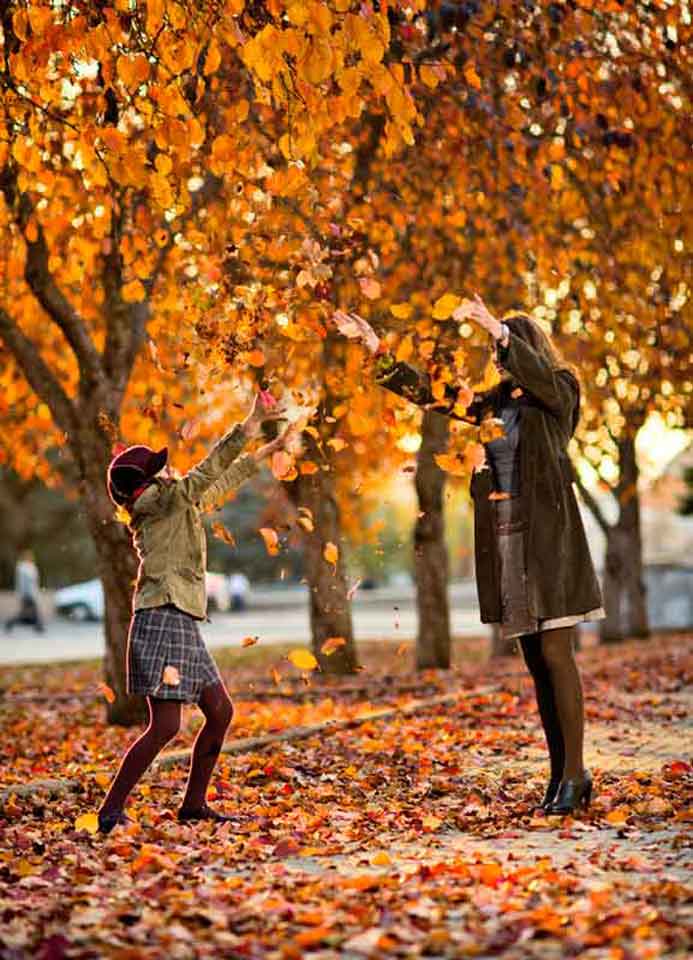 For fall photoshoots, woods or forests are excellent locations. On a sunny day, you may get some very stunning images. Choose a location with many trees, and we recommend taking a walk among the piles of fallen leaves. Additionally, a cheerful and lovely gesture can be made with a sweater in the fall season.
4. Near the water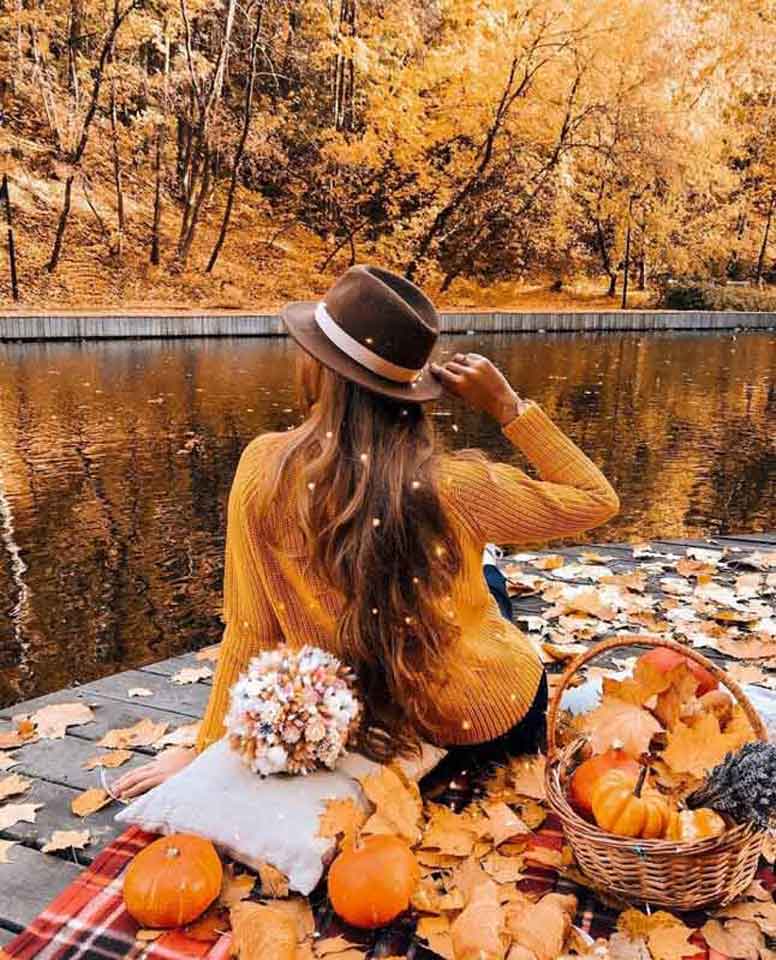 You can take great fall photos if there is a pond or river near you or a pool of water covered in trees and barks around. The water will add a sense of calm to the pictures, and the nearby tree branches and grass will add a sense of fall to the photo session.
5. Play with leaves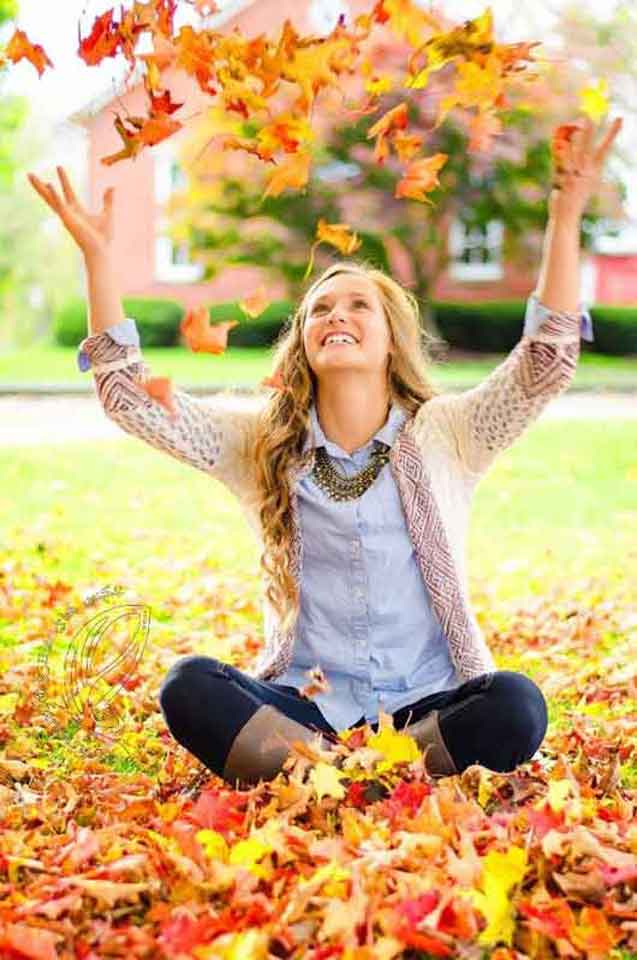 In an autumn photoshoot, who says that kids can only do things with leaves? The adults can get too! These fall photoshoot ideas can also be accomplished with your brother or a friend close to you. The idea features the event and will show off your adolescent memories.
6. A Rail Track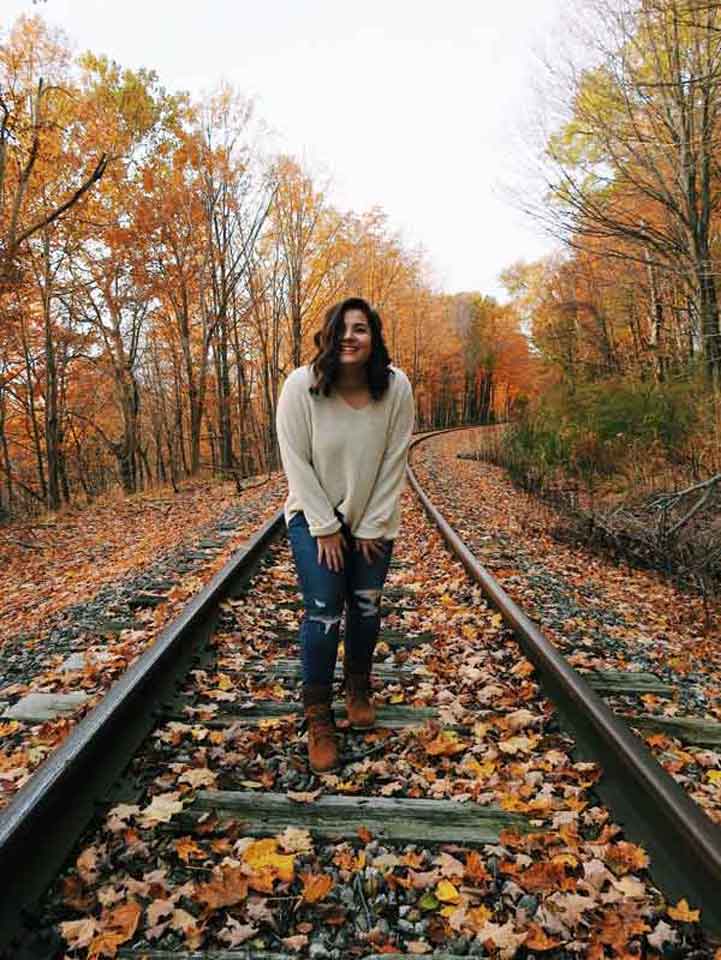 Try to make yourself look like a country document cover. We're joking, of course, but we don't mean it. Yes, in some ways. The fall photoshoot will look gloomy but great as long as you dress up in a winter coat.
The fall photoshoot will look gloomy but great as long as you dress up in a winter coat.
7. Pumpkin-themed fall picture ideas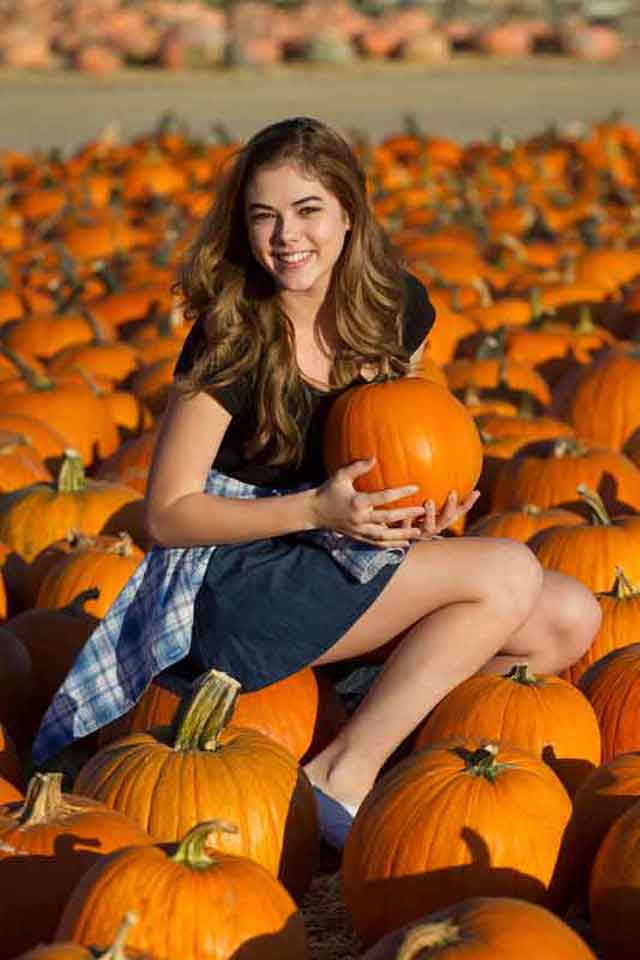 Pumpkins are a sign of fall, so they are the best thing to have. Make sure you use pumpkins in the picture and assemble them in any way. You can wear even them as a hat, too! Take a photo of them and make them look silly, like in this picture.
8. Tilt on a tree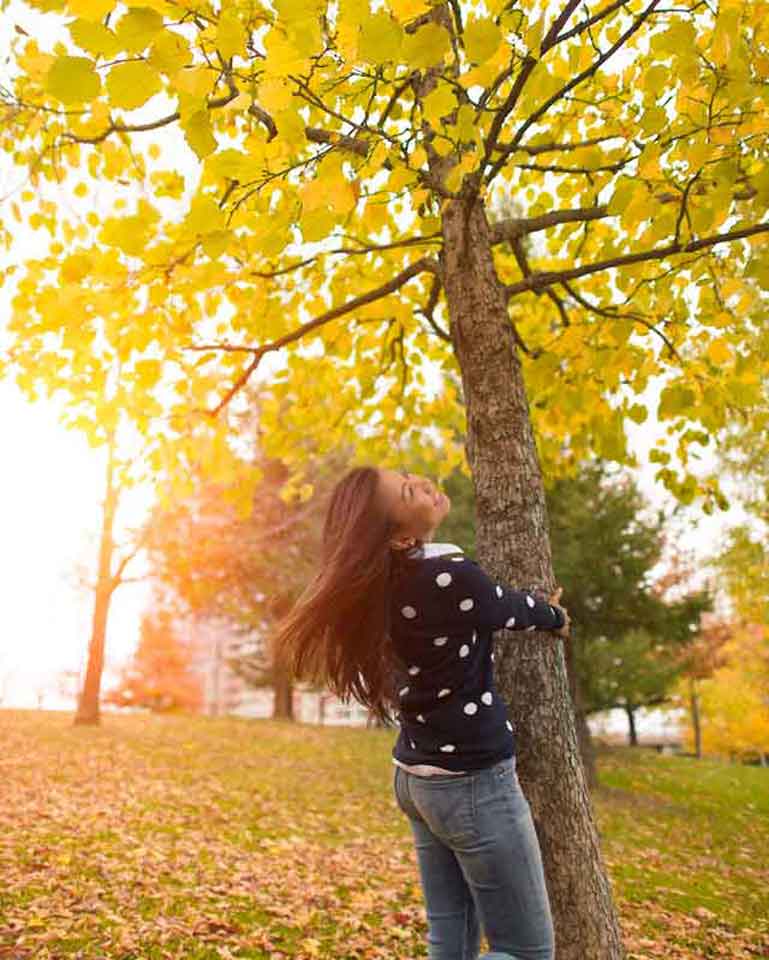 Most of the time, trees make a great picture. To get the best picture, you can lean on or move around them. Trees are great places to take photos in the fall, particularly when the blossoms around them change colors. It is one of the best ways to take pictures of trees when it's fall.
9. Build a Fence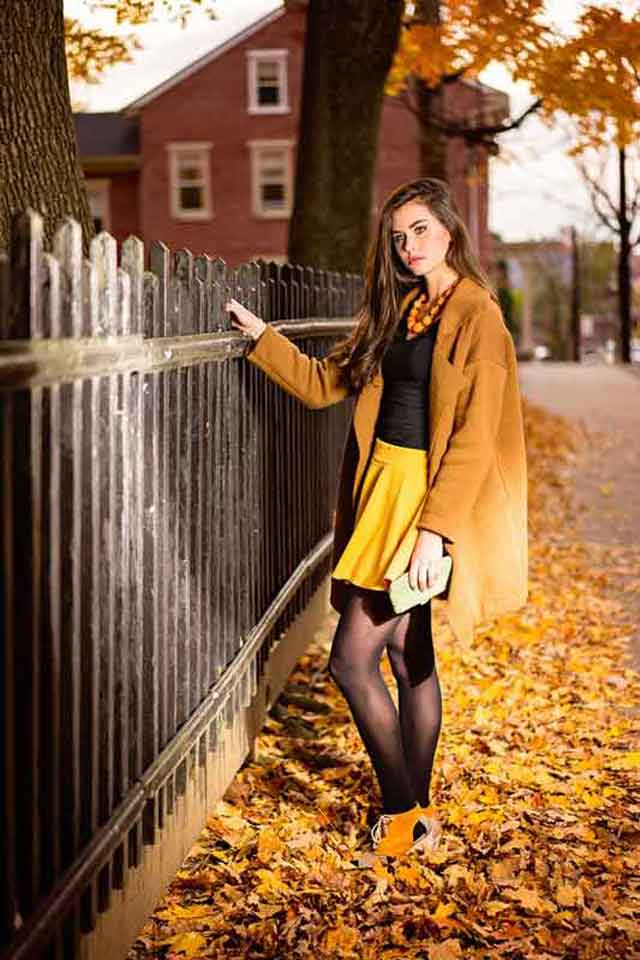 A fence is a great context or props for a fall picture. A fence post, in particular, is what I mean. I think photos of it will look great. It does have a country, fall feels to it, and you can. They add a different look to your fall pictures.
10. Sit on the leaves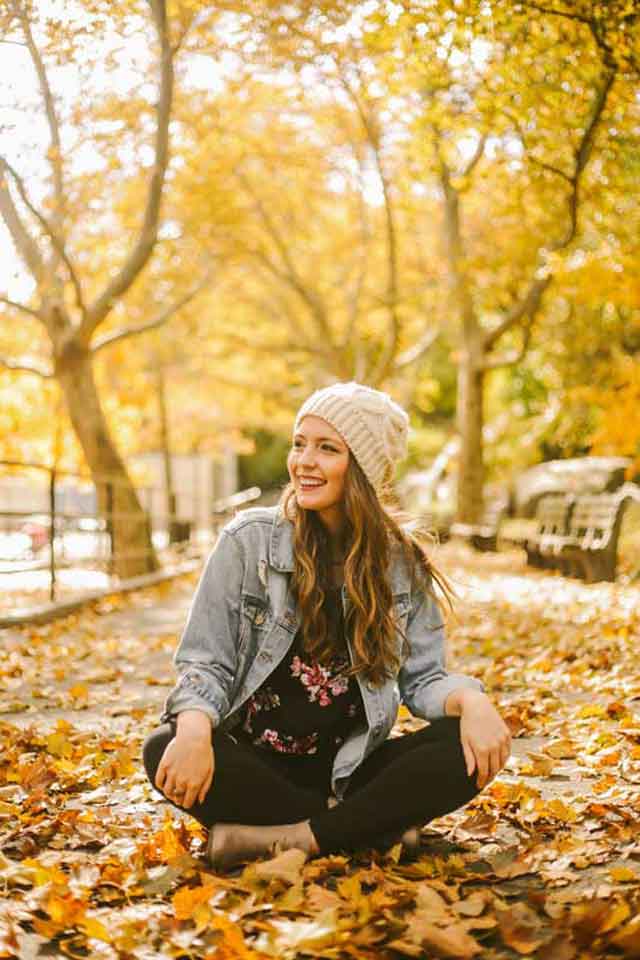 You can get some fun, vibrantly colored photos by lying down in the leaves. If you like it, do it. Start giving this idea for a fall photo session a try if you want some great headshots. There are many ways to use leaves to make your photos more interesting. You can even do this a few times. It could be fun to make an eye mask with the dried leaves or to use them in any other way that comes to mind.
11. Get lost in a corn maze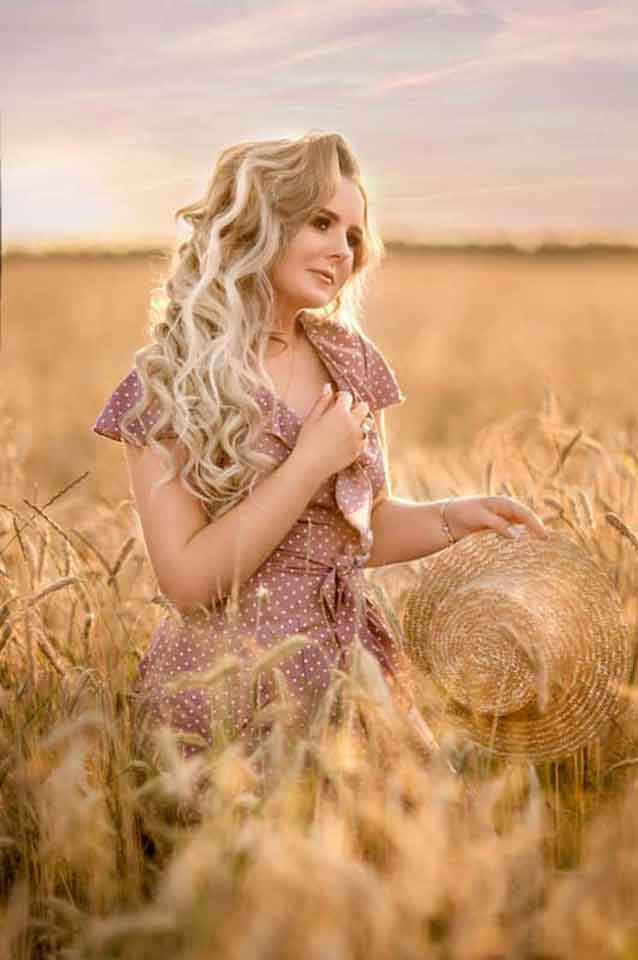 A cornfield for an autumn photo session sounds like a good idea. Corns mazes are common during the Festive season. Those look great on camera and make the whole fall look even better. The gray color of the farm field gives the model an aesthetic and appealing look.
12. Pumpkin is in the air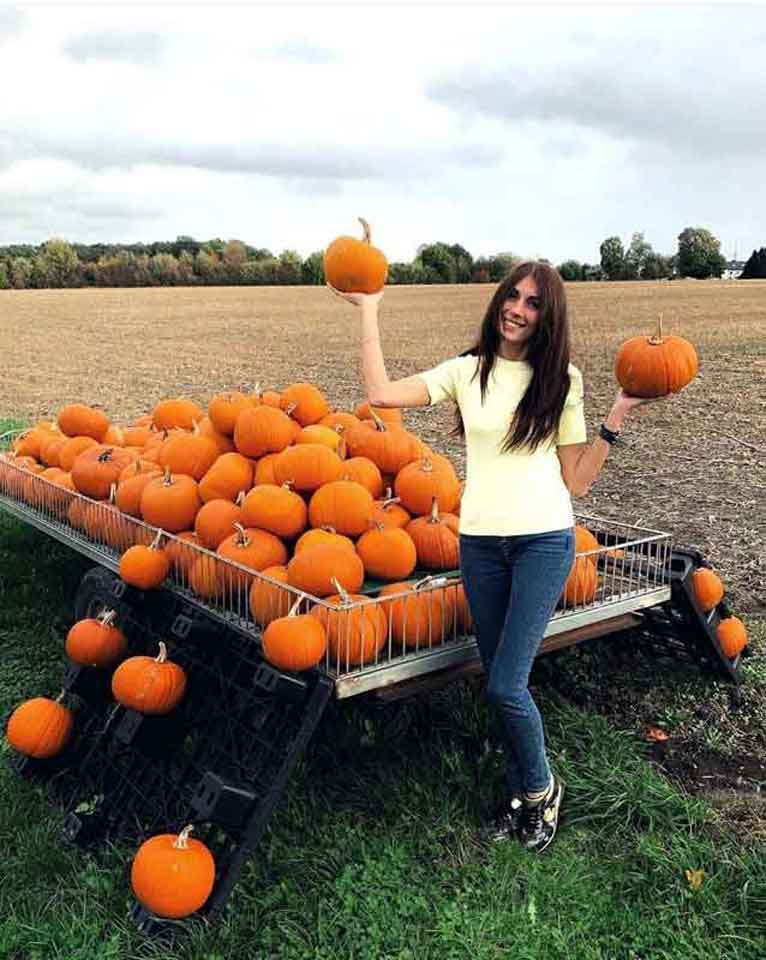 It's always fun to take pictures of pumpkins in the fall. Use the pumpkin in a lot of different ways. A pumpkin can be thrown in the air, and an image can be taken. However, it may be hard to get a good picture on the first try. But if you find success, you will also have a picture of fall for the rest of your life.
13. Match the Nature of the Animal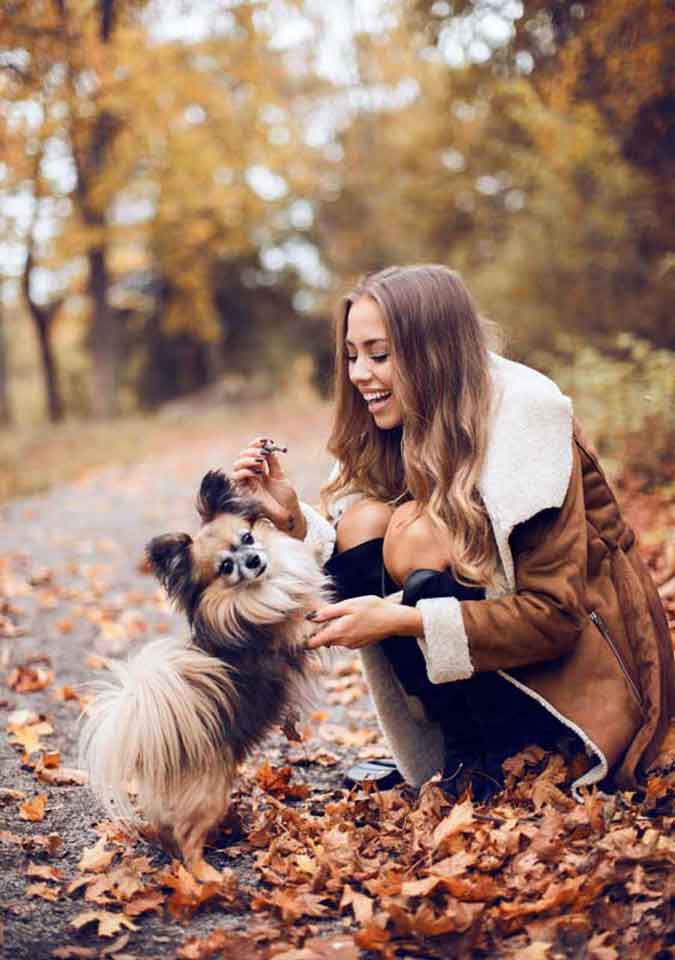 Match your dress to the tree branches or leaves. Start chucking on a bright gown and try to use some props like an umbrella or something. We suggest that you use the zoom lens while clicking the pictures. As you already know, zoom lenses make the picture look more intense because they make the surroundings look bigger than they are in real life.
14. Sitting on a garden cart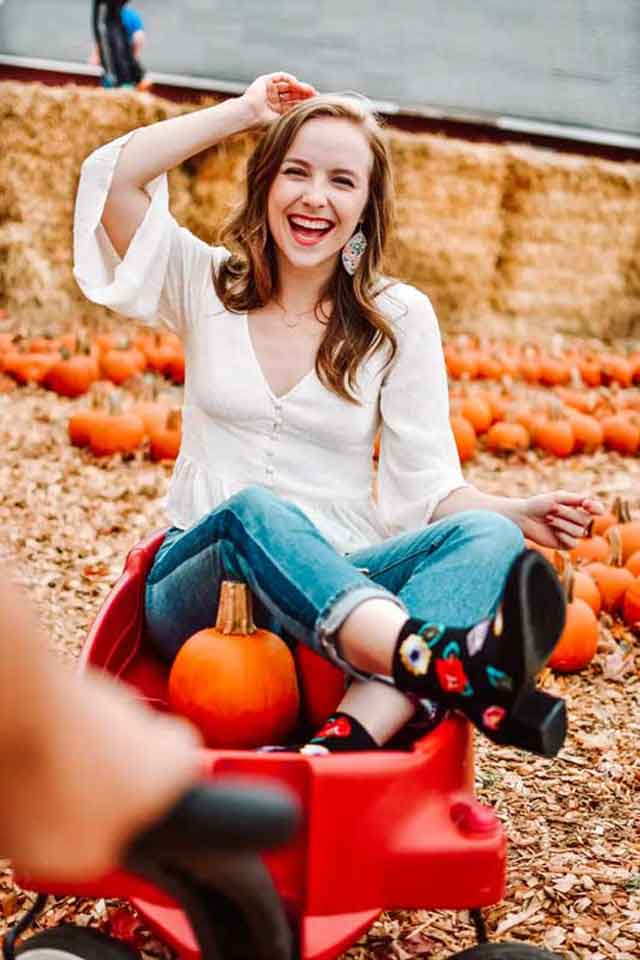 A great thing about garden carts is that they make great props if you're in an apple orchard or a vegetable field. It doesn't matter if you have two people in the cart or just one person in the picture. Garden carts are great for fall photoshoot ideas. These are fun and will make one happy for decades while looking at the picture.
15. It's important to enjoy the fall while sitting down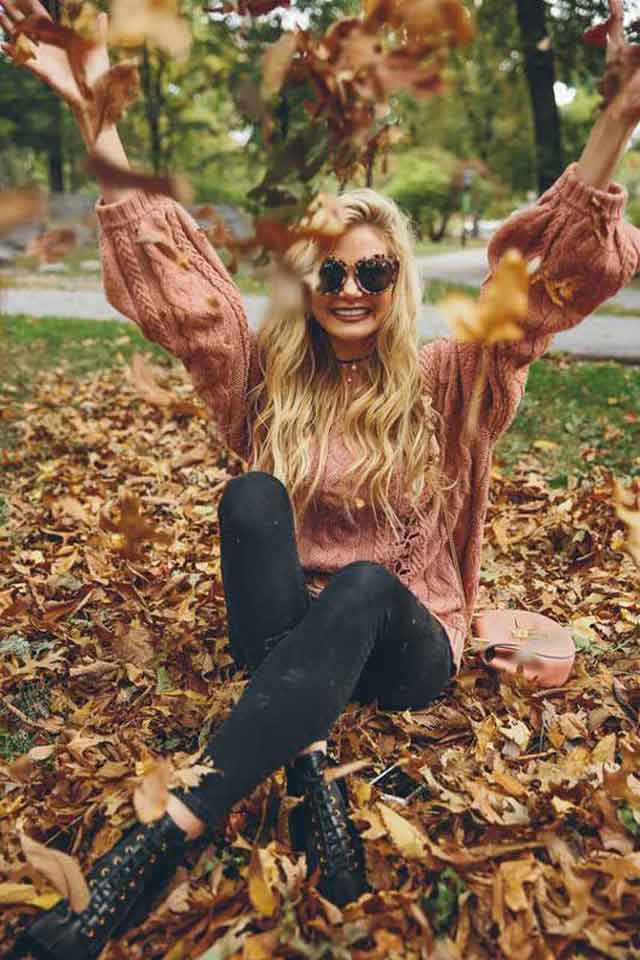 A place framed by leaves is a great find! A picture was taken that was priceless. A lot of people like to do this. You can sit down, start dancing in the middle of a street or stand there. What makes your picture look so good is that it has a lot of autumn colors in it.
16. Make a frame out of leaves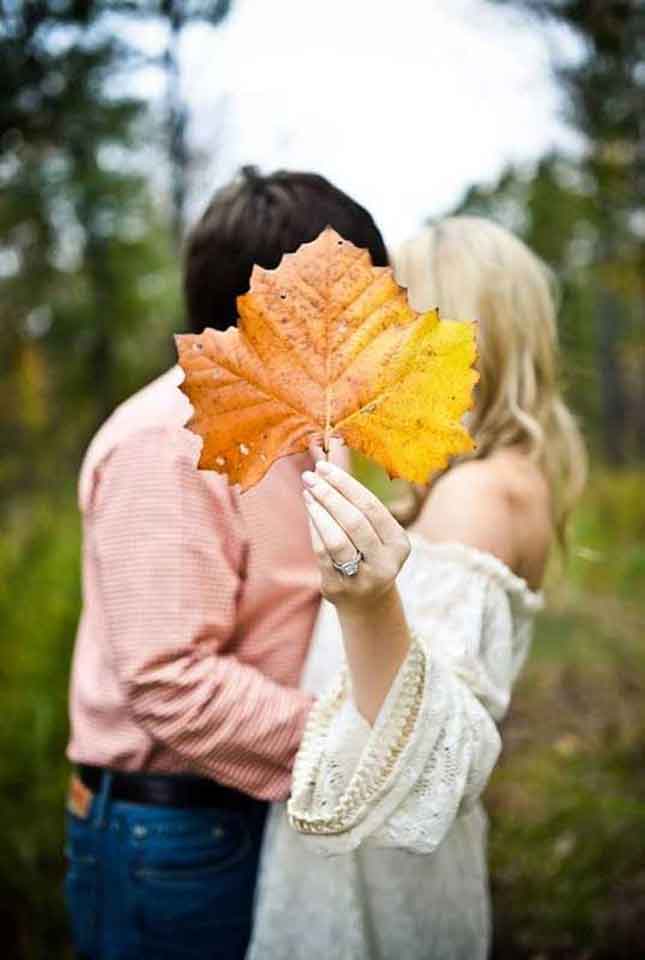 You might want to bring scissors to your next fall photo session if you find a beautiful leaf that has fallen and looks excellent. A heart, circle, or triangle could be cut out to make a screen for the picture. The natural accurately depicts the picture with a more natural feel while making the picture even more beautiful.
17. Sunflower field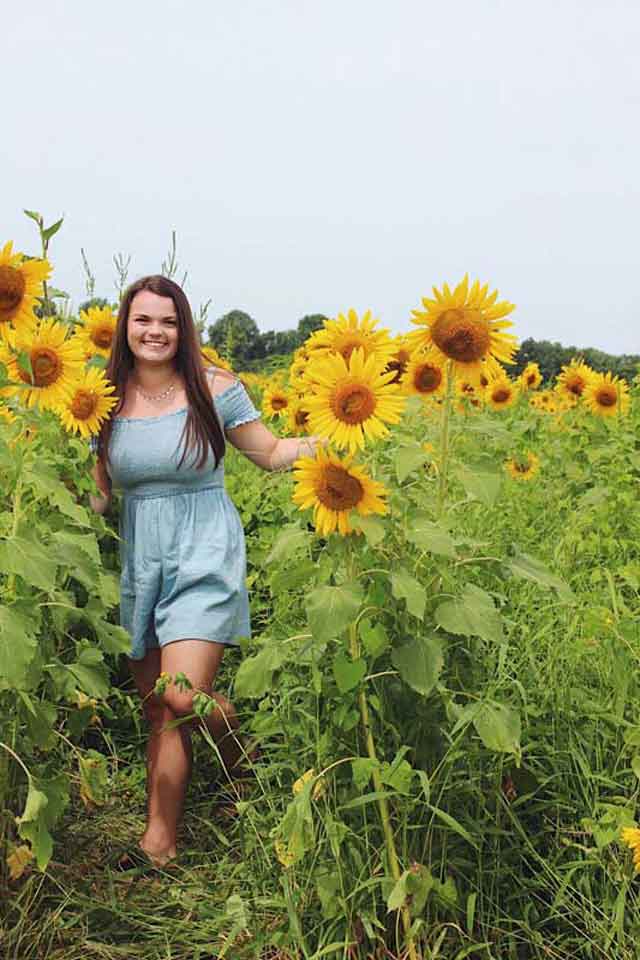 Use flowers that are in season to make the photos look good. Sunflowers are only around for a short time each year, so take full advantage of September and October to get the perfect photos. There are even some pumpkin spots that have sunflower fields to get two different feelings of fall at the same time. To get the best social media photos, mix fall and flowers!
18. Do not forget about your pets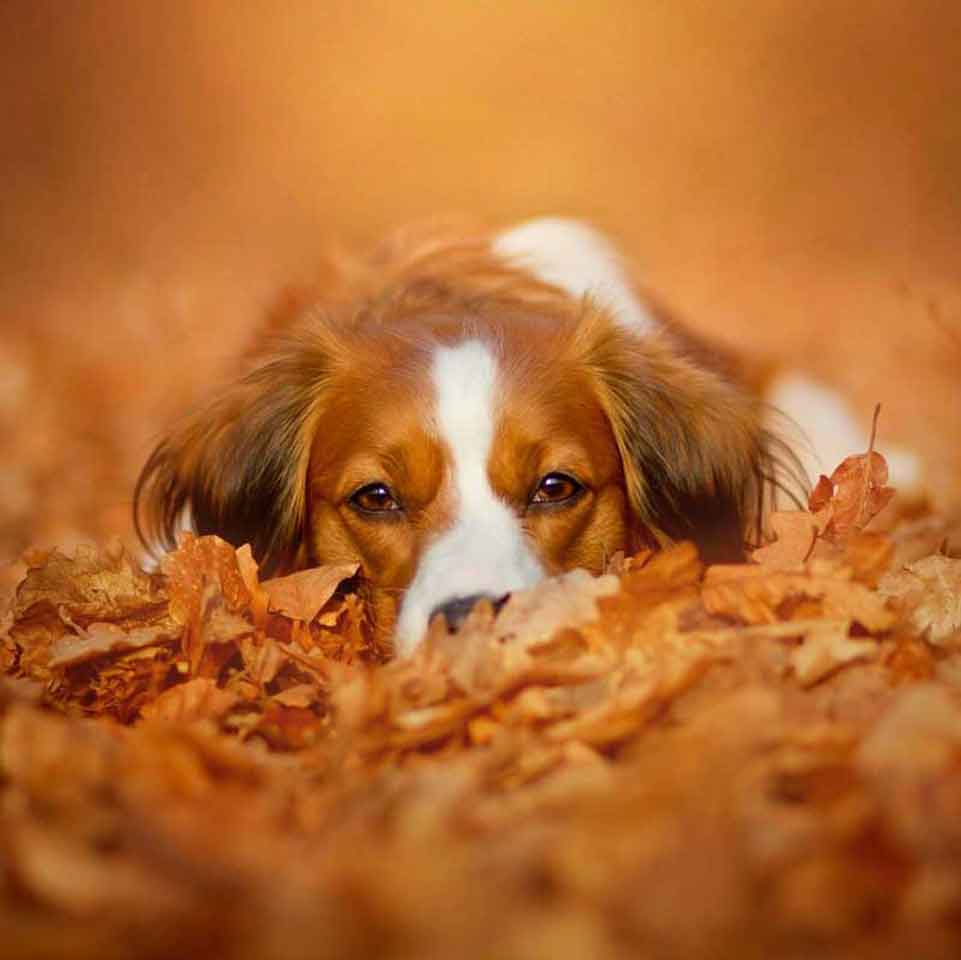 Pets are great friends in life and when you are taking pictures. They significantly impact any picture, making it much more lively and memorable. As a result, the pictures will be more realistic if you have a dog or cat around.
19. Dancing To Your Heart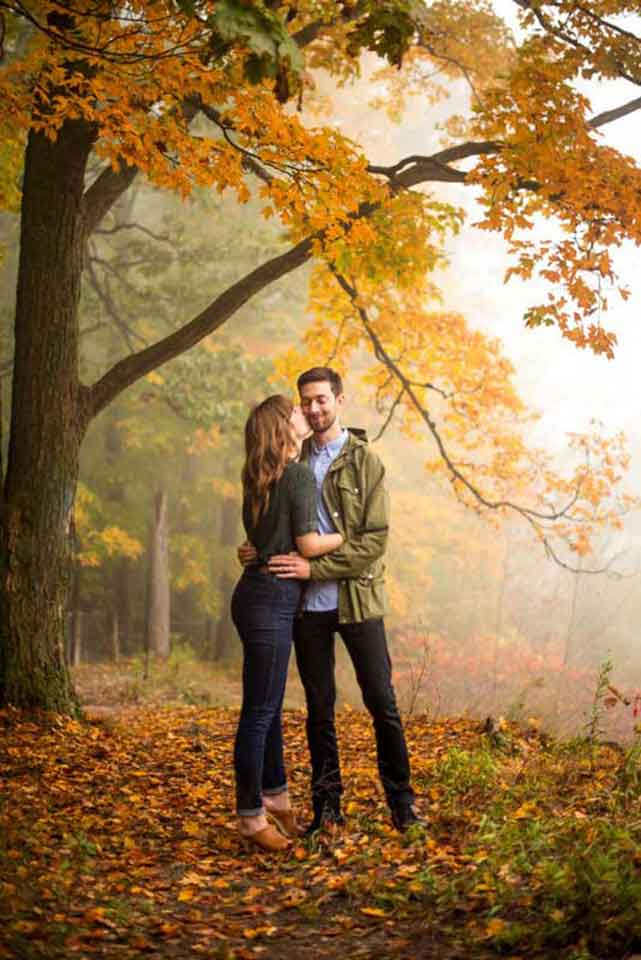 For couples, the perfect photo pose is essential. Feel the earth and have a good time with loved ones while slow dancing. It will make the picture look more natural and authentic. You can ask the photographer to hurl some leaves around creatively or to keep something bright in the context to make the picture stand out.
20. Forest Path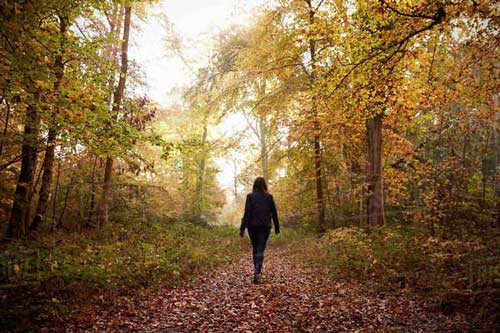 Simple forest walks can lead you to lovely leaves and drop picture possibilities at every turn. It doesn't mean that the fall tends to leave around you aren't as beautiful as this. Photographers frequently change the color and compression of leaves in their pictures to make them look even more like leaves in the fall.
21. Fall in love with flowers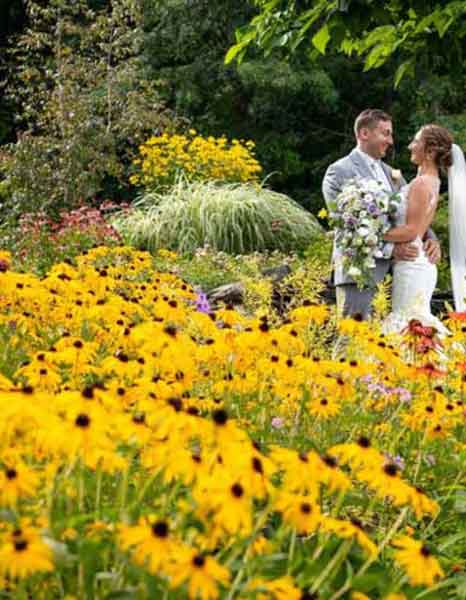 This time of year, flowers usually come to mind when you think of spring. But there are also a lot of beautiful flowers in the fall. Fall flowers will be expected to be full of rich pastel colors, burgundies, and golden yellows, among other things. It would be better for any fall picture if it had some fall flowers in it. Fall flowers can be used as simple and beautiful props.
Tips for the Perfect Fall Photoshoot Ideas
Say "Yes" to varied Color Palettes
Choosing the right color combination for your picture is important, especially in autumn. Your primary colors might be a little stronger and brighter this time around. Tans, creams, blue (yes, navy is balanced), grays, and browns will make up the rest of the color scheme. Create your clothes based on the colors in the palette.
Here are a couple of possibilities that we particularly like:
Cream, navy, yellow, gray
Brown, orange, brown, navy
Emerald green, tan navy, gold
Olive green, tan cream, navy
Cream, brown, navy
Because of the leaves, it is perfect for autumn photography to have greens, reds, oranges, and yellows in the backdrop; therefore, your attire should complement (and will be supplemented by) these colors.
Remember to coordinate colors
When it comes to matching your attire, we suggest not to go overboard. Everyone doesn't need to be dressed in a pair of jeans and a beige sweater. Make use of your imagination when it comes to color. However, wearing darker jeans or tanned chinos with your partner is not recommended. You would not want your legs to be about the same color as one another and merge! A white sweater will not be ideal for the other person if one of you is already wearing a cream sweater.
One more thing to think about while choosing attire is the colors of your house! If you plan on mounting your photographs on your walls, consider what hues will look well next to the colors of your cabinets, accent walls, and other decorative elements in your room.
Generally speaking, you will want to steer clear of pure white or pure black. Colors from the sky and ground around you will be picked up by pure white, and in the fall, this is often blue (sky) or green (earth) (grass). We understand that wearing black makes us all appear slimmer. Some people have a predominantly black wardrobe, but wearing black clothing (or sweaters or trousers) will make the entire appearance appear incredibly overweight.
Begin with a single number
Whether you are planning a family autumn picture or a partner's session that takes advantage of the autumn, one person in your group should select their full wardrobe before the others.
Consider the following scenario: say you are shooting a mother, father, and their three children. Having mum choose out her full clothing first is something we would encourage. Then you may expand on that ensemble by selecting a complementing suit for Dad. Then go through the children's clothing and accessories to see if any items go together.
This makes it easy to create with a single costume and then layer on top of it!
Avoid Being an Eyesore
When planning your fall photoshoot ideas, you should avoid using too many patterns. Try to stay away from tee shirts and sweatshirts with huge logos. Using solid colors and classic patterns such as checkerboard, plaid, and animal print is very effective when photographed. Delicate designs, on the other hand, look fantastic.
Because you are putting together clothing, keep in mind who will be next to whom – do not put the mother and father in the same plaid shirt; instead, put the mother in a solid choice and the father in a checkered one.
When it comes to wearing thin, high contrasting striped clothes, we always advise the users to refrain from doing so (think black and white striped shirts). The narrow shifting lines are difficult for the digital camera to process properly.
Accessorize and add layers to your design
Scarf, shawls, vests, hats, and other accessories are ideal for wearing during the fall season! Make a statement with a bright lip or some beautiful bootie socks! A jumper over a collared shirt is a good choice. You can wear a vest over a turtleneck to keep warm. You have a plethora of alternatives!
So, we hope our fall photoshoot ideas were enough to cheer you up! Try the ones you love!