Color is a powerful element in graphic design. It can control the emotion or mood of a visual object. It also conveys important messages about them. The attractiveness of a photo can vary depending on the colors. The combinations of colors in the objects make them ordinary or extraordinary.
If you are an artist and graphic design is your passion then you must know how important colors is. Color is important in every Photoshop work. As a graphic designer, you must know about the adobe color wheel in Photoshop. Adobe Photoshop has done genius work for this important element in photography. With this, you can make your color template. And use those for making a perfect color combination.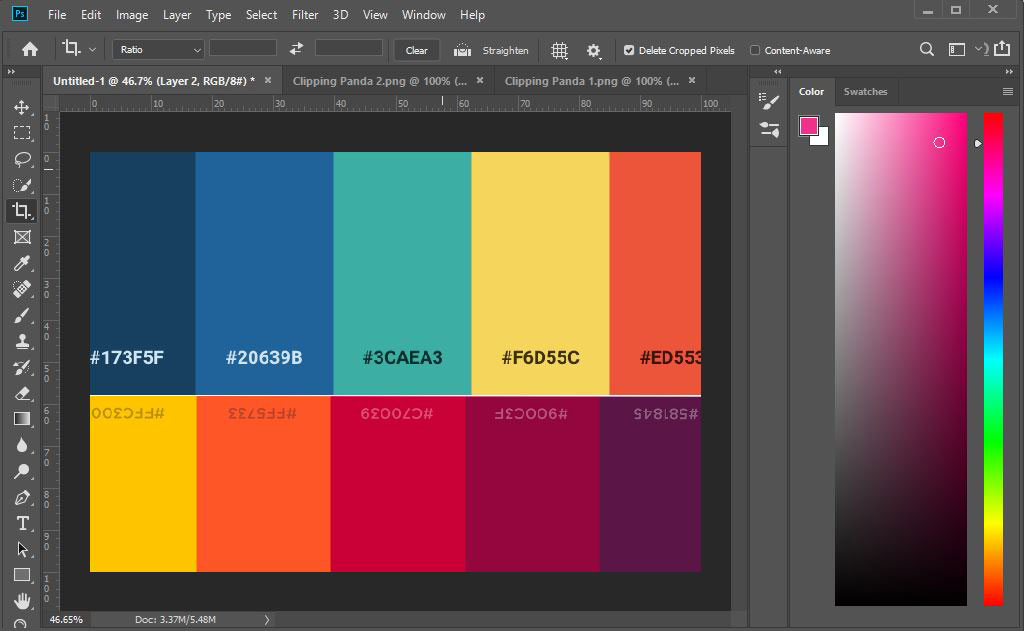 If you are using Adobe Photoshop CC and having problems with using its color wheel then don't worry. Because we are going to explain the ins and outs of this tool for you. If you didn't find it amazing yet then we are going to make it amazing to you. We will show you how to make your unique color palettes using the adobe color wheel. Not only this, but you will also learn every bit of color information. only if you read this whole article. Before going further, let's know some basic ideas about it.
What is the Adobe Color Wheel?
There are three types of colors. Red, yellow, and blue is the primary colors. Secondary color includes the mixing of primary colors in an equal amount. And another type of color is Tertiary colors. It doesn't need an equal amount of colors. Suppose, we want to make a green-yellow combination, so we have to mix yellow and green colors.
So, a color wheel presents colors according to their chromatic relationship. It adjusts color's primary hues position and separates one another. Then help us to create different color palettes using primary, secondary and tertiary colors. In Adobe Photoshop there is a unique color wheel that works with this method is the adobe color wheel. But Photoshop upgraded its color wheel which is more unique and easier to use.
Adobe color wheel is a responsive color wheel. You can create your unique color palettes using the color wheel in Photoshop. You will also find this feature on the Adobe website and mobile phone. For the mobile version, there is an app called Adobe Capture. You can download it from the Play store.
In the desktop application, you will find the adobe color wheel below.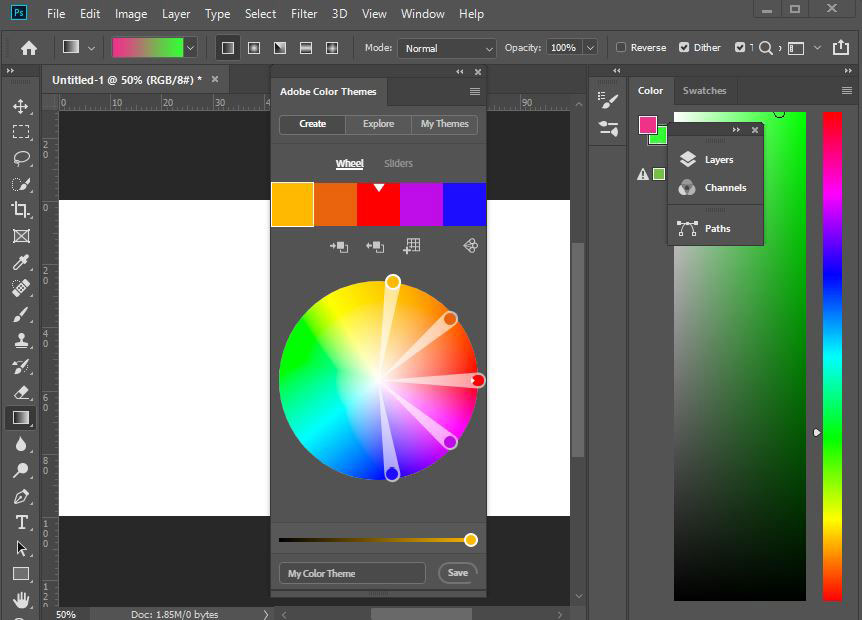 To use the color wheel online. Go to https://color.adobe.com/create/color-wheel . There you will find an amazing interface of adobe color wheel.
Making color palettes in the browser and photoshop is pretty much the same. So, first, we will browse and experiment with the adobe color wheel. We are going to show you how it works. Then we will enlighten you with the desktop application color theme. Let's gain some new experience with the amazing color wheel.
Experimenting with Adobe Color Wheel
If you want to make the best combination of colors and use in Photoshop the color wheel is the best option. In that case, don't choose random colors. Use the Adobe color wheel for the best presentation for your unique project. Like we discussed before, you can find the adobe color wheel from the Adobe website. There you can use different styles. Such as analogous, triad, monochromatic, complementary, compound, square, etc.
You should find those options in the color harmony menu on the left side of the adobe color website. With those options, you can choose a different color scheme and set color harmony.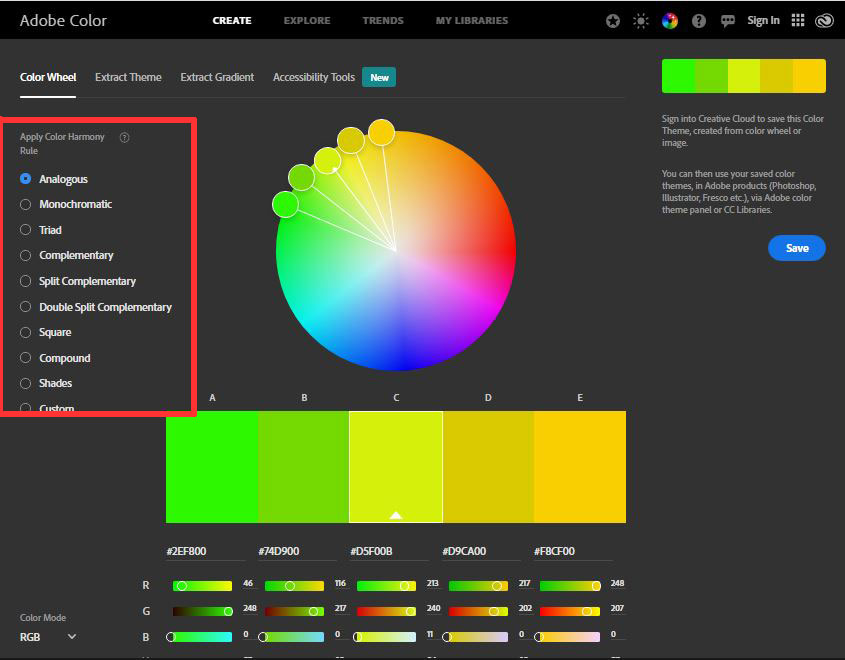 Suppose you want to make the best combination color palette with only one color. So, to do that you must choose the monochromatic option. Imagine for a moment that you want your best presentation color palette to be all one color. That means you can combine different shades with the same color. If you want to make the best color presentation with three different colors then you must choose the triad option. Thus, you can make colorful palettes with various shades from three different colors.
In the color wheel, you can turn the color handle to see different color shade. You can drag those handles up, down and move them circularly. To get high saturation color you need to drag them to the outermost surface of the wheel. To decrease the saturation just lower the handles to the center of the adobe color wheel. Whatever you do with them, you will find every color block below the wheel. And under the color block, you will see the color codes for every block.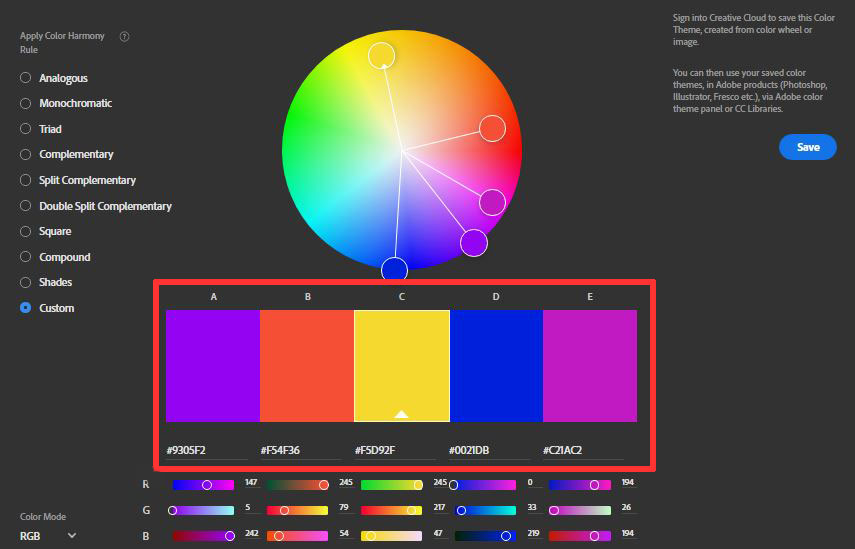 For the exact color palettes that you want, use RGB sliders. You will find the RGB elements at bottom of the adobe color wheel page. With the RGB color elements, you can slide them to get accurate color codes. With this process, you can control the color tone more easily. Another easy way to pick or adjust color is by using the hex code. If you know the exact hex code of the color then just input them in the hex code box. It is a great and time-effective way to make a quick color presentation. Suppose your color code is #F54F36. If you input it in the box for a particular color block, you will find your exact color.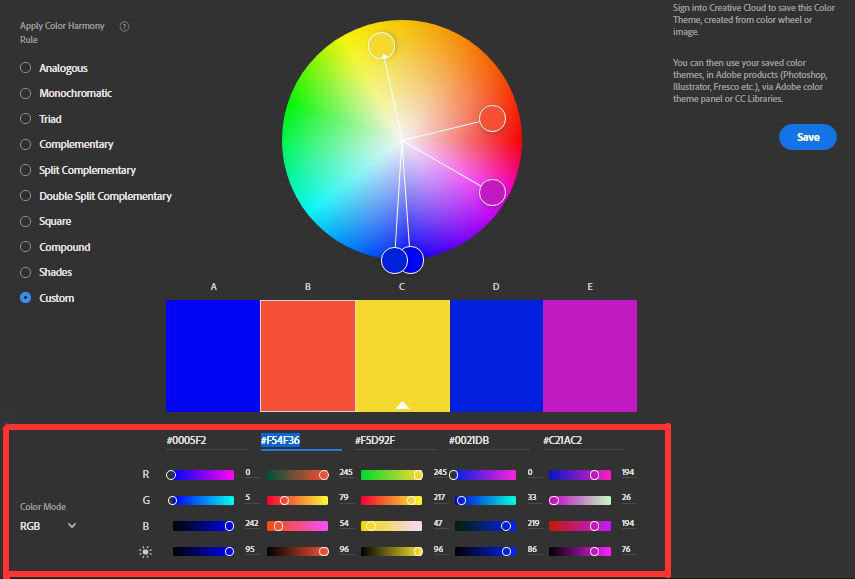 Adobe Color is ready to accommodate this. Just below each color swatch, input a color hex code. That's the best way to ensure an exact color match. You can also select a different color mode from the color mode option. Such as CMYK, HSB, LAB, etc.

Extracting Color from a Photo
Another amazing option in the adobe color wheel is The Extracting Theme. You will find this option beside the color wheel option. Sometimes you may need to dissect each color from a photo to make a dynamic photo from that photo. With the extract theme option, you can easily upload your photo to do that.
First, click the extract theme option beside the color wheel option. Now you should find an upload box to browse and select your photo. Click on the "select a file" option. Now browse and upload your desired photo.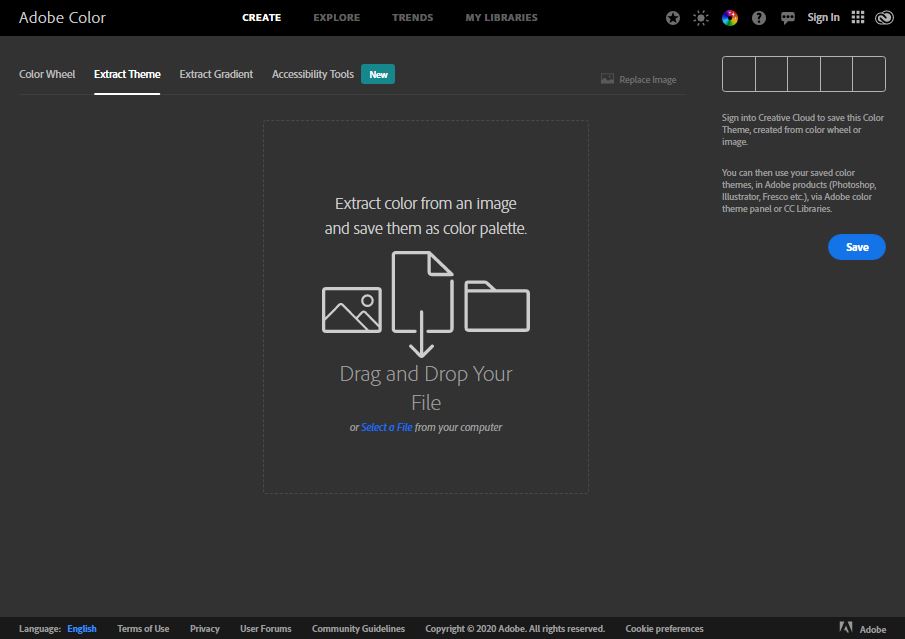 After uploading the photo, you will see that the adobe will extract each color from your photo. And it will make you a color palette that you can use later.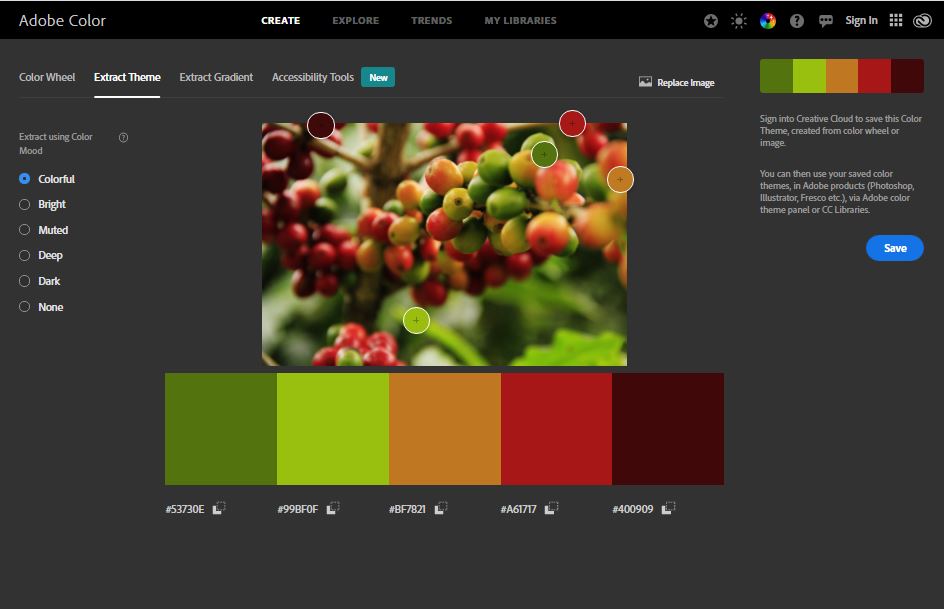 Here, you can change the color mode from the left side of the image. There you will find different color modes such as Colorful, Bright, deep, dark, etc.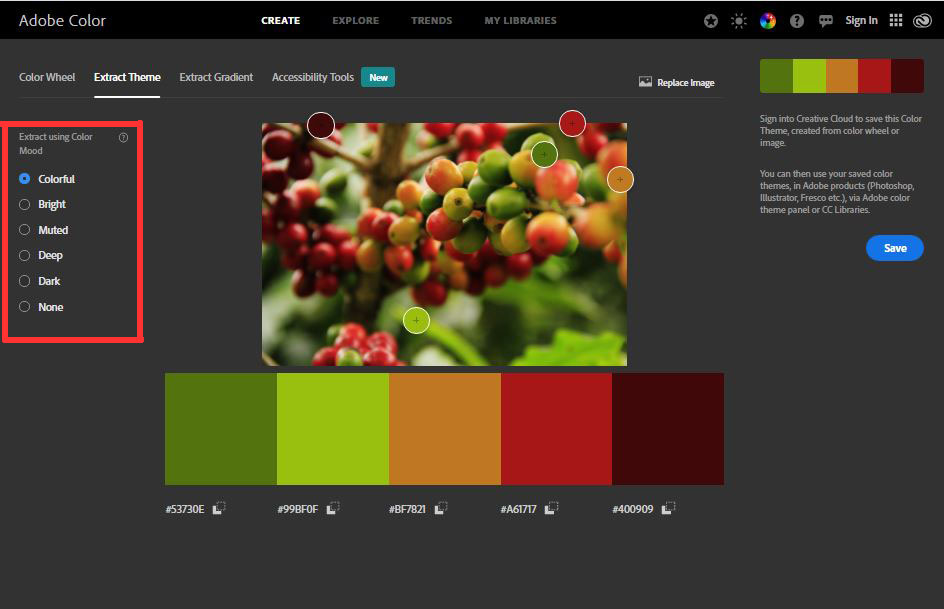 You can also make gradient color palettes with the Extract Gradient option. To get a precise gradient color palette, use a different number of ''Gradient Stops'' from the left side.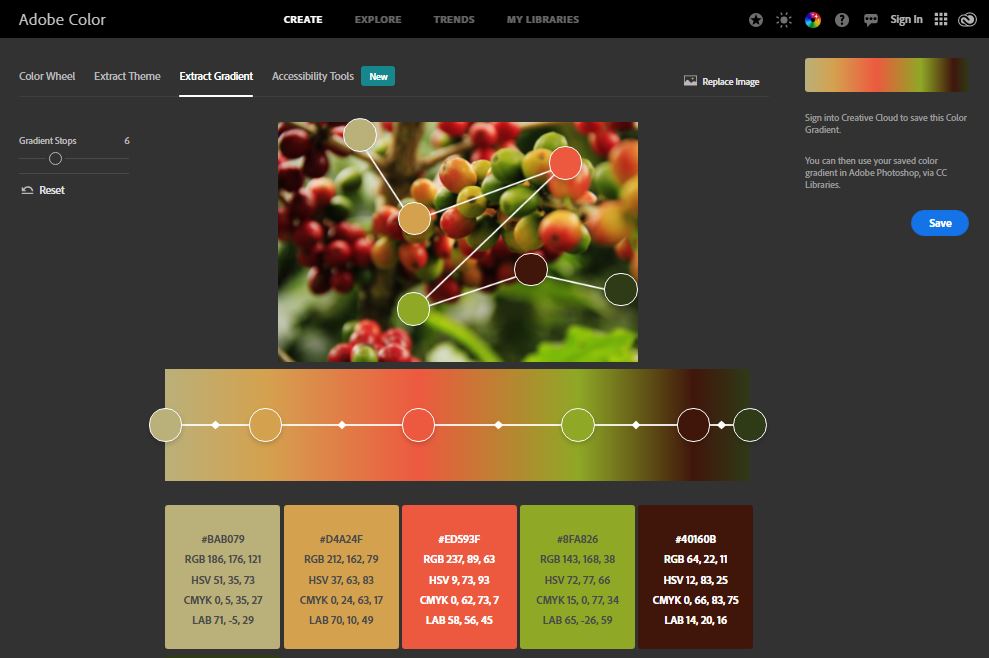 In the adobe color wheel, there is also another important option. You can work more accurately with the help of the accessibility tool. You can explore various color palettes and see the trends too.
Now when you finished creating a color palette don't forget to save them. You will find a save option on the right side of the adobe color wheel. But remember you need to sign in to adobe cloud to save your color palettes. Then you can see them in the "My Library" option.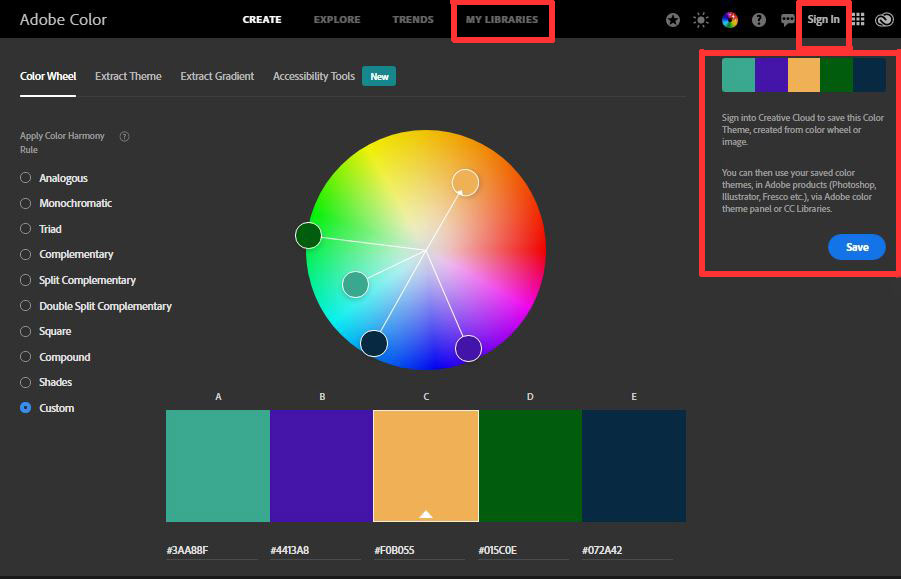 Opening Adobe Color Wheel in Photoshop
To open the adobe color wheel in Photoshop, first, open Adobe Photoshop. Now go to the window from the top bar of Photoshop. Now you will see the extension option. Click "Adobe color Themes" from the extension.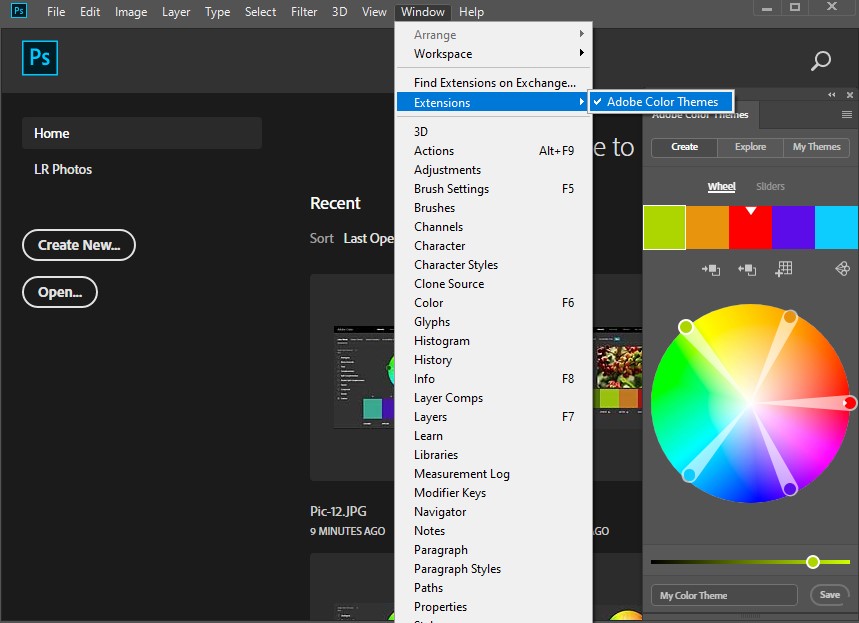 You will find all the options of the adobe color wheel as like on the website. Create and save your amazing color palettes.
Conclusion
People develop color theories from many studies. The color theory is about understanding how color relates to each other. Graphic designers need to learn about color theories to use them in their work. Adobe color wheel makes it easy for the designers. This is a very important tool to create an amazing design within a few moments. Manually choosing color takes lots of time. And it harms the working. So, using the color wheel can save a lot of time for designers. With this color wheel, anyone can easily create a balance of color combinations.
What is the difference between RGB and CMYK?
RGB stands for Red, Green, and Blue color. And it is for electronic devices. Such as digital painting requires RGB colors. CMYK means the primary colors of pigment: Cyan, Magenta, Yellow, and Black. CMYK needs in printing. Besides RGB creates a combination of white color. And CMYK creates Black.
What is the color wheel?
A color wheel is a wheel of different colors used to make color palettes from various colors. It measures the relationship between color values. With the help of the color wheel, designers can pick a color by just clicking the mouse point.
What is the hex code?
A HEX code is a combination of a six-digit number with the symbol # to show the color value in a color wheel. Generally, we use a HEX color code for RGB values. The rule for writing the hex color code is #666666.