Black and white portrait photography allows you to convert a beautiful colored photo into black and white. Black and white portraits are also excellent to capture emotions and expressions. This type of photography makes expressions more profound and the picture becomes more understanding. Digital photography is full of vibrant colors. So, showcasing subjects in monochrome gives us a classic look. It can be a female studio portrait or a natural street portrait. Whatever it is the picture will have the classic feel.
In this photography guide, we will discuss how to shoot stunning black and white portraits. Before going to the main discussion, we should understand what is portraiture.
What is portraiture?
There are a lot of definitions of portraits. Especially there are differences of opinion on what makes a good portrait. But only one thing is common in doing portraiture and that is capturing the expressions. Portraits are not just two-dimensional representations. It engages real humans.
A great portrait must tell us something about the subject. It will raise some questions that make us want to know more. Black and white color is a popular choice for portraiture. Black and white also great for creative and timeless images. It is a great technique to frame into something classic and artistic.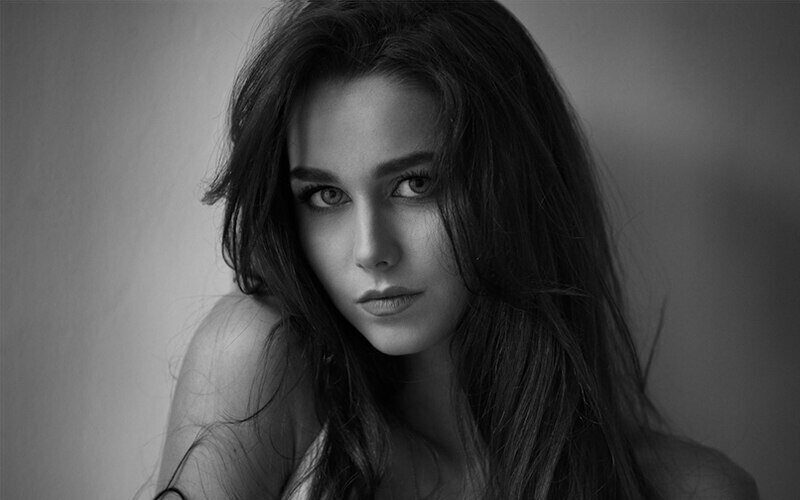 Settings for Shooting Black and White Portraits
Before shooting black and white portraits, you have set up different settings. Those settings include camera settings, lighting, location, and the model's posing. You have to plan all of this carefully. Think about what story you want to tell your viewers. Then concentrate on your works to bring your thoughts into reality. The following information from this guide will help you make the perfect settings for shooting black and white portraits.
Camera Settings
In this case, you may want to separate the subject from the background. To do that, use an aperture of f/1.8 – f/3.5. Such a camera aperture will make your subjects amazing and gorgeous bokeh effect. Using a soft background will also eliminate any potential distractions from the photo. Do not feel left out, if you have a different method. But experiment with every effective method.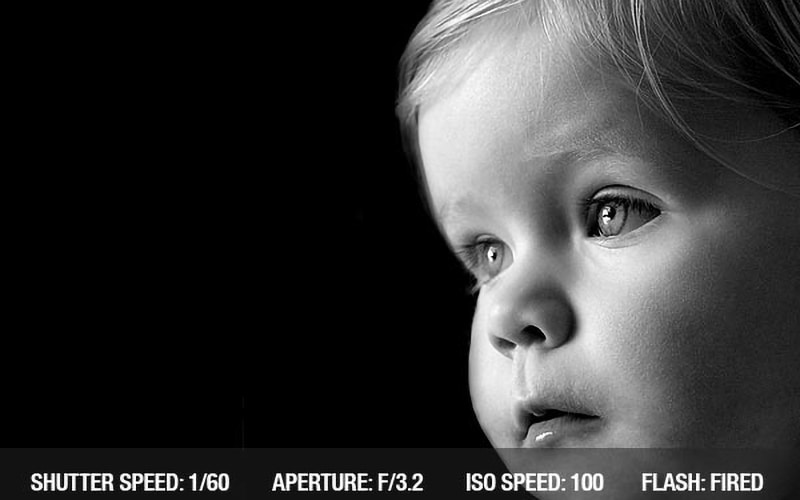 When taking portrait photography at night experiment with a higher ISO. At night a higher number of ISO is ideal for shooting black and white portraits.
Lighting
Lighting for a black & white portrait depends on the story you want to tell in your photo. Do not come up with a complicated idea. Just think simple.
You can easily set up the lighting by only asking yourself three questions. Do you want viewers to feel the portrait?
Do you want more shadows with the fewer light source?
And the third question is how do you want your model to feel when shooting the photo?
You can research various black and white portraits and analyze them to find out why you love those.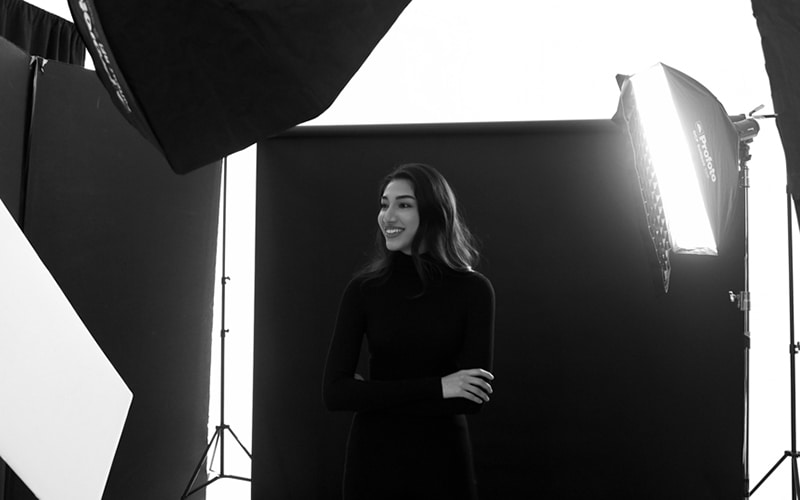 Model Posing for B&W Portraits
Give extra attention to every curve, movement, and texture. The perfect set up of these posing will make the subject stand out without any faults of colors and details. Make effective communication with the models and ask them to practice a lot. It is crucial to know your model very well first.
Professional photographers suggest focusing on the eyes when shooting black and white portraits. In this case, make sure your model's eyes look bright and sparkly. Thus, the portraits will be eye-catching and appealing.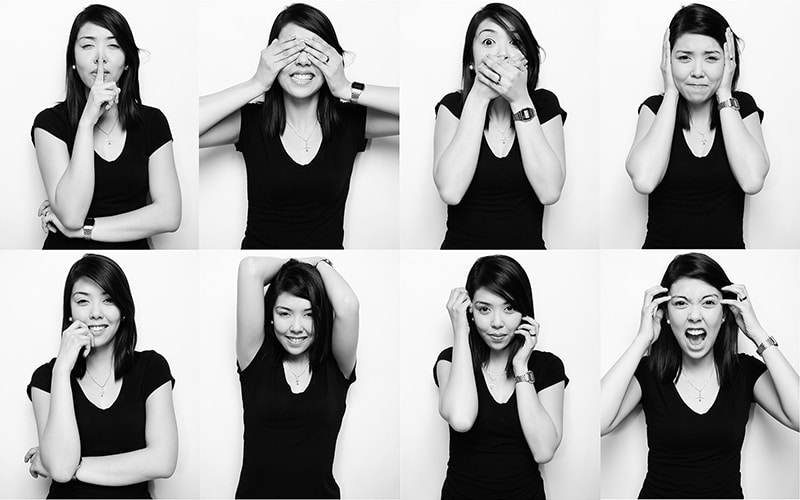 Using Black Background
If you want to have a black background, you need to use more light. Increase the difference between the amount of light hitting the subject's face. Use the exposure settings of the camera to make the background black. You can limit the amount of light that will spill onto the background by pushing the light sideways across the face.
In the case of indoor shooting, increase the effect by hanging a black cloth as a background. You can also checkout our Background Removal Services.
Editing Black and White Portraits
You can show the real magic of black and white photography by post-processing. There are some tricks to get advantages by editing black and white photos.
If you think the photos look a little dull then convert them to black and white. Edit with Adobe Photoshop to get the best results.
Apply different filters in Photoshop to enhance the quality. The Green filter works best for most portraits. Fix the skin color, textures, and contrast to and see the magic.
Edit your black and white portraits also in Lightroom.
Try to add some grain in the photo for getting a filmy effect.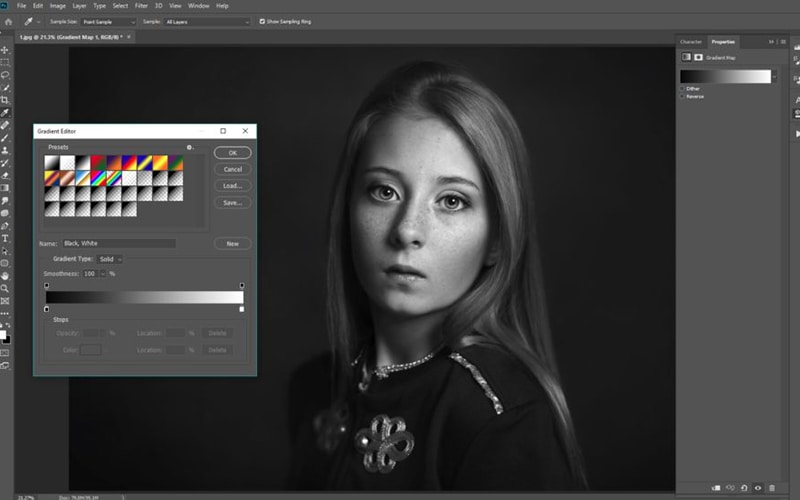 Conclusion
As a beginner, you may find it tough to shoot perfect portraits. But with a lot of practice, the process will be easier for you. The best way to have great portraits is by practicing with self-portraiture. Focus on what kind of stories you want to tell the viewers and give your model clear instruction. Thus, you will get amazing black and white portraits. For more professional workflow you checkout our photo retouching services.
Is it better to shoot in color before converting?
It depends on the equipment you are using. But, most of the photographers suggest shooting directly in black and white.
How can I achieve high contrast in black and white?
This is the step you should consider during set-up the camera. Try adjusting colors, backgrounds, and lighting, and desired patterns to enhance the contrast.