Top 10 Video Editing Software Review. Video editors are just a tool to get the job done. A tool to edit your videos. So, what might be best for you could be different from someone else.
So, the question is, what's the best video editing software for Windows right now in 2021? Our ultimate guide of the latest options for the top 10 video editing software in different categories is our ultimate guide.
This top 10 video editing software guide will break this down into three categories according to free and paid versions. Number one is top free video editing software. The second category is under $200, and the third category is all professional video editing software over $200 price point.
So, when you're going through these, hear out all the options to see which one will be the best for you.
In the first category, we will look at free video editing software such as VSDC, HitFilm Express, Avid Media Composer First, Shotcut, and Davinci Resolve. My top three go-to VSDC, Hitfilm Express, and Davinci Resolve.
1. VSDC Free
VSDC is an excellent option. It has excellent features, but it's not going to overwhelm someone at that beginner level.
VSDC Free also has a pretty easy-to-use interface. So, if you are a beginner, you'll be able to get up to speed relatively quickly. In addition, you're not going to be limited in your creativity as all the features the program has.
There is a paid option available as well, which gives you more advanced features. But most of the core functionality you will get is in the free version.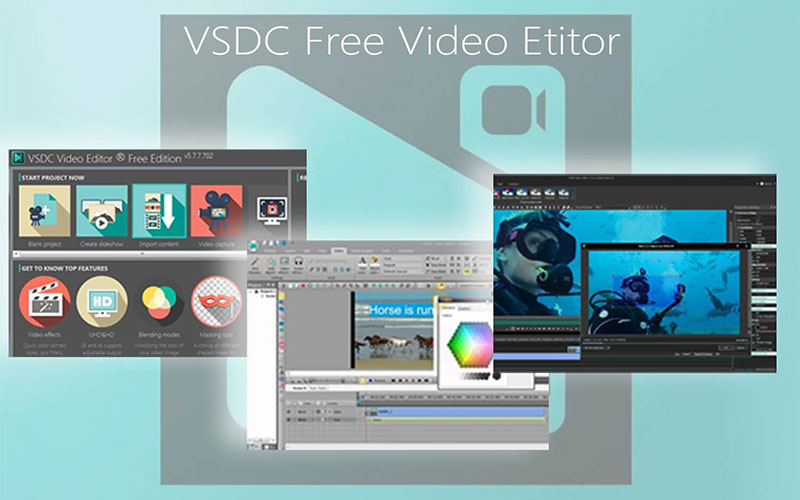 2. Hitfilm Express
Hitfilm Express is another excellent option with again a reasonably intuitive interface. Again, I'd say that, compared to VSDC, Hitfilms probably has a more intuitive and easier-to-use interface. But Hitfilm Express is not just for video editing. It's also got a ton of extra functionality- built-in for motion graphics and special effects.
Paying to upgrade version is where you can unlock everything. In addition, the developers have given you the option to pay to unlock certain features or specific functions, just the ones you need.
Instead of paying for the paid version, you might find that Hitfilm Express does everything you want.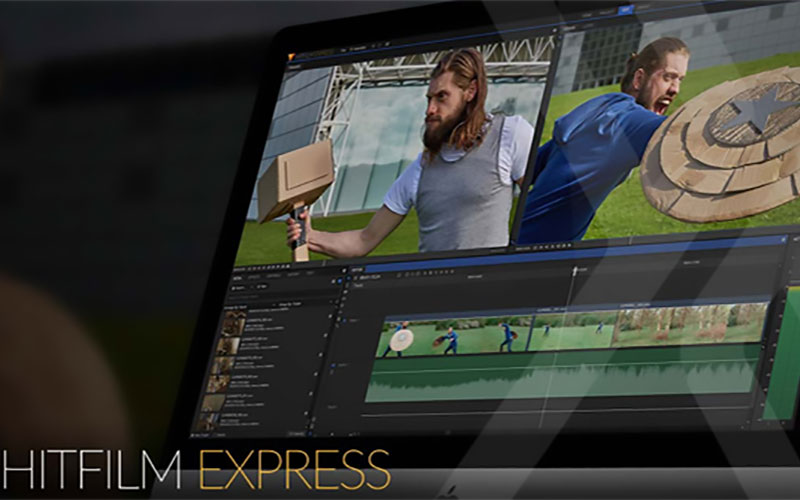 3. Davinci Resolve
And the third one in the first category is Davinci Resolve. It is the most professional, most advanced video editing software out there for free. In some cases, it's a lot more potent than many paid options.
This is actual professional-grade software. People are using it to create Hollywood movies and documentaries. Now, in terms of usability, this isn't the most intuitive interface. So there is going to be an easy learning curve for you to get up to speed using Resolve.
If you need all of those advanced features, controls, and professional tools, you really can't go wrong with Davinci Resolve.
But, one thing to ensure, Davinci Resolve is it does not work on old PCs well. Although it is very resource hungry, it does like the more new powerful computers.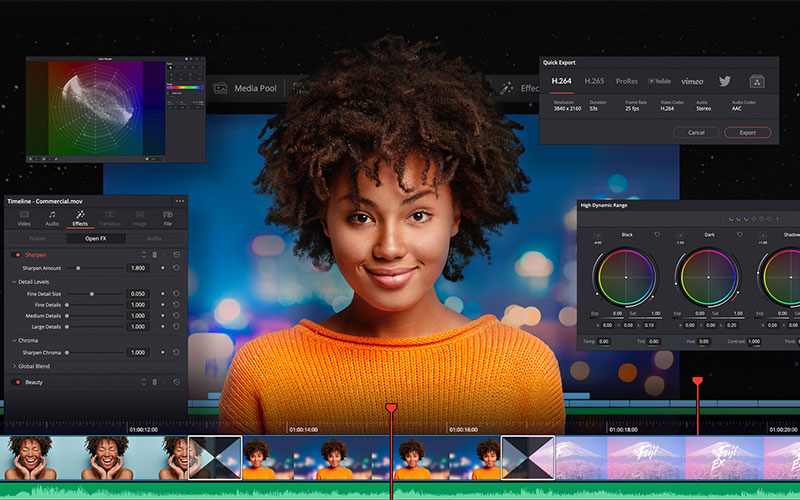 Now we're going to discuss the following category of software. It is all the video editing software under the $200 price point, and yes, again, this includes free software options.
Typically, you would find this category when you're paying for software instead of the free options because you're unlocking more features, more functionality, and more performance.
So, in this category, we've got some software like AVS Video Editor, InVideo, VSDC Pro Version, Adobe Premiere Rush, Filmora, Vegas Movie Studio 16, Magix Movie Edit Pro, Adobe Premiere Elements, and Cyberlink'sPowerdirector.
This category's top video editing software goes to WeVideo, Filmora, Davinci Resolve Pro, and Cyberlink's Powerdirector.
4. WeVideo
WeVideo is a compelling video editing solution. However, it's a little different from many others because you don't need to download and install it on your computer. Instead, it runs in the cloud and your web browser.
You don't need to have a super-powerful pc, and you can quickly move between different computers to work with your saved project. You can even work with team members or editors remotely without moving all of your video footage or the projects. It also has a unique easy to use interface and can edit even 4k footage.
WeVideo costs $7.99 per month for unlimited plans or $17.99/month on the professional plan. Of course, you can unlock a ton of assets like stock footage, music, and other elements in your subscription as well.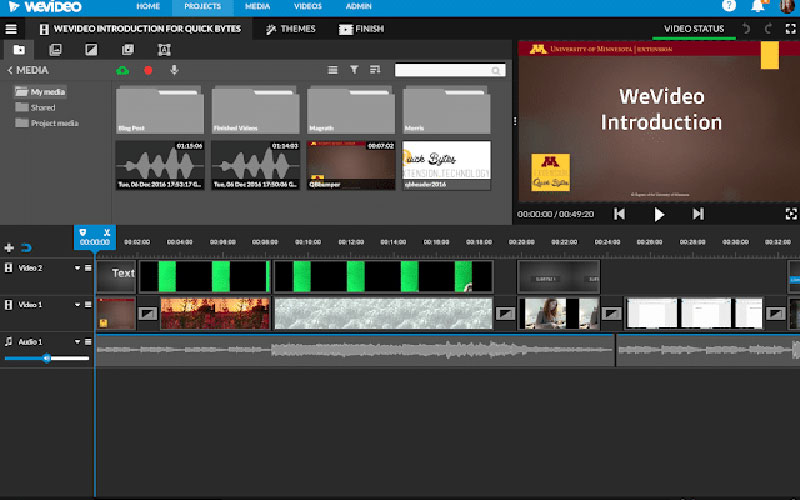 5. Filmora
Filmora is another excellent video editing software for those who want a paid software. It is also an excellent option for video editing. It has a clean, easy-to-use interface, and it packs in a ton of features.
The color correction options and the overall timeline interface are some of those great features. In addition, the new Filmora integrated some excellent editing tools with smooth editing performance.
In terms of pricing, you can purchase Filmora for $69.99 as a one-time fee. You can also jump on an annual subscription for $39.99. In this subscription, you will continue to get access to upgrades when they come out.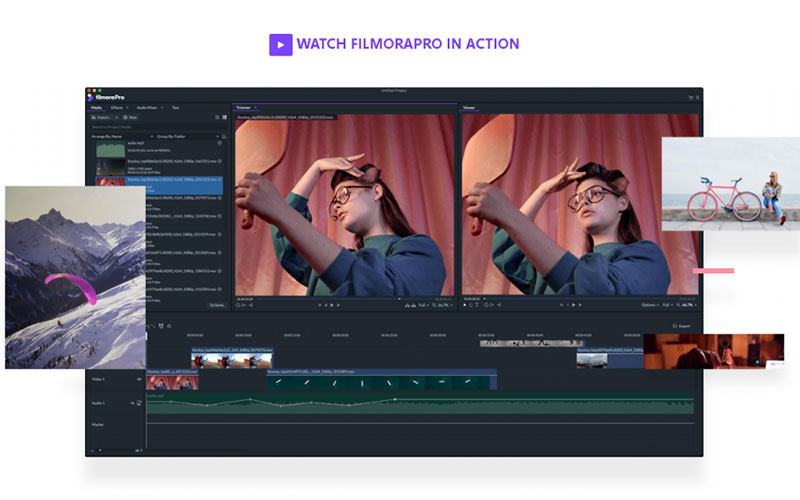 6. Davinci Resolve Pro
Every video editor wants all the advanced features and controls in software. But those who are just looking for a great all-rounder will love the paid version of Davinci Resolve.
It has a good mix of intuitive, easy-to-use interfaces, and as a powerful video editor, it includes a great feature set. In addition, the learning curve that was in the free version is now even more accessible in this software for beginners.
7. Cyberlink's PowerDirector
CyberLink's PowerDirector is a great tool for bridging the gap between professional video editing and consumer-friendliness. This software is far ahead of other advanced software in terms of using new technology and format.
It has all kinds of professional tools like digital movie compiling, transitions, effects, and title presets. The biggest thing is that it is the best software for easy work and fast rendering.
Now it's time for the third category. This section goes to all video editing programs above $200. It's also going to include video editing software for under $200 as well. This is where you would be accessing professional-grade software with the most advanced features and functionality.
8. Adobe Premiere Pro
It is one of the best and most popular video editing software out there right now. It runs on both Windows PC and Mac. This is something that is used for top-level productions.
There are many features, functionality, effects, tools and everything in here is professional-grade stuff. In terms of interface, it's going to be a little hard for a beginner. But, I prefer the overall interface and usability in the Premiere pro when comparing it to Davinci Resolve.
You can only access Adobe Premiere Pro for a subscription. So, you can pay $20.99 for just Adobe Premiere Pro/month or as part of the Adobe Master Suite. Also, you can download Adobe Premiere Pro for free.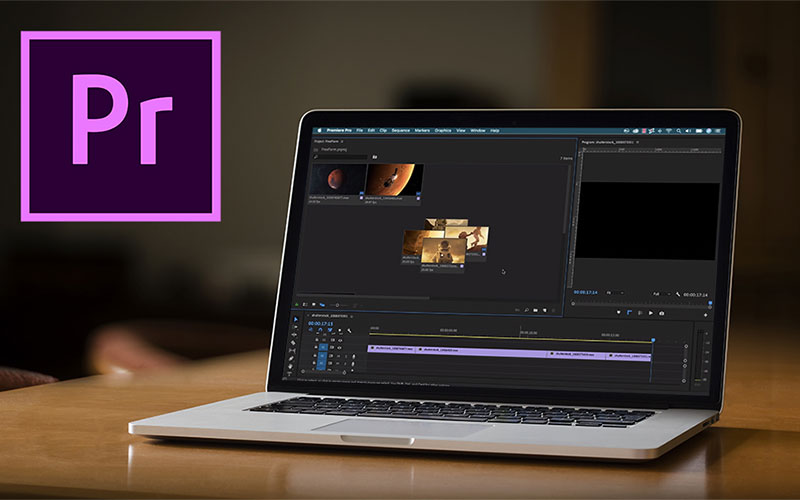 9. Edius
Edius video editing software has maintained excellent stability and benchmark performance as a creative tool for almost two decades. Besides, Edius X has started a new era in the world of non-linear editing. Its wholly redesigned core engine and modular concept provide users with customizable workflows and more outstanding performance. So, it is one of the best video editing software.
In terms of pricing, the regular retail price for the software is more than USD$600. However, with EDIUS X, you get all those three great solutions for free as part of the EDIUS X.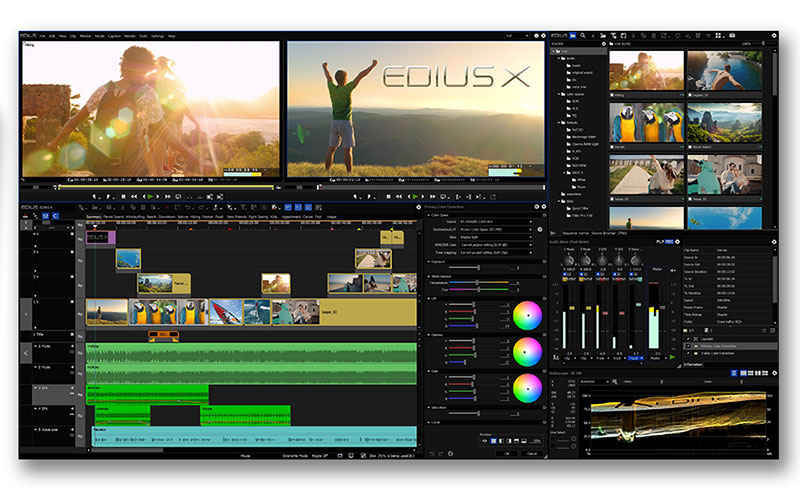 10. Shotcut
Shotcut is another best free video editing software available on Linux, Mac, and Windows Pc. In addition, Shotcut is a fully open-source program that means that you can have it and all the features free.
This video editor contains a wide range of video formats and boasts a great collection of tutorial videos. At the same time, this video editing software has excellent features. However, some users may find the interface a little quirky. That's because Shotcut was initially designed for Linux, and it definitely shows, but under the hood, it's still a quality video editor.
First, they designed this app for Linux users and only after a few years of work decided to create versions for mac and pc users. That's why the Shotcut interface is a little bit strange. However, they have many intuitive features, such as dragging a file to import them into your project. Most importantly, this free video editing software supports 4k HD resolution video editing.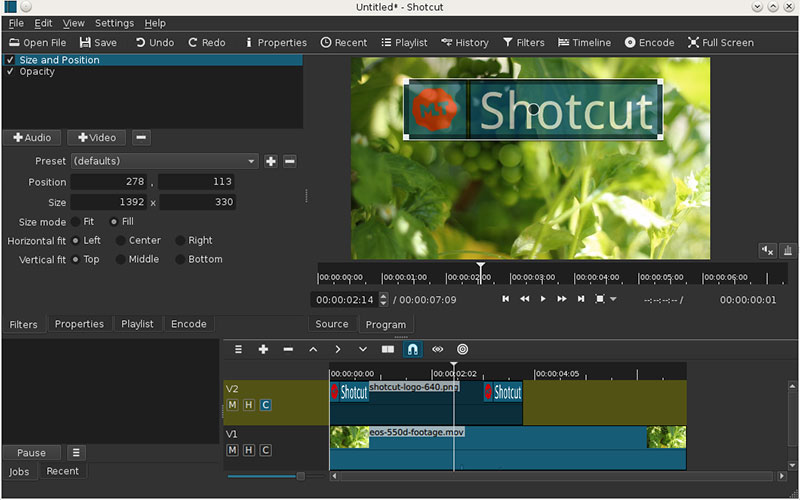 Conclusion
So to conclude, these are the top 10 video editing software on our list. Of course, each software is unique in its performance and function. But as a user, you should consider the type of work, other aspects of editing and then choose the most appropriate software.
Check out our latest post: YouTube to MP4 Downloader
Does Windows 10 have an inbuilt video editor?
Yes. In Windows 10, the latest version of the Photos app includes creating and editing videos with music, text, motion, filters, and 3D effects.
How do most YouTubers edit their videos?
Most YouTubers use some popular programs like iMovie, Final Cut Pro, and Adobe Premiere Pro CC to edit their videos.