Action camera protector refers to a protective gear or device designed to safeguard an action camera from physical damage, scratches, and other forms of wear and tear. These protectors come in different forms including lens covers, screen protectors, protective cases, and others. They are made from durable materials such as tempered glass, polycarbonate, silicone, and others. The main purpose of an action camera protector is to extend the lifespan of the camera and ensure that it continues to work efficiently and effectively.
Top 10 Action Camera Protector in 2023
1. GoPro Action Camera Tempered Screen Protector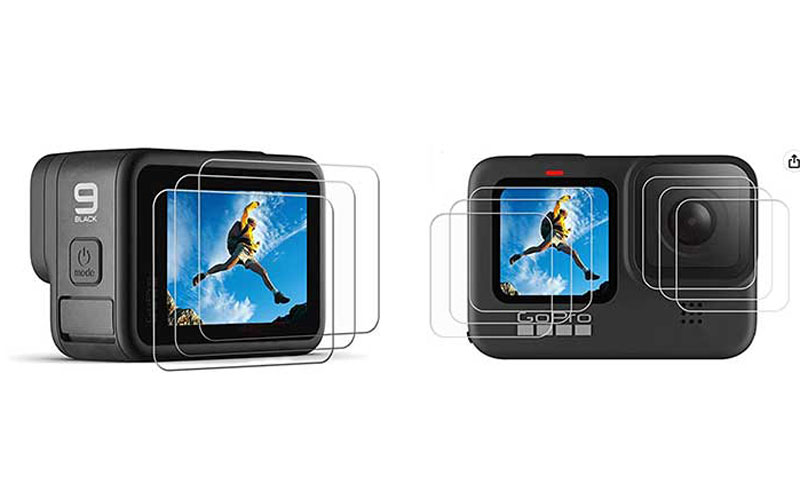 This Action Camera tempered glass screen protector is designed for use with GoPro Hero 9, 10, and 11 models. With its crystal-clear transparency, there's no risk of any pixel distortion affecting your camera's display.
Featuring a 9H hardness rating and 6 layers of protection, this screen protector offers the ultimate protection for your GoPro action camera's display screen.
In the package, you'll receive three different types of tempered glass protectors. One for the back display screen, one for the lens, and one for the front display. Each of these three protectors comes in a set of two, providing you with ample backup options in case the installed protector becomes damaged from frequent use. Overall, this package offers excellent value for money.
2. FitStill Tempered Screen Protector for DJI Osmo Action Camera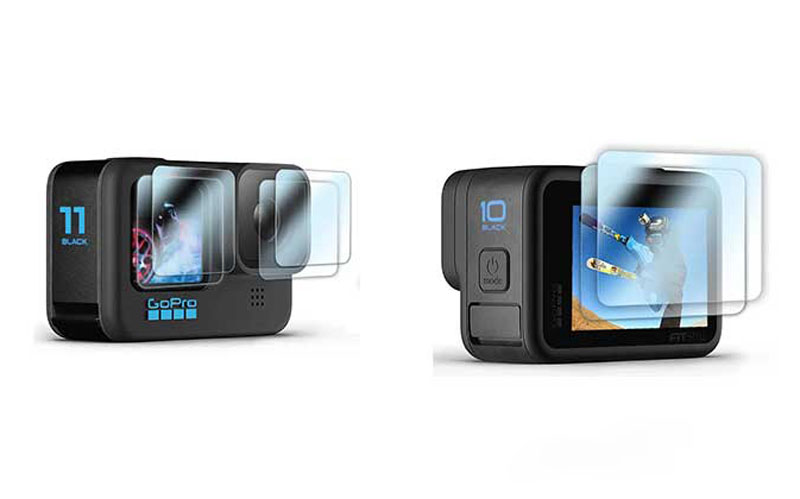 If you own a DJI Osmo Action camera, the FitStill tempered screen protector is the perfect solution for protecting your device.
The package includes two front display protectors, two back display protectors, and two camera protectors, providing you with an extra protector for each glass.
Featuring 9H hardness and 2.5D curved HD high transmittance, this screen protector won't affect the viewing resolution of your camera. Its easy-to-attach design makes it simple to secure to the Osmo screen.
To keep your DJI Osmo Action camera free from dust and scratches, consider using the FitStill tempered screen protector.
3. FitStill Screen protector for GoPro Camera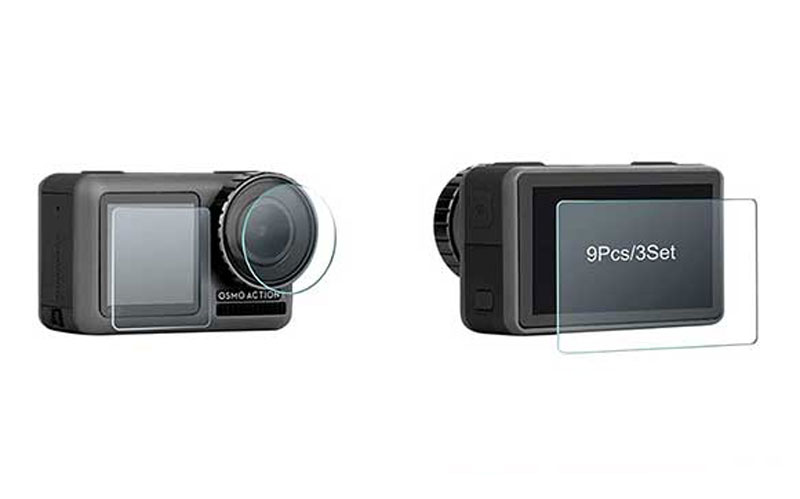 The FitStill screen protector is another great option for action camera displays, specifically designed for compatibility with GoPro Hero 9 Black, 10, and 11 models.
Boasting 9H hardness, this action camera protector provides excellent protection for both the lens and displays of your camera. The hydrophobic oleophobic coating on the screen protector guarantees clear viewing and does not impact the touch response of the screen after installation.
In the package, you'll receive two sets of three protective screens, including one for the lens, one for the front display, and one for the back display.
4. FitStill Double Lock Waterproof Housing for GoPro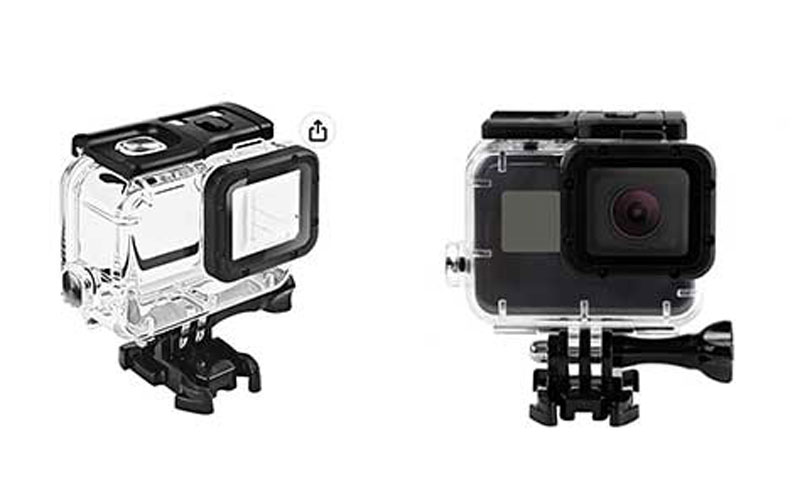 If you're looking to take your GoPro camera underwater, consider the FitStill waterproof case as a wise investment. This case is specifically designed to be compatible with the GoPro Hero 5, Hero 6, and Hero 7 action cameras.
With a double lock system, your action camera will be fully protected underwater up to 45 meters, providing peace of mind during your shooting.
The large flat glass lens of the case ensures maximum sharpness underwater, so you can rest assured that the quality of your images will not be compromised by the material of the case.
5. DYKEISS DJI Osmo Action Camera Screen protector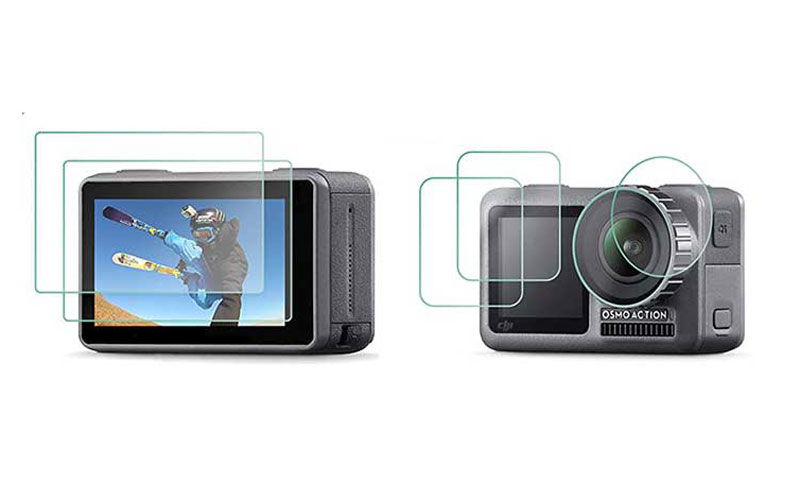 For those using a DJI Osmo action camera, the DYKEISS action camera screen protector is a great option to consider. The package includes three sets of three tempered screen protectors, one for the back display, one for the front display, and one for the camera lens, providing you with the ability to replace any that may become scratched.
With a thickness of 0.33mm, this screen protector will not affect the touch response of your camera screen and offers protection against UV light, scratches, and punctures.
In addition, the protector features an antiglare and fingerprint-resistant design, eliminating the need to worry about fingerprint smudges on your camera screen. The 9H hardness rating adds to its durability.
The waterproof and oil-repellant design ensures clear viewing, even in the presence of water residue on the screen. Plus, the protectors are easy to install.
6. Smatree Waterproof Hardcase for GoPro & DJI Osmo Action Cameras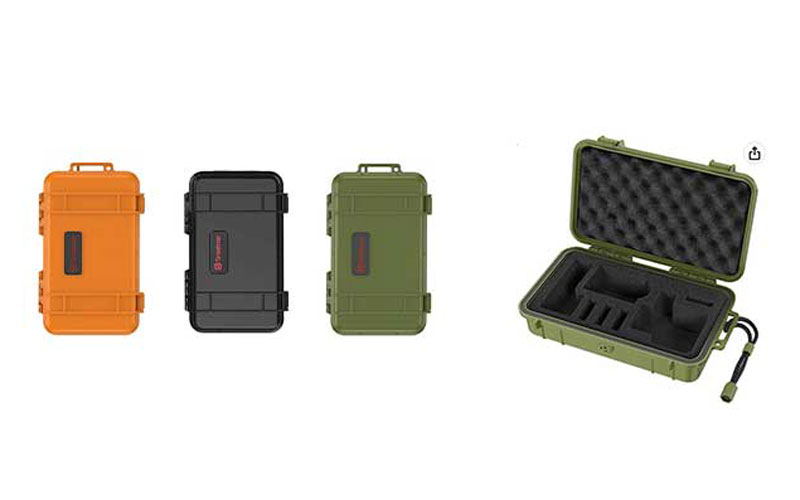 Investing in a sturdy carry case is a smart move to protect your action camera and accessories while traveling. The Smatree waterproof hard case is an excellent choice if you own a GoPro Hero or DJI Osmo action camera.
This case has exterior dimensions of 14cm x 24.5 cm x 7cm and an interior size of 21cm x 11.5 cm x 40cm (without foam). It weighs approximately 1.19 pounds (540 gm) and comes in three colors: green, black, and yellow, allowing you to choose the one that suits your personal style.
Made of durable Acrylonitrile Butadiene Styrene (ABS) material, the Smatree hard case is able to absorb shocks from falls and provide ample protection for your gear. The foam cushioning inside the case further ensures the safety of your camera and can accommodate many action camera accessories.
7. Pelican 1150 Camera Case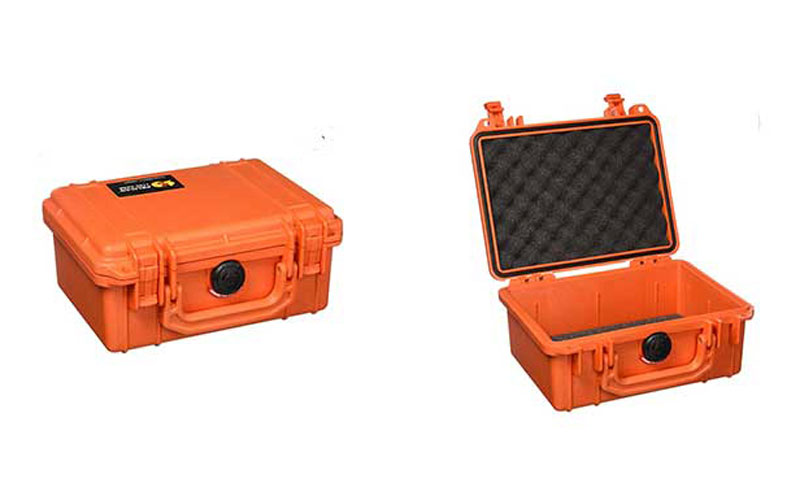 Pelican is a reputable brand when it comes to durable and robust camera cases. They have several options specifically designed for action cameras, including the Pelican 1150 camera case, a great option to protect your action camera.
This carrying case is available in 6 colors, including Black, Orange, Yellow, Blue, Desert Tan, and Yellow. It features a tongue and groove design with a polymer O-ring to make it waterproof.
Additionally, it has an automatic pressure equalization valve that helps regulate air pressure to prevent water from entering. The interior dimensions of this action camera case are 8.18 x 5.68 x 3.62 inches.
Pelican is known for its Pick N Pluck foam, which is also included in this carrying case. This allows you to custom fit the interior compartments to your camera gear. Investing in this case is a wise choice that you won't regret
8. TEKCAM Action Camera Protector Carrying Case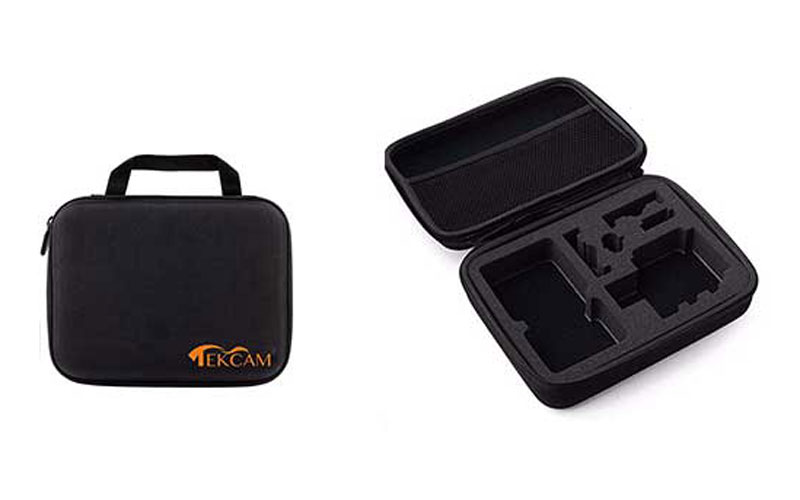 The TEKCAM action camera carrying case boasts a sleek, simple design in black. It comes in three sizes – large, medium, and small, so you can choose the size that fits your needs based on the number of accessories you want to carry.
Compatible with a variety of action cameras including GoPro 7, 8, 9, 10, 11, AKASO EK700, Brave 4, Brave 7 LE, Brave 8, APEMAN, Campark, Crosstour, and Dragon Touch, this case is designed to protect your gear. Its hard exterior is made of water-resistant nylon material.
Once opened, you'll find the interior of the TEKCAM case lined with high-density foam padding with pre-cut slots to securely hold your action cameras and accessories. On the other side, you'll find a netted compartment to hold extra accessories.
Measuring 20 x 16 x 7 cm, the TEKCAM carrying case is a compact and convenient solution for keeping your action camera gear protected and organized.
9. Vamson Large Carrying Case for Action Cameras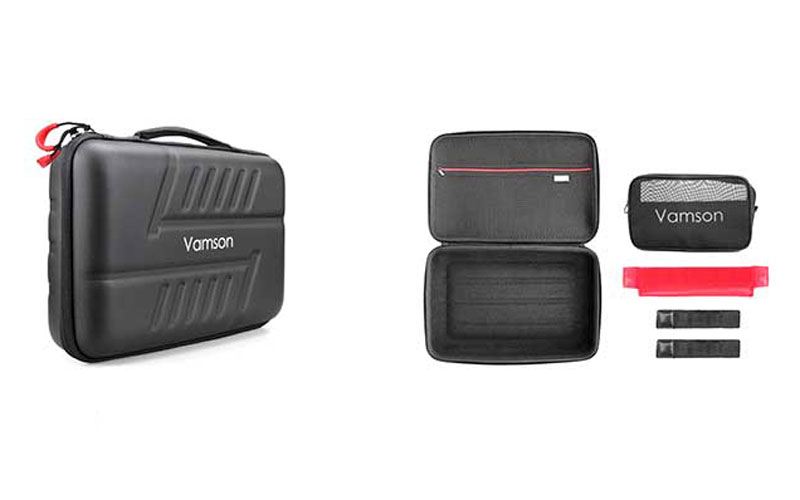 The Vamson Large Carrying Case is a popular choice for those looking to transport their action cameras. It is compatible with GoPro Hero 3, 4, 5, 6, 7, 8, 9, 10, 11, DJI Osmo Action, Akaso, Apeman, and Insta 360 One X action cameras.
Its hard PU outer shell provides excellent protection for your camera gear, both shockproof and waterproof. The case comes in black, with an attractive black line pattern.
There are three different sizes available – Large, Medium, and Small – with the largest measuring 13 x 9 x 3.4 inches, making it spacious enough to hold several action cameras and accessories.
Upon opening the case, you will find Velcro straps that allow you to customize the interior compartments to fit your camera gear. The opposite side features a netted zipper pocket, which can be used to store towels and cables.
While this carrying case is a great option, it would have been even better if it had a few more dividers for better organization of the camera and accessories.
10. Neewer Shockproof Carrying Case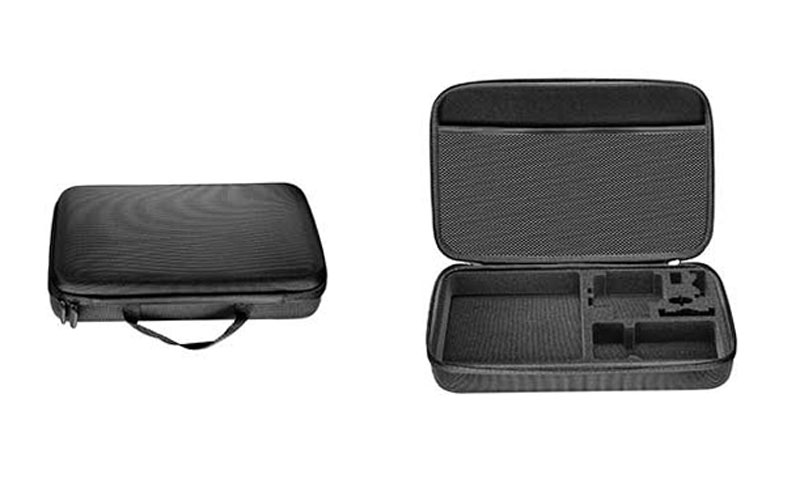 The Neewer carrying case is a practical solution for transporting your action camera and accessories. It is compatible with GoPro Hero 8, 9, 10, 11, Max 7, 5, 6, 4, DJI Osmo Action 2, Insta 360, AKASO, APEMAN, Campark, and SJCAM action cameras and comes in a sleek black color.
Made of durable EVA material, this carrying case is lightweight, weighing approximately 422 gm, and offers protection against small drops. The dimensions of the case are 32.5 x 21.5 x 6.3 cm.
The interior of the case features foam padding to secure your action camera and accessories, but this foam is not attached to the case. This means that there is a risk of the foam falling out when the case is opened. To prevent this, it is recommended to use double-sided tape or super glue to secure the foam to the case. Despite this minor issue, the Neewer carrying case offers excellent value for its price.
These top 10 action camera protectors offer similar features and benefits, including protection against scratches, cracks, and other forms of damage, easy installation, and compatibility with specific action cameras. Choosing the right protector for your camera will depend on your specific needs and preferences, as well as the type of camera you have.
Why you need Action Camera Protector
The importance of action camera protectors in 2023 cannot be overstated. With advancements in technology and an increasing demand for high-quality action camera footage, the need for reliable and durable protection becomes crucial. Here are some of the reasons why action camera protectors are important in 2023:
Protection against physical damage: Action cameras are often used in challenging environments such as extreme sports and outdoor adventures. Protectors help to safeguard the camera from damage caused by drops, bumps, and other physical impacts.
Prevention of scratches and cracks: A protector helps to prevent scratches, cracks, and other forms of damage to the camera lens, screen, and other delicate parts.
Enhanced image and video quality: A well-protected camera lens will result in clearer and more vivid images and videos.
Extended lifespan of the camera: Protectors help to extend the lifespan of the camera by reducing the risk of damage and ensuring that the camera continues to work efficiently and effectively.
Cost savings: Investing in a high-quality action camera protector can save you money in the long run by reducing the need for frequent repairs or replacements.
Factors to Consider When Choosing Action Camera Protector
Compatibility: Ensure that the protective lens or case is compatible with your specific action camera. Check the manufacturer's specifications to confirm the compatibility.
Material Quality: Choose a protector that is made from high-quality materials, such as tempered glass or a durable hard material. This will help ensure that your camera is protected from scratches, cracks, and other forms of damage.
Access to Camera Functions: Consider whether the protective lens or case provides easy access to all the buttons and ports on your camera. This will ensure that you can use your camera comfortably and efficiently, even with the protector in place.
Durability: Choose a protector that is designed to withstand the elements and tough conditions. A waterproof or shock-resistant design is ideal for outdoor and extreme sports enthusiasts.
Ease of Installation: Ensure that the protective lens or case is easy to install and remove. This will make it easier to clean or replace the protector if necessary.
Size and Weight: Consider the size and weight of the protective lens or case, especially if you plan on carrying it around with you. A small and lightweight design is ideal for those who are always on the go.
Price: Consider the cost of the protective lens or case and whether it is within your budget. Keep in mind that a high-quality protector will offer better protection and last longer than a cheap alternative.
By considering these factors, you can choose the right action camera protector for your specific needs and preferences, ensuring that your camera remains protected and functioning at its best.
Conclusion
Based on the factors to consider and the top 10 action camera protectors in 2023, the DJI Osmo Action Protective Lens is highly recommended as the best action camera protector. This protector is designed specifically for the DJI Osmo Action camera and offers excellent protection against scratches and cracks. It is made from high-quality materials, easy to install and provides easy access to the buttons and ports of the camera. In addition, the DJI Osmo Action Protective Lens is waterproof and shock-resistant, making it ideal for outdoor and extreme sports enthusiasts.