Photoshop Action is the most crucial and time-saving trick to apply many commands in different images with one click. However, it is a time-consuming process and helps a lot in photo editing. So, whenever you want to apply the same Photoshop commands to images, use Photoshop actions to perform that quickly.
What Can You Do with Photoshop Action?
Photoshop actions work as a preset of commands. It's like a plugin but not a plugin. So no matter how much you edit or retouch an image, you can save both labor and time by recording it in Action and then applying it to any other image with just one click.
Here, I will show you how to speed up your workflow with Photoshop Action and Script Event Manager in Adobe Photoshop. This useful hidden feature will help you get started much faster with your creative projects.
Creating Photoshop Action
First, open Adobe Photoshop and go into the File menu to select an image for making some edits. If you want to edit this picture, you may need to create a new layer to work on non-disruptively.
Now, rename the layer as you want. In the below image, I gave the layer name as edits. Here you can select the paint-brush tool and select the color that you want to work with. For example, you can select red as your foreground color. Again you might go into the full-screen mode.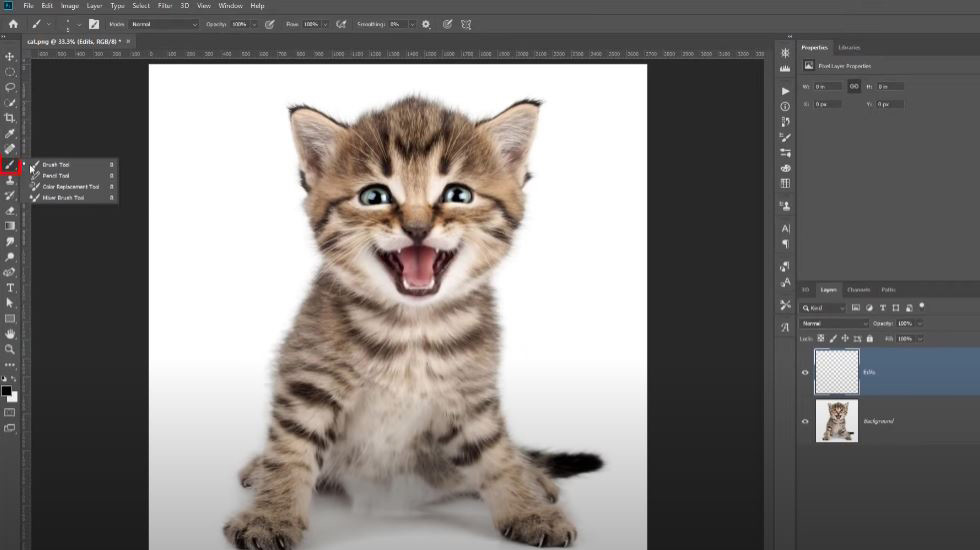 So, you can press F on the keyboard to toggle between the different modes until you get into the full-screen mode. Like this, you can make a lot of edits to the image. But it can become very tedious if you have to constantly keep selecting the tool, the color, and creating new layers and things like that. So, what Photoshop allows you to do is speed up this whole process with the Script Event Manager by recording your activities with Photoshop Action. So, let me help you to understand the process and show you how it works.
Step 1:
So, to apply all the editing on another image to speed up your photo editing process is by creating an action. An action is simply a set of recorded commands that you can play at any time on any image.
So, if you go into Window> Actions, you'll open up the actions panel, and you can create a new set. Give a name to your new Action. You may name it anything. This is just the folder that will contain the actions that you will create, and then you can click on this icon to create a new action.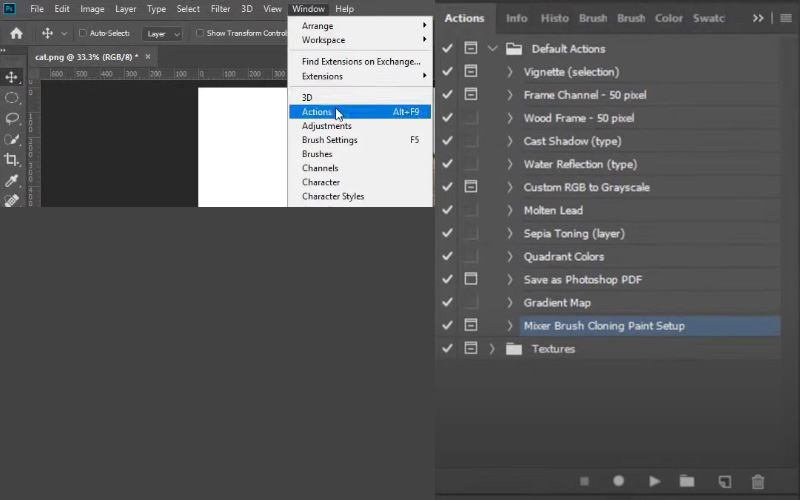 Step 2:
Now give a name to your new Action. And give it a color; for example, you can make it blue and press record. Photoshop will record most of the things you do on-screen; for example, you can see that it is recorded if you create a new layer.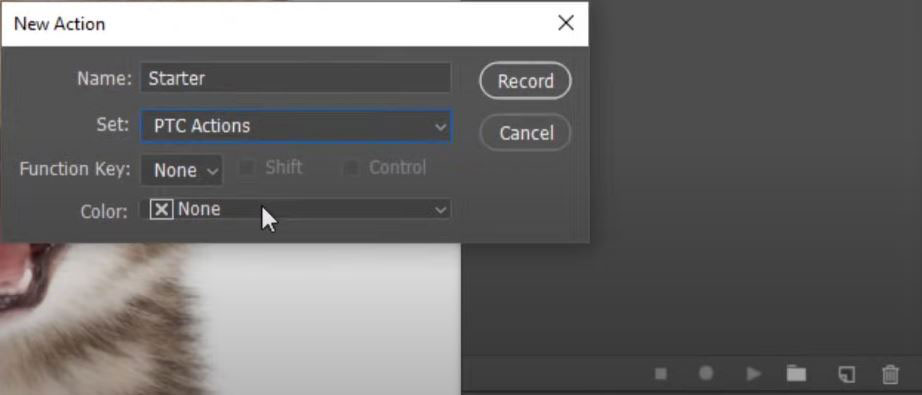 Step 3:
Now, do some editing in the image. For example, select a brush tool, recognize that Action, select any color that you want. Photoshop will remember it.
However, if you go into the full-screen mode by pressing the F key, notice that Photoshop doesn't record that Action. So even if I go into view, screen mode, full screen, Photoshop will not record that.
How Can You Record Menu Commands?
You can click on this four-line icon here, the fly-out menu, and select insert menu item. Then you can select any menu item that you like. So, you can go into view, screen mode, full-screen mode, notice how that is selected here, and then press okay.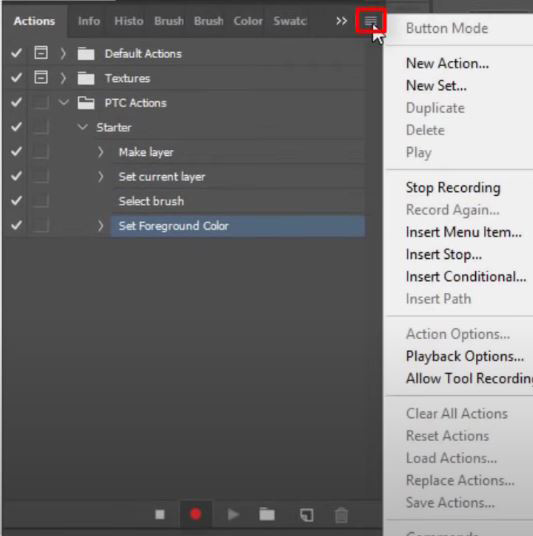 And now you will notice that the menu mode has been recorded. Now, press the stop button, delete the layer, make the foreground and background colors default, and select a different tool.
Step 4:
Now, come back into the actions panel, then click on the play button. You will see that it will take you to the full-screen mode that you did last time. See, everything you did before is the same. You will have a new layer, the foreground color, and the brush tool you selected.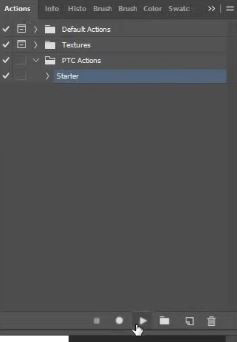 Step 5:
So, recording your edits was fun. But we can even take it one step further by having Photoshop automatically select the Action without us doing anything, and that's where the Scripts Event Manager comes into play.
So, to make that happen, go into File > Scripts > Script Event Manager. Then, look at the image below to get the Window quickly.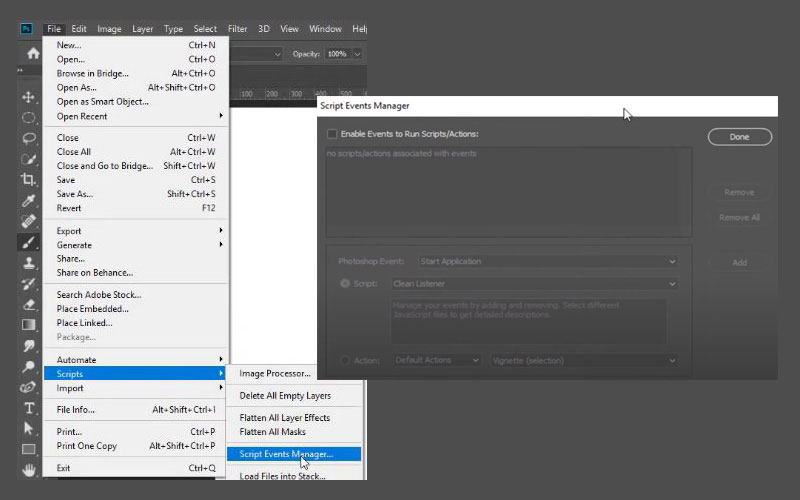 And I know that scripts can seem scary but don't worry about it. Just think of it as a tool that makes something happen with an event. So, you can enable that by clicking on the box. The first step is to select the Photoshop event, for example, starting the application, creating a new document, opening a document, and several others.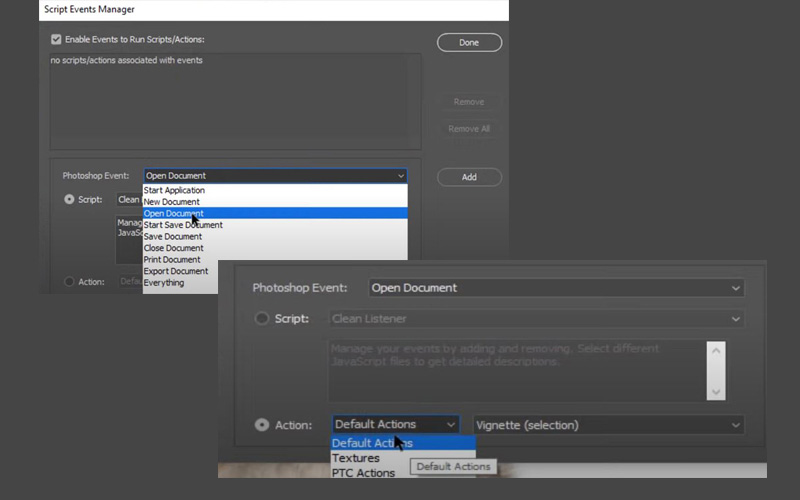 Here we will use the Open Document Command option for this tutorial. It means that every time Photoshop opens up a new document, something will happen according to your Actions.
What Will Happen & How?
When you apply Photoshop Action with Script Event Manager, all the new documents will be open according to the editing you recorded on the Action.
You can select a script, or you can select a custom script, which is something you probably won't do. Instead, you probably will use an action to select an action that happens when you open a new document. So, click on the drop-down and select the set that you just created in your Action folder. Then click on Done.
Applying the Photoshop Actions in a New Document
Now, make all the edits default. For example, select another tool, change foreground and background color on the document. If you open up a new document, for example, another image that I used here, Photoshop will immediately run that Action. Everything you have recorded in the Action is now applied to another image.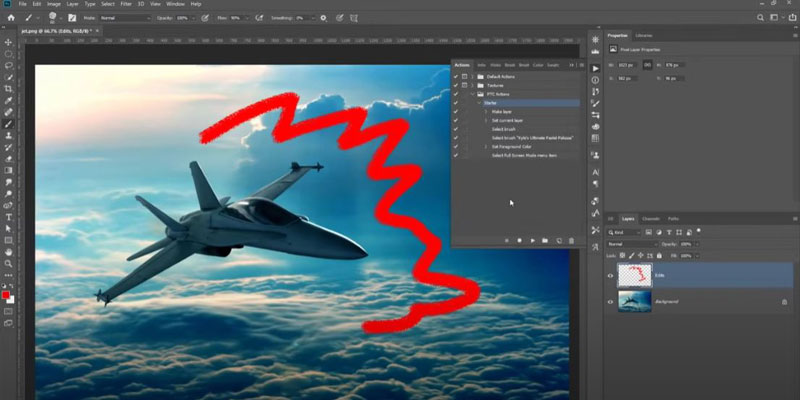 If you want to edit your Action, you can always click on the actions button to open up the actions panel or go into windows in Action. Then, expand the Action that you created, and you can adjust it in any way that you like.
Conclusion
So, that was all about Photoshop Action. This is how you can make your editing workflow super easy. Do the things according to the tutorial and enjoy Photoshop Actions. You can download many Action sets from the internet and use them in your images too.
What are presets for Photoshop?
Presets are a set of Photoshop actions that the individuals create for Adobe Creative Suite. You can load a preset action into the panel and use it.